36" Samsung 22.9 Cu. Ft. Counter-Depth French Door Refrigerator With AutoFill Water Pitcher In Black Stainless Steel - RF23A9071SG
36" Samsung 22.9 Cu. Ft. Counter-Depth French Door Refrigerator With AutoFill Water Pitcher In Stainless Steel - RF23A9071SR
36" Samsung 22.9 Cu. Ft. Counter-Depth French Door Refrigerator With AutoFill Water Pitcher In Black Stainless Steel - RF23A9071SG
Samsung PROMO
Save up to $700
See Details
Save up to $700
Save $500 when you buy 3 or more eligible Bespoke Kitchen Appliances. Save $700 when you buy 3 or more eligible Bespoke Kitchen Appliances together with a Bespoke Laundry Pair.
Read Reviews 3.29 (7)
Write a review
66% would recommend this to a friend

Or as low as $383.33/month over 12 months. Apply Now
36" Samsung 22.9 Cu. Ft. Counter-Depth French Door Refrigerator With AutoFill Water Pitcher In Black Stainless Steel - RF23A9071SG
RF23A9071SG/AC
$4,599.99
$3,299.99 CAD

Save $1,200.00

Or as low as $275.00/month over 12 months. Apply Now

Or as low as $383.33/month over 12 months. Apply Now
Literature
Easy access to fresh and flavoured water with Autofill Water Pitcher
More ice with more choice - Dual Auto Ice Maker
Keep food fresher with Triple Cooling System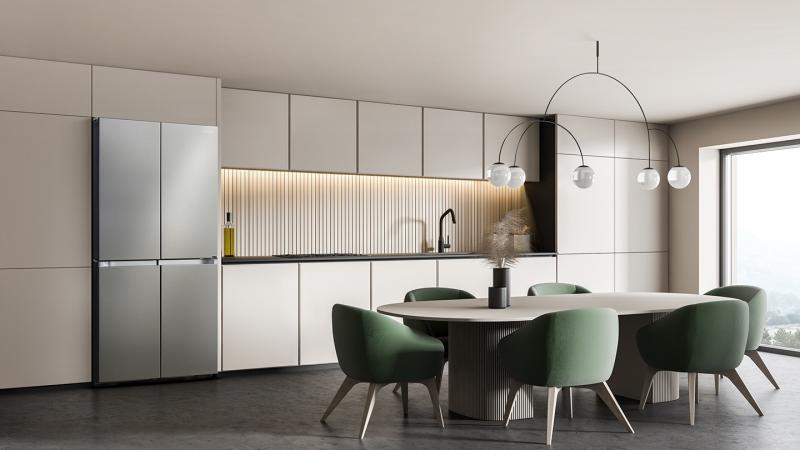 Redefining refrigeration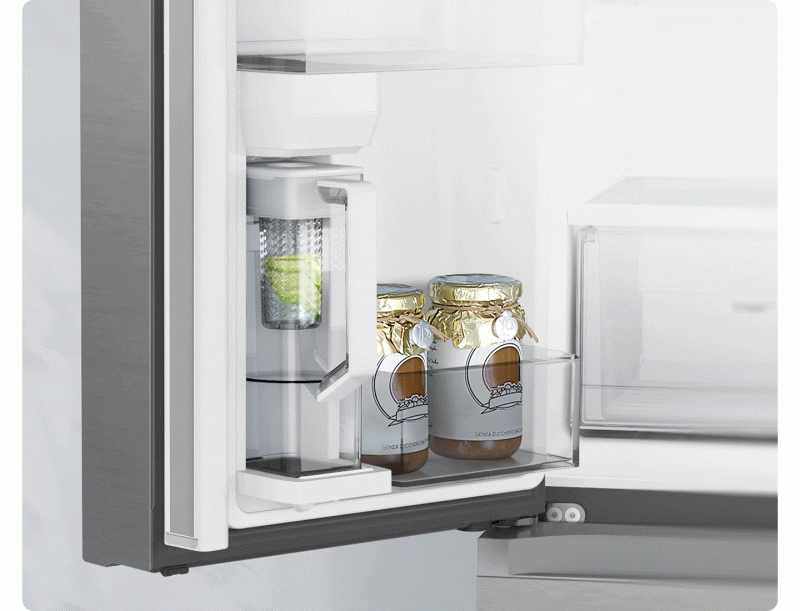 Chilled water, Ready to serve
Autofill Water Pitcher
Enjoy easy access to fresh and flavoured water. The BPA Free* Autofill Water Pitcher fills up automatically to give you easy access to a glass of fresh water.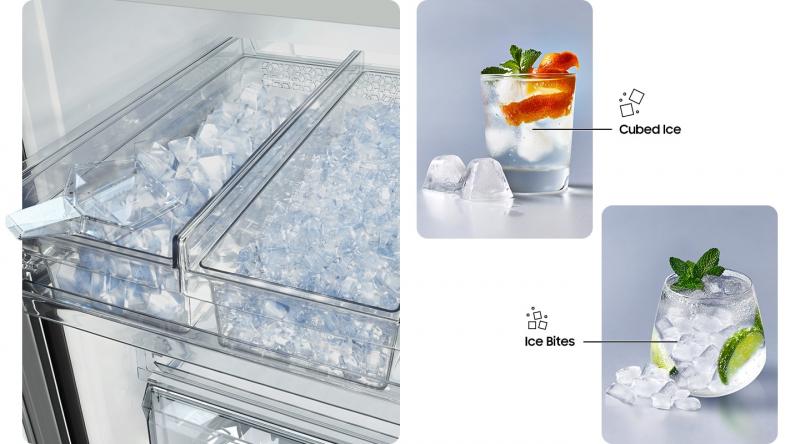 More ice with more choice
Dual Auto Ice Maker
Make sure you are prepared for any occasion with two different types of ice. The Dual Auto Ice Maker makes both Cubed Ice and Ice Bites™, which chill drinks much faster. It can produce 2.8kg/6.16lbs of ice a day and store up to 3.8kg/6.8lbs*. And, as it's in the freezer, it frees-up fridge space.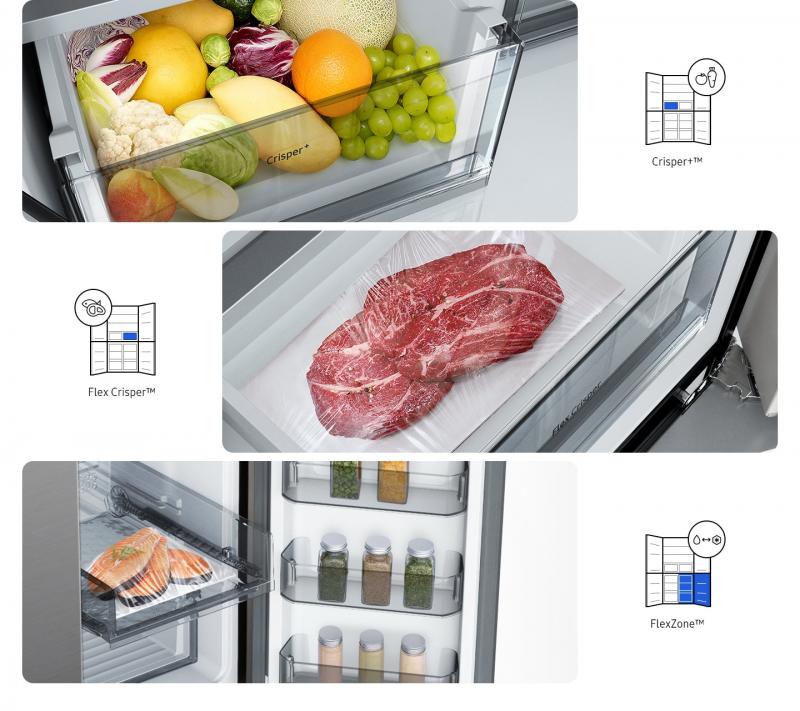 Store food in the right places.
Flexible Storage
Keep your food fresh in the right places. The FlexZone™ is an independently controlled compartment with five different temperature modes: Freeze, Soft Freeze, Meat/Fish, Fruit/Veggies and Beverage. You can also store meat or fish in the Flex Crisper and fruits and vegetables in the Crisper+.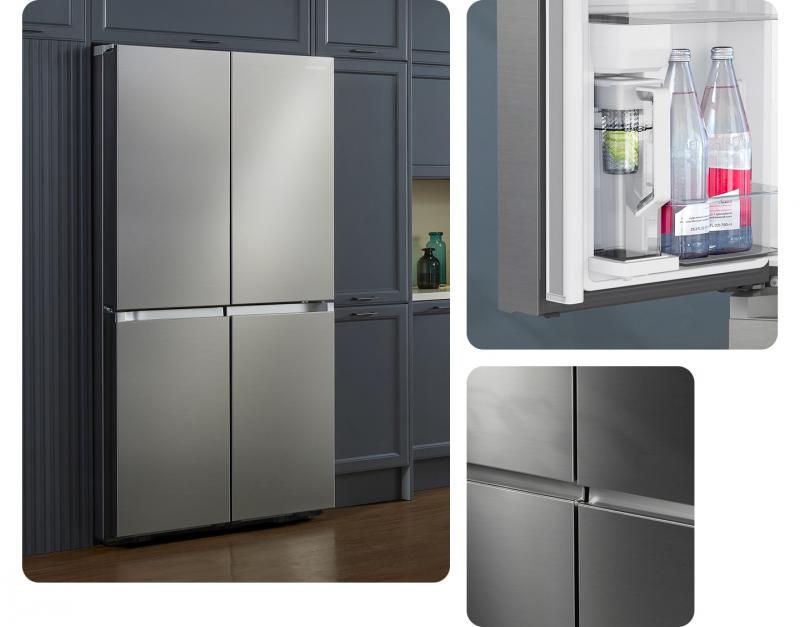 Clean Lines, Stylish Look
Modern Design
Give your home a stylishly integrated appearance. The new premium design features minimalist flat doors with recessed handles that give a sleek and neat look to your kitchen, easily blending in with existing appliances and cabinetry.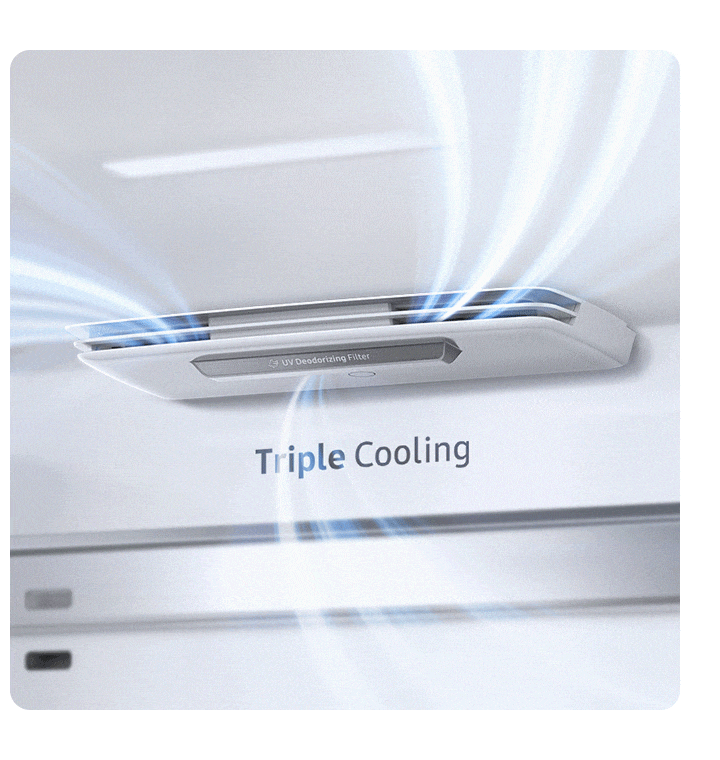 Fresh air in your fridge
UV Deodorizing Filter
Keep fresh air in your fridge everyday. A new built-in deodorizing filter reduces unpleasant odour caused by bacteria in your fridge. Also UV light in the filter system continuously cleans the filter to keep it clean all the time.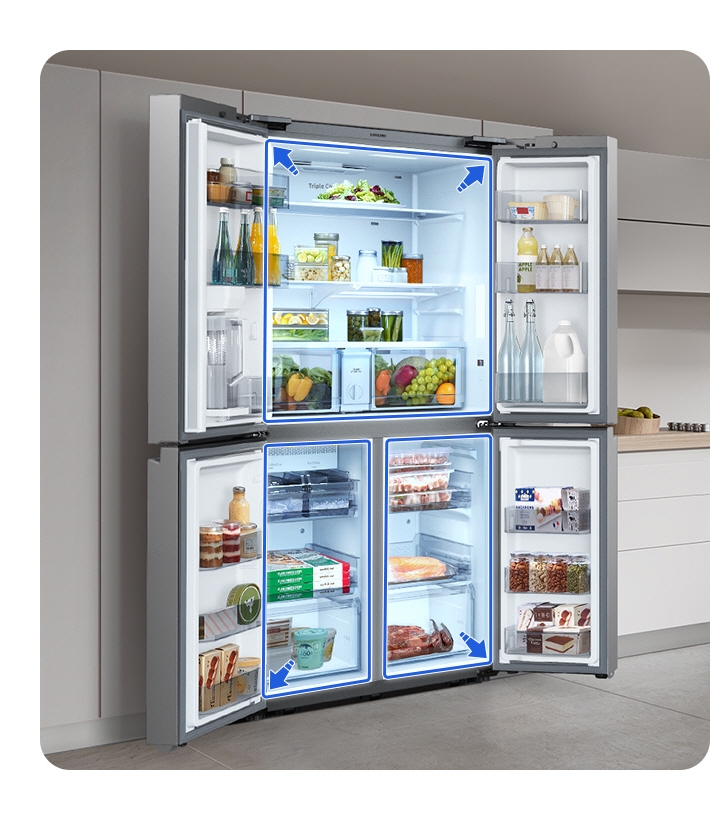 Store more food for your family
Large Capacity
Neatly store more food. A huge 22.9 cu. ft. capacity* means there's plenty of room in the fridge and freezer to store your grocery shopping.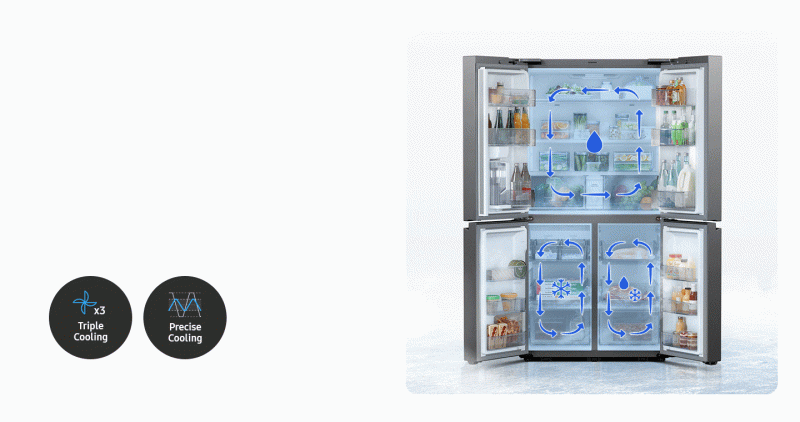 Keep your food moist and fresh
Triple Cooling + Precise Cooling
Ensure food stays moist and fresh for longer.* Triple Cooling system optimizes the temperature and humidity in the fridge and freezer with independent cooling. It preserves food better and protects its flavour by preventing odours from mixing. Precise Cooling system minimizes temperature fluctuation to preserve the quality and texture of food.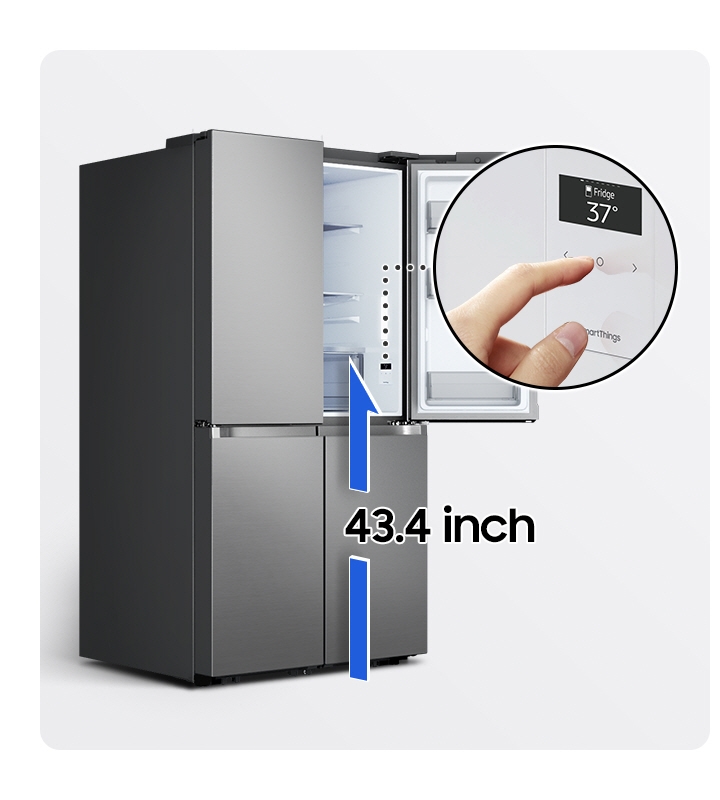 Seamless control with easy accessibility
Simple LCD Display
Easily control the fridge, even if you have restricted movement. The control panel located inside the fridge features a seamless and unobstructive design within arm's reach and can be used with one hand.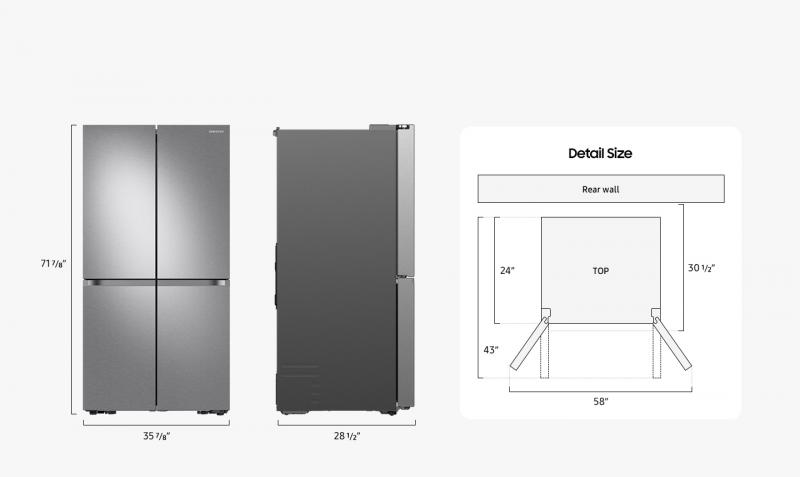 How to measure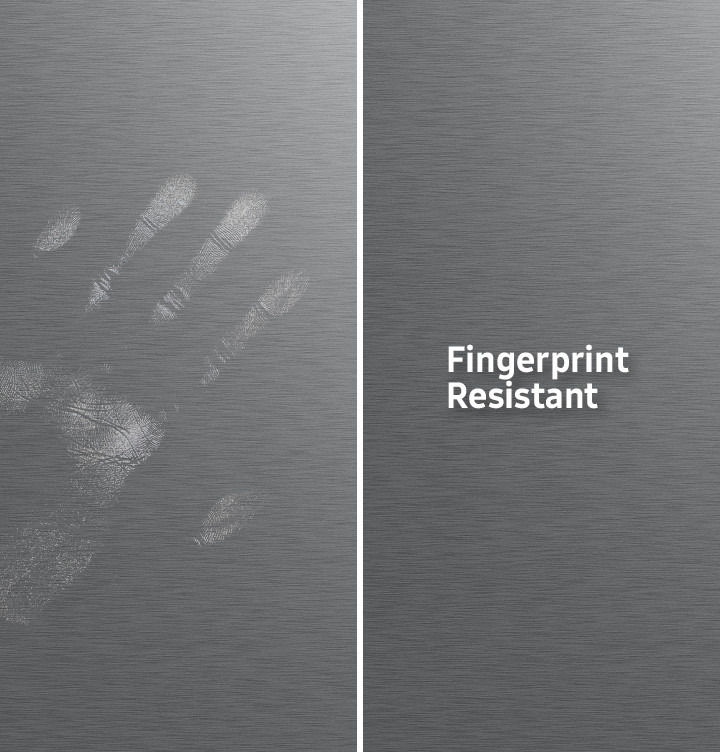 Brilliantly Clean and Smudge free
Fingerprint Resistant Finish
Make sure your fridge always looks spotlessly clean. A special Fingerprint Resistant Finish prevents surfaces from becoming covered in unsightly fingerprints and other marks and smudges. And they can be quickly wiped away if they do appear. So your home will stay looking stunningly beautiful.
Physical specification
Net Dimension (WxHxD)(inch)
35 7/8 x 71 7/8 x 28 1/2 inch
Net Depth without Door (inch)
24 inch
Net Depth without Door Handle (inch)
28.5 inch
Net Depth with Door Handle (inch)
28.5 inch
Net Case Height without Hinge (inch)
70.75 inch
Net Case Height with Hinge (inch)
71.875 inch
Performance
Energy Consumption
635 kWh/year
Installation Considerations
Counter Depth
Yes
General Feature
Door Alarm
Yes
Refrigerant
R600a
Exterior Feature
Dispenser Type
Autofill Pitcher
Door Handle
Recess Handle
Display Type
ADA Display
Dispenser with Water Filter
Yes
Colour
Black Stainless Steel
Energy
Energy Star Certification
Yes
Cooling Feature
Triple Cooling
Triple Cooling
Capacity
Net Total (cu.ft)
22.9 cu.ft
Net for Fridge (cu.ft)
14.1 cu.ft
Net for Freezer (cu.ft)
8.8 cu.ft
Bottom Right
Convertible Room (F)
-23~-15, -5, -1, 2, 4 °C
Temperature Control
Yes
Shelf
2 EA
Box
1 EA
Bottom Left
LED Interior Light
Yes
Box
1 EA
Shelf
2 EA
Physical specification
Net Weight (kg)
128 kg
Net Width (inch)
35.875 inch
Packing Dimension (WxHxD)(inch)
38 1/4 x 77 5/8 x 30 5/8 inch
Packing Weight (kg)
138 kg
Refrigerator Feature
Interior LED Light
LED Lighting
Number of Door Pocket
6 EA
Number of Shelf (Total)
4 EA
Number of Vegetable&Fruit Drawer
2 EA
Shelf Material
Tempered Glass
Reviews
Average Customer Ratings
| | | |
| --- | --- | --- |
| Overall | | 3.29 |
| Design | | 3.57 |
| Features | | 4.00 |
| Performance | | 4.00 |
| Value of Product | | 3.29 |
Submitted 3 months ago
By RenieRuth
From Santa Clara valley
Reviewed at


4
Very convenient except for ice system
I bought this model to replace my 25 yr old built in Kitchenaid counterdepth side by side. I really like the 4 doors and flexible fridge/freezer it has. It's easy to use the controls to change temps or other functions; ice types, etc. I don't like the lack of exterior ice and water delivery system. You are forced to stand or kneel in front of lower left freezer door and shovel ice cubes or ice 'bites into a container. I bought this without realizing there is a model with exterior ice delivery available in similar model. I really like the bright lighting inside the fridge, the shelves and bins pull out and adjust easily. There are only 2 people in our household so I have no idea if this would work for a big family. Our Kitchenaid was about 6 inches taller and thus might have had a bit more cubic ft I really like this shallow depth as reaching into a fridge way back is difficult for my elderly body. The cold water pitcher is very nice though you must have it properly seated or it won't fill. We have not yet figured out if it is more efficient energy wise than our 1997 kitchenaid built in but it's likely that it is. Bought in Oct|Sept 2021.
Bottom Line Yes, I would recommend to a friend
Submitted 4 months ago
By BenH
From OK
Reviewed at


The unit stopped cooling at all. Tried to get warranty service and was instead offered far less than the replacement cost of the unit. Alarm doesn't go off if doors are slight ajar. Fingerprints are everywhere. Ice gets everywhere from the cramped bins and horrible little scoop.
Bottom Line No, I would not recommend to a friend
Submitted 4 months ago
By seanmikecorn
From Orange Beach, AL
Reviewed at


the hinge design is bad. this fridge's doors impact what's beside the refrigerator when opened. this forces you to pull the refrigerator out and exposes the sides. defeats the purpose of ordering a counter depth fridge. the designers should have made this fridge w/better hinges so the doors swing out and away from what is to the left and right so that it can truly sit at counter depth and look like a built in fridge.
Bottom Line No, I would not recommend to a friend
Submitted 8 months ago
By masapod2892
From lakewood ranch fl
Reviewed at


4
Beautiful looking fridge for the money
Writing this review I have owned the fridge for close to 4 months. The aesthetic looks of this fridge including the function won me over, which most engineered products lack both. I dislike seeing on any fridges seeing what it looks like a last minute design that is a stuck on ice maker and water dispenser. I absolutely love the little addition of being able have mini ice cubes and normal ice cubes available. Also how the interior is by far the most updated looking fridge I have seen in a while. There is some negative aspects the first one is some of the shelves heights are kinda weird where if you want to place most standard beer bottles the shelves make it awkward you scrape the top of the bottle and bottom at the same time when you want a cold one. You can move the shelves around but if you have cans in the bottom shelves they won't fit anymore. I do not know if this is related to the 3rd party samsung contracted appliance installers but randomly the compressor clunks when turning off. What it might be is the rubber mounts for the compressor might be too soft or the installers smashed it with a dolly. Something that happens if your used to different fridges is that the door doesn't suck itself in like some fridges when the door is close to being shut but rather bounces back open halfway, it's kind of annoying but it seems that majority of new fridges have that unusual quirk where you have to really push the door shut in order to stay shut. There is a built in alarm to notify you that the door is open, but sometimes there's a sweet spot that it won't detect. The last negative thing is if you open the door when it is dark around the brightness of the interior light will temporary blind you.
Bottom Line Yes, I would recommend to a friend
Submitted 8 months ago
By The BaldMan
From Vestal, NY
Reviewed at


4
Great fridge with a few minor issues.
We love the fridge. The capacity is outstanding. We've always had a small counter top height fridge for extra beverages, extra food storage at holidays including thawing turkeys, etc. We were going to buy another one but since we got this fridge, we haven't felt the need to buy one. Love the deep shelves on the doors. The flex compartment is awesome. The fridge is amazingly quiet. The only things I hear are the pitcher refilling, ice dropping, or the icemaker refilling. We just have a few minor complaints. 1) the exterior is not very fingerprint resistant, 2) the lower compartments could use an extra light, and 3) I wish there were some sort of sensor for the ice bins being out. Too many times we've taken one out to fill a few glasses and the next batch drops while the bin is out.
Bottom Line Yes, I would recommend to a friend
Submitted 8 months ago
By The Baldman
From Vestal, NY
Reviewed at


4
Great refrigerator with a few minor flaws.
We love this refrigerator and it's versatility. Having the Flex compartment is awesome. We have it set to meat/fish and it appears to be keep the items we put there fresher. The refrigerator is incredibly quiet. About the only sound we notice the ice dumping, the icemaker refilling, and the water pitcher refilling. I've never noticed the compressors running. The door shelves are very spacious and we always seem to have room for anything. We had anticipated buying a small fridge for beer, overflow at the holidays, etc. but so far we haven't felt like we need to. I have two minor complaints: 1) I think the two lower compartments could use an extra light. 2) I wish there was some way for the icemaker to know the bin is out and not dump ice at those times. All in all we are very pleased.
Submitted 8 months ago
By Ritesh
From Charlotte nc
Reviewed at


5
Great features and design
Got this couple of months ago and love the look and features of this.
Bottom Line Yes, I would recommend to a friend