18" Bosch 44 dB Decibel Level, 6 Wash Cycles, 3 Loading Racks Dishwasher - SPV68B53UC
Bosch PROMO
Save up to $2100*
See Details
Save up to $2100*
Save *Up to $1600 on select Bosch appliances plus up to $500† bonus instant rebate on qualifying kitchen packages (some products are excluded).

Or as low as $149.92/month over 12 months. Apply Now

18" Bosch 44 dB Decibel Level, 6 Wash Cycles, 3 Loading Racks Dishwasher - SPV68B53UC
SPV68B53UC
$1,799.00
Literature
The Bosch 18" width ADA-compliant dishwasher is compact in size and features sophisticated technologies for quiet operation, outstanding performance and remarkable flexibility, all in a clean, sleek design.
44 dBA: Quietest dishwasher brand.
A 3rd rack adds versatility and offers 30% more loading capacity.
FlexSpace Tines fold back to fit your larger pots & pans.
AquaStop Plus 4-Part leak protection prevents water damage 24/7.
24h Delay Start Timer lets you run your dishwasher at off-peak times.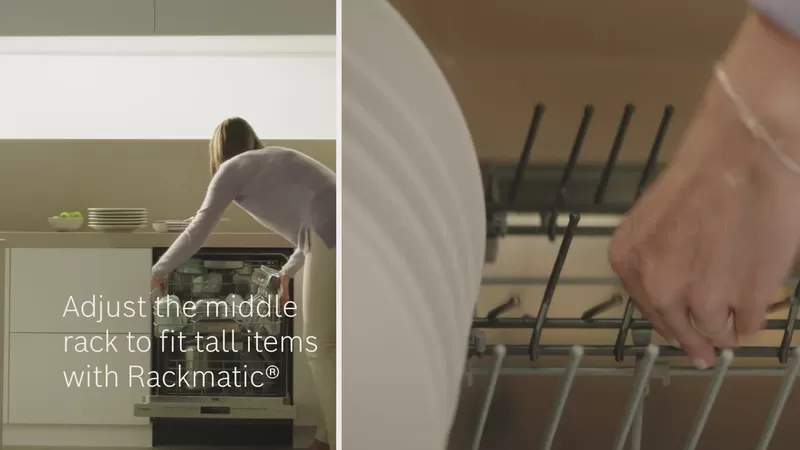 RackMatic
RackMatic RackMatic adjustable upper rack easily adjusts to 9 different positions to allow taller items like stemware to fit, while leaving room for pots and pans below.
General
Width of the product (mm)
448
Height of the product (mm)
815
Installation Type
Full-integrated
Number of place settings
10
List of programmes
Delicate, Economy, Intensive
Cycle Options
Extra dry, half load, HygienePlus, Machine Care, Remote Start
Display
Yes
Silence level (dBA)
44
3rd Rack
3rd Rack 1.0
Interior light
No
Removable top
No
Power cord length (cm)
170
Power cord length (in)
67"
Construction type
Color / Control Panel
Black
Construction type
Built-in
Panel ready
Not possible
Drying system
Inherent heat
Height of the product (mm)
815
Concealed heating element
Yes
Installation Type
Full-integrated
Tub material
Stainless steel
Water softener
No
Width of the product (mm)
448
Size and Weight
Overall appliance dimensions (HxWxD) (mm)
815 x 448 x 550
Overall appliance dimensions (HxWxD) (in)
32 1/16'' x 17 5/8'' x 21 5/8''
Adjustable plinth
No
Net weight (kg)
33.129
Net weight (lbs)
73.000
Connectivity
Home Connect
Yes
Home Connect Features
Remote Monitoring and Control
Connectivity type
Wi-Fi
Programmes
Status indicator
End of program audible, Time remaining indic. internal
List of programmes
Delicate, Economy, Intensive
Program 1
Intensive
Program 2
Auto
Program 3
Economy
Programme duration, programme1 (min.)
110-125
Programme duration, programme2 (min.)
110-135
Programme duration, programme3 (min.)
130-135
Programme duration, programme4 (min.)
30
Programme duration, programme5 (min.)
80-85
Programme duration, programme6 (min.)
10
Number of different wash temperatures
7
Temperature, programme 1 (°C)
66-71
Temperature, programme 2 (°C)
50-55
Temperature, programme 3 (°C)
50-55
Temperature, programme 4 (°C)
52
Temperature, programme 5 (°C)
45-50
Safety
Glass protection
No
Surge-back protect. installed
Yes
Leak protection system
Total system
Consumption values
Glass protection
No
Energy consumption, programme1 (kWh)
0.75-0.83
Energy consumption, programme2 (kWh)
0.64-0.66
Energy consumption, programme3 (kWh)
0.62-0.66
Energy consumption, programme4 (kWh)
0.45
Energy consumption, programme5 (kWh)
0.43
Energy consumption, programme6 (kWh)
0.05
Water consumption, programme 1 (l)
16.8-22
Water consumption, programme 2 (l)
11.2-20.1
Water consumption, programme 3 (l)
10.1-17.6
Water consumption, programme 4 (l)
9.5
Water consumption, programme 5 (l)
8.9-13.7
Water consumption, programme 6 (l)
3.6
Maximum temperature for water intake (°C)
60
Maximum number of place settings (EU 2017/1369)
10
Connection
Watts (W)
1,440
Power cord length (cm)
170
Power cord length (in)
67"
Current (A)
12
Length inlet hose (cm)
165
Plug type
Nema5-15P
Consumption values
Glass protection
No
Energy consumption, programme1 (kWh)
0.75-0.83
Energy consumption, programme2 (kWh)
0.64-0.66
Energy consumption, programme3 (kWh)
0.62-0.66
Energy consumption, programme4 (kWh)
0.45
Energy consumption, programme5 (kWh)
0.43
Energy consumption, programme6 (kWh)
0.05
Water consumption program 1
4.4-5.8
Water consumption program 2
3-5.3
Water consumption program 3
2.7-4.6
Water consumption program 4
2.5
Water consumption program 5
2.4-3.6
Water consumption program 6
1
Maximum temperature for water intake (°C)
60