9" Alpine Halo9 Apple CarPlay and Android Auto - ILX-F259

Or as low as $166.50/month over 6 months. Apply Now
Literature
9" WVGA hovering capacitive touch screen
Tapered display housing and silver trim for a clean, modernized fit and finish
Standard 1-DIN chassis designed to fit aftermarket ISO DIN dash kits for various vehicle applications
Screen mounting positions: three depth positions (up to 20mm deep), five vertical positions (as low as 30mm, four angled positions (45°, 20°, 0°, -20°)
Access your maps, music, calls and messages through Apple CarPlay or Android Auto
The customizable user interface lets you design up to three home pages; choose from available widgets like Clock, USB images, Apple CarPlay, Android Auto, "Now Playing," Sources, and Camera
Rear view camera input (camera sold separately)
SiriusXM Ready™ (SXV300 Connect Vehicle Tuner Kit sold separately, SiriusXM subscription required)
New for 2019 is the iLX-F259, a second Alpine Halo9 9" floating display with a customizable interface and only the features you need

PRODUCT OVERVIEW
The 9" iLX-F259 has a customizable UI with only the features you need: Apple Carplay, Android Auto and Bluetooth® wireless technology without a custom install.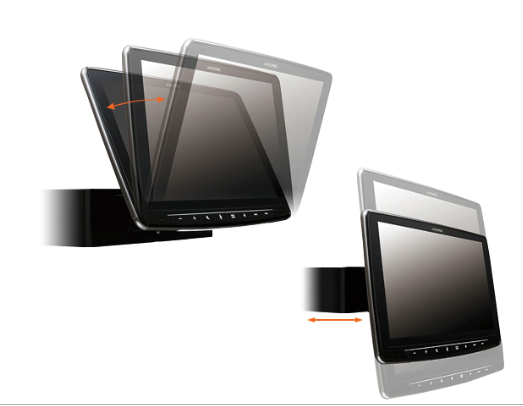 INNOVATIVE INSTALLATION
The ILX-F259's 9" screen is attached to an adjustable mount connected to a 1-DIN chassis. The screen hovers over or in front of the dash while its rear housing tapers off cleanly at the edges for a thin and modern silhouette. Various mounting positions allow for the screen to be positioned to avoid features on the dash such as air vents and buttons around the radio. Once the desired screen position is determined, the screen and mount get fixed to the chassis for a sturdy fit and finish.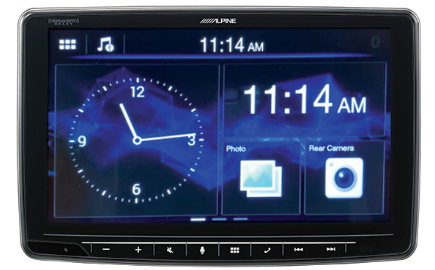 CUSTOMIZE YOUR SCREEN
The iLX-F259 has a customizable user interface so you can design your screens the way you like. Create up to three customized home screens by choosing from 22 widgets – including Clock, USB images, Apple CarPlay, Android Auto, "Now Playing," Sources, Camera, and Bluetooth functions – that can be easily dragged-and-dropped onto the page. Personalize the screen's wallpaper by using one of your own photos or choose from several pre-loaded patterns.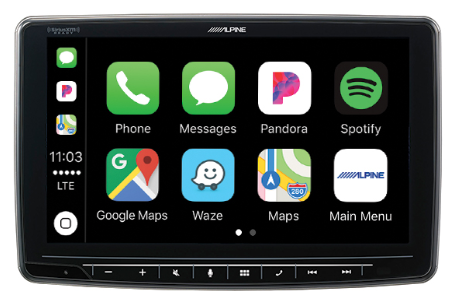 APPLE CARPLAY
The iLX-F259 "Works with Apple CarPlay" and lets iPhone users make and receive calls, access text messages, play music, and get directions in a way that allows them to stay focused on the road. Apple CarPlay is accessed through the capacitive touch screen or the mic button to activate Siri voice control and is compatible with iPhone 5 and later (iPhone must be connected via Apple lightning cable).
ANDROID AUTO
The iLX-F259 includes Android Auto and works with the Google Assistant (requires both a USB cable and Bluetooth connection; requires an Android™ phone running 5.0 [Lollipop] or higher and the Android Auto app). To access the Google Assistant on Android Auto, say "OK Google" or select the mic button. Google Assistant in Android Auto allows users to play their favorite music, get driving directions to their destination, interact with smart home devices and reply to text messages – hands free.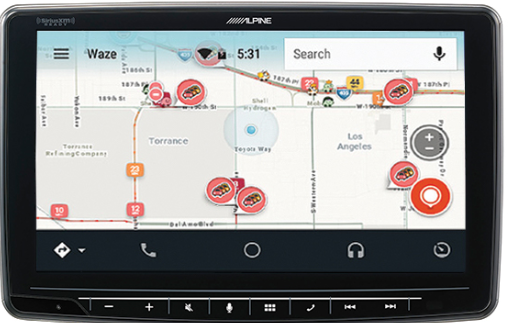 APP
Apple CarPlay and Android Auto give you access to popular apps such as:
Waze: The world's largest community-based traffic and navigation app
Spotify: A digital music service that gives you access to millions of songs
Amazon Music, and more
For information on third party apps, please visit the Apple CarPlay and Android Auto websites.
Android, Android Auto and Google Play are trademarks of Google, Inc.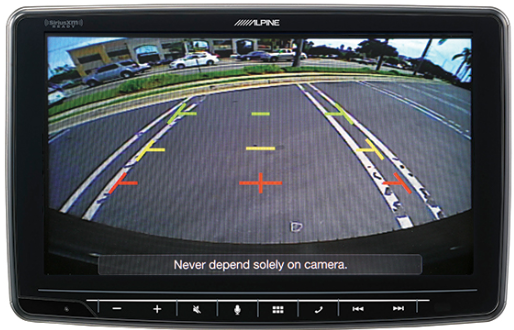 ADD A REAR CAMERA, OR MORE, IF NEEDED
Make blind spots a distant memory. The iLX-F259 has a rear camera input and overlays guidelines onto the camera image on the 9" screen to aid with distance judging (camera sold separately). Multiple cameras (for the rear and side) can be added when used through the KCX-C2600B Multi-Camera Selector (cameras and switcher sold separately).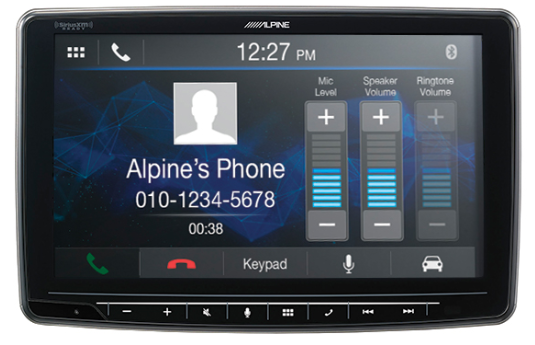 BLUETOOTH HANDS-FREE CALLING AND AUDIO STREAMING
Be smart when using your phone on the road. The built-in Bluetooth wireless technology allows for hands-free calling, secure simple pairing (SSP) and call waiting. Icons depicting phone battery level and cellular signal level are shown on the 9" screen. Expand your entertainment options with audio streaming from your smartphone.
BUILT-IN FEATURES TO ENJOY
By offering endless audio and video options, the iLX-F259 knows how to keep you entertained on the road.

Hi-Res Audio FLAC files
The iLX-F259 can playback 24/96 FLAC files via USB. Other supported formats include MP3/WMA/AAC/HE-AAC music playback via USB.

Made for iPod/ Works with iPhone
It's convenient to control your iPod or iPhone in the car – enjoy seamless operation of your iPod in addition to full control of all your favorite media sources. Control all search options of your iPod directly from the iLX-F259 via Playlist, Artist, Album,Song, Genre, Podcast or Composer. The USB connection allows for high-quality iPod / iPhone playback and delivers an even faster access speed so you'll find songs as quickly as you expect to find them on your iPod / iPhone.

Satellite Radio Ready
Upgrade your sound experience and expand your entertainment choices by adding SiriusXM satellite radio to your ILX-F259. The iLX-F259 is SiriusXM-Ready™ and connects to the SiriusXM SXV300 Connect Vehicle Tuner Kit (sold separately,subscription required).