Sony Wireless Noise Cancelling Headphone - WF1000XM3/B
Sony Wireless Noise Cancelling Headphone - WF1000XM3/B
Sony Wireless Noise Cancelling Headphone - WF1000XM3/S

Sony Wireless Noise Cancelling Headphone - WF1000XM3/B
WF1000XM3/B
$299.99
Literature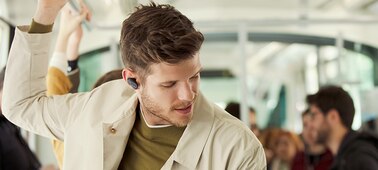 Industry-leading noise cancellation
The noise cancelling technology in the WF-1000XM3 is the most advanced ever in truly wireless headphones, with our HD Noise Cancelling Processor QN1e. So you can lose yourself completely in your music.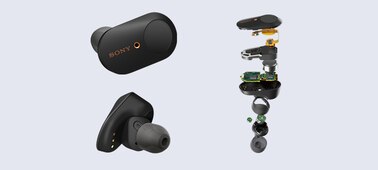 Dual Noise Sensor Technology
Dual microphones—one feed-forward and one feed-back—on the surface of the headphones catch more of the ambient sounds of your surroundings, whether it's in-flight noise, city traffic or office chatter.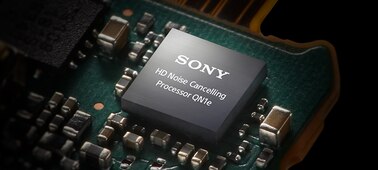 HD Noise Cancelling Processor QN1e
Having caught the ambient sound, the dedicated HD Noise Cancelling Processor QN1e gets to work. It not only cancels significantly more noise across almost all frequencies, but also uses less power.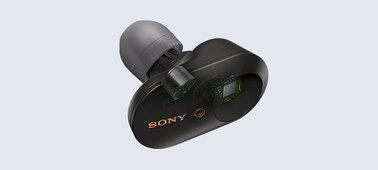 6-mm driver unit
A tiny-yet-powerful 6-mm driver unit sits inside the headphones to deliver rich, clear, expansive sound.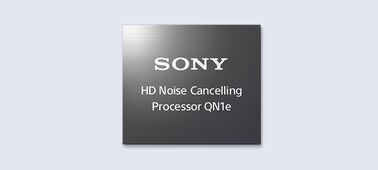 Exceptional sound with minimal distortion
The multi-talented HD Noise Cancelling Processor QN1e combines Digital Noise Cancelling, 24-bit Audio Signal Processing, and a Digital-to-Analogue converter with headphone amplifier. The result? Stunning sound with minimal distortion.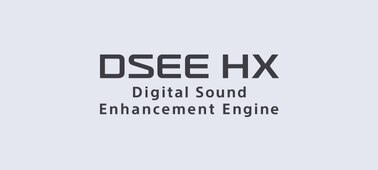 Upscale digital music with DSEE HX
Digital Sound Enhancement Engine HX (DSEE HX™) upscales compressed digital music files, bringing them closer to the quality of High-Resolution Audio.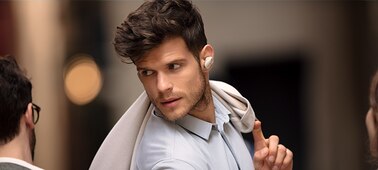 Ultimate listening freedom
A new Bluetooth® chip and optimized antenna design provide a stable connection for hour upon hour of high-quality wireless streaming.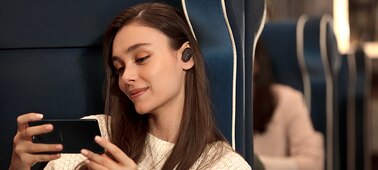 Perfect for TV shows, movies and more
Watching video content on your smartphone or tablet? The advanced wireless connection on the WF-1000XM3 syncs what you see on screen precisely with what you hear on your headphones for more enjoyable viewing.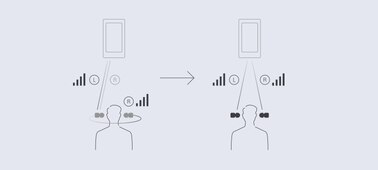 Superior listening with a new Bluetooth® chip
Rather than relaying sound from one ear to the other, the newly developed Bluetooth® chip transmits sound to the left and right ears simultaneously for an exceptional listening experience.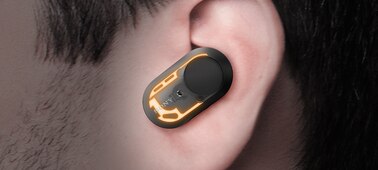 Optimized antenna design
The placement of the headphones' Bluetooth® antenna has been optimized to ensure a wider coverage. This helps keep the signal strong for uninterrupted streaming.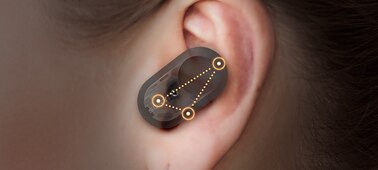 Ergonomic Tri-hold structure for a secure fit
The noise cancelling earbuds are ergonomically designed to make contact with three different points on your ear for a secure, comfortable fit.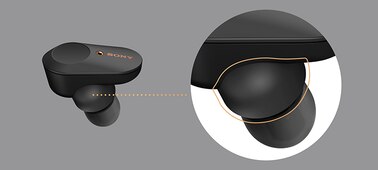 Earbuds stay snug and secure
A high-friction rubber surface keeps the noise cancelling earbuds snug and secure in your ear, so they won't slip out unexpectedly.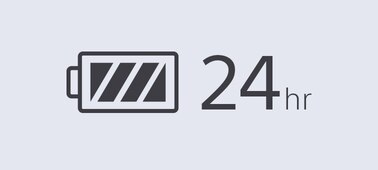 Up to 24 hours of listening
On a full charge, the headphones offer 6 hours of power and the handy charging case provides a further three charges to keep you going throughout the day. That's up to 24 hours of noise-free listening. With noise cancelling off, it's even longer — 8 hours of power on a full charge, with a further three charges from the charging case, for up to 32 hours of play time.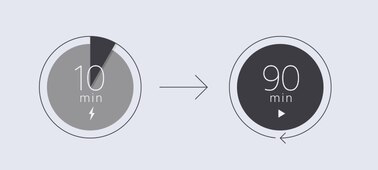 Quick charging when you need it
Sometimes you need music, fast. So if your headphones are running low on power, a 10-minute quick charge in the charging case gives you up to 90 minutes of play time.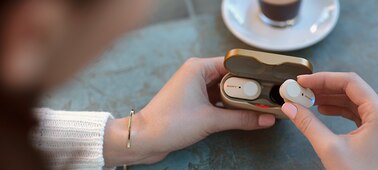 Handy magnetic charging case
Put your noise cancelling headphones back into the charging case and they'll nestle into place with a satisfying snap thanks to a magnetic interior. A USB-C cable lets you recharge the case quickly and easily, ready for another day's listening.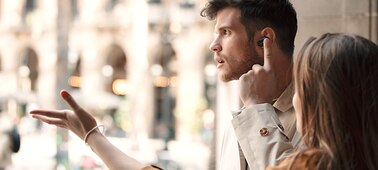 Talk at a touch with Quick Attention
Placing your finger over the earbud turns the volume right down and lets in ambient sound. So you can instantly chat with someone without taking your headphones off.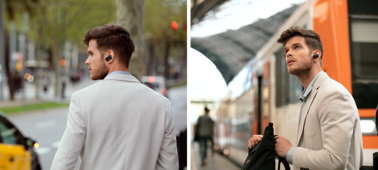 Adaptive Sound Control automatically adjusts to whatever you do
The Sony | Headphones Connect app offers Adaptive Sound Control, a smart function that automatically detects what you're up to—such as travelling, walking or waiting—then adjusts ambient sound settings to suit the situation. You can also customize the settings to your preferences.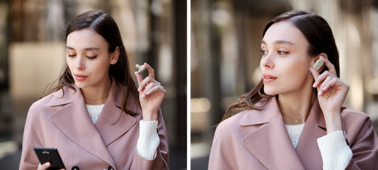 Automatic pause and play
A proximity sensor in each earbud can detect whether you're wearing one or both, and adapts playback accordingly. Take out one earbud and the music automatically pauses on both sides. Put the earbud back in and the music automatically resumes playing.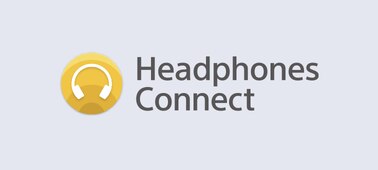 Be in control of your listening
With the Sony | Headphones Connect app, Ambient Sound Control lets you adjust the volume of background sound and gives you the option to allow voices alone to be heard. Meanwhile, the Equalizer lets you customize sound levels to suit your music.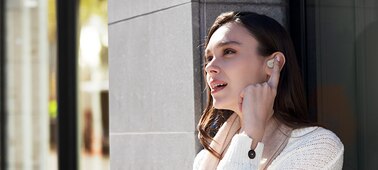 Just say the word with Voice Assistant
Enjoy entertainment, connect with friends, get information, listen to music and notifications, set reminders and more. With the Google Assistant, you just have to ask.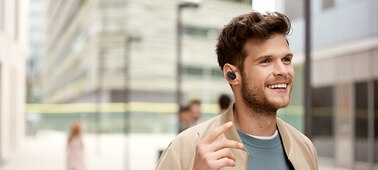 Clearer hands-free calling
Conversation flows freely with easy, hands-free calling. The WF-1000XM3 headphones deliver clearer voice quality and you can take calls using either, or both, of the earbuds. This allows you to alternate their recharging or hear calls clearly in noisy environments.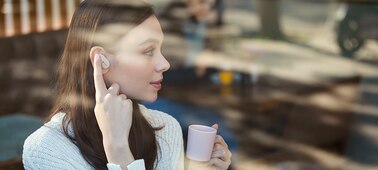 Control at your fingertips
WF-1000XM3 headphones feature intuitive touch control settings — for example, tap on the left earbud to change from Noise Cancelling to Ambient Sound, or double tap on the right to skip to the next track.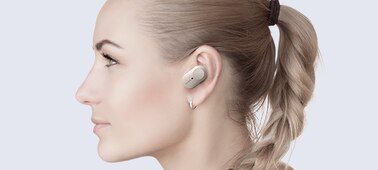 Customizable touch controls
If you want to customize your touch controls, no problem. The Sony | Headphones Connect app lets you assign alternative options, such as Google Assistant, to each earbud.
Modern classic style
From the headphones with their clean, minimalist look, to the charging case with its tactile, high-end finish, it's all about elegant, understated style.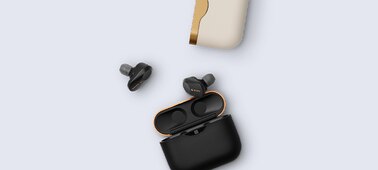 Choose your colour
The WF-1000XM3 headphones and carrying case come in a choice of colours to suit your style.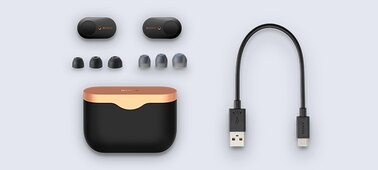 Everything you need
A USB-C charging cable and two types of earbud in a range of sizes are included in the box.
Size & Weight
Weight
Approx. 8.5 g x 2
General Features
Headphone Type
Closed, dynamic
Driver Unit
6 mm, dome type (CCAW Voice coil)
Magnet
Neodymium
Frequency Response (Active Operation)
-
Frequency Response (Bluetooth Communication)
20–20,000 Hz (44.1 kHz sampling)
Sensitivities (dB/mW)
-
Volume Control
-
Cord Length
-
Plug
-
Waterproof
-
NFC
Yes (Case)
DSEE HX
Yes
Passive Operation
-
Battery
Battery Charge Time
Approx. 1.5 hrs
Battery Charge Method
USB charging (with Case)
Battery Life (continuous music playback time)
Max. 6 hrs (NC ON)/Max. 8 hrs (NC OFF)
BATTERY LIFE(CONTINUOUS COMMUNICATION TIME)
Max. 4 hrs (NC ON)/Max. 4.5 hrs (NC OFF)
Battery Life (Waiting Time)
Max. 9 hrs (NC ON)/Max. 15 hrs (NC OFF)
Bluetooth® Specification
Bluetooth version
Bluetooth Specification Version 5.0
Effective Range
Line of sight approx. 10 m (30 ft)
Frequency Range
2.4GHz band (2.4000GHz-2.4835GHz)
Profile
A2DP, AVRCP, HFP, HSP
Supported Audio Format(s)
SBC, AAC
Supported Content Protection
SCMS-T
Noise Cancelling
Noise Cancelling ON/OFF Switch
Yes
Automatic AI Noise Cancelling
-
Charging Case
Impedance (Ohm)
Approx. 3.5 hrs
Weight
Approx. 79.38 g
Dimension
-