30" Samsung Combination Double Oven With Power Convenction - NQ70M7770DG
30" Samsung Combi Double Oven With Power Convection - NQ70M7770DS
30" Samsung Combination Double Oven With Power Convenction - NQ70M7770DG
Read Reviews 3.67 (15)
Write a review
73% would recommend this to a friend
$

5,649.99

CAD

Save $150.00

Or as low as $470.83/month over 12 months. Apply Now

30" Samsung Combination Double Oven With Power Convenction - NQ70M7770DG
NQ70M7770DG/AA
$5,449.99 CAD

Save $150.00

Or as low as $454.17/month over 12 months. Apply Now
$5,649.99 CAD

Save $150.00

Or as low as $470.83/month over 12 months. Apply Now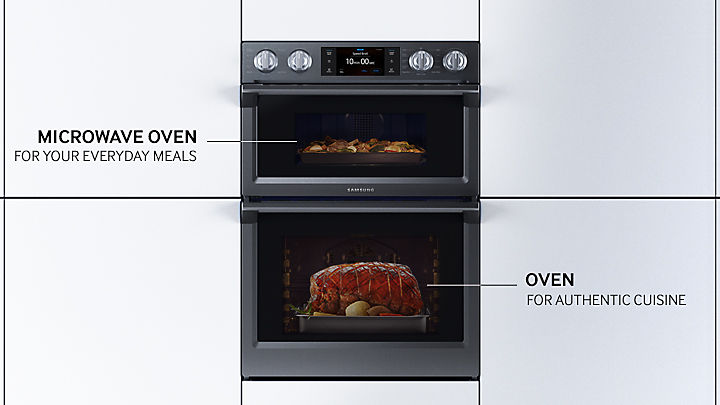 Flexible choice of cooking
Combi Double Oven
A Combi Double Oven offers a flexible choice of cooking methods to perfectly match your needs. The upper cavity works as a microwave oven, with Power Convection technology, while the lower cavity is a normal oven.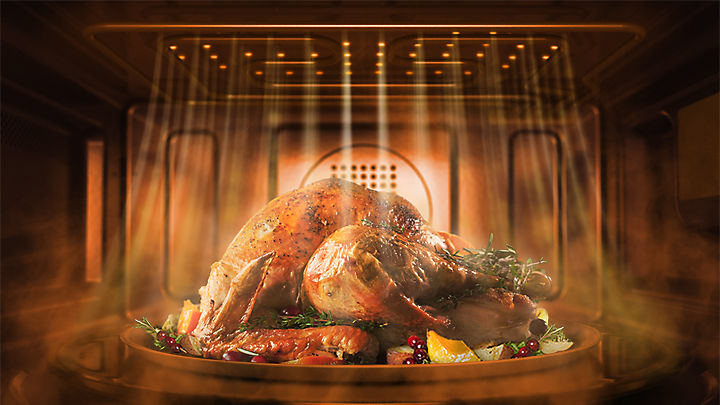 Crispy outside, Juicy inside
Power Convection
Power Convection is a new method that reduces cooking times significantly. Powerful hot air is blown through multiple air-holes directly onto your food, so it's cooked evenly with a crispy outside, but juicy inside.
Easily check your food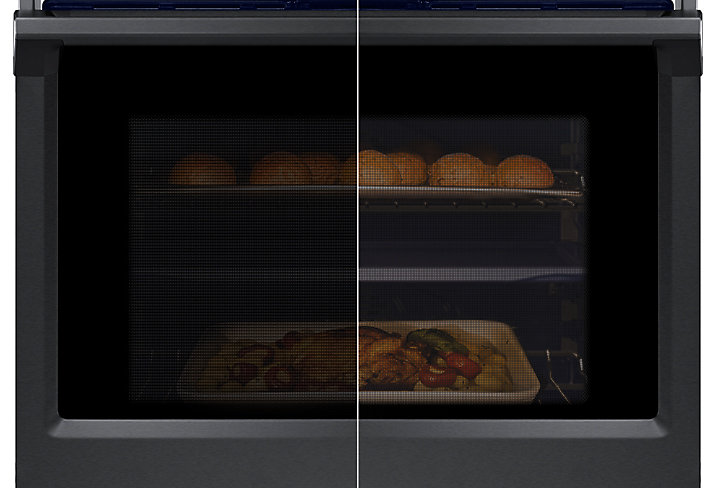 Clearly check
An EasyView Glass Door lets you check on your cooking without opening the door. A metal mesh in the glass provides better visibility, but still protects.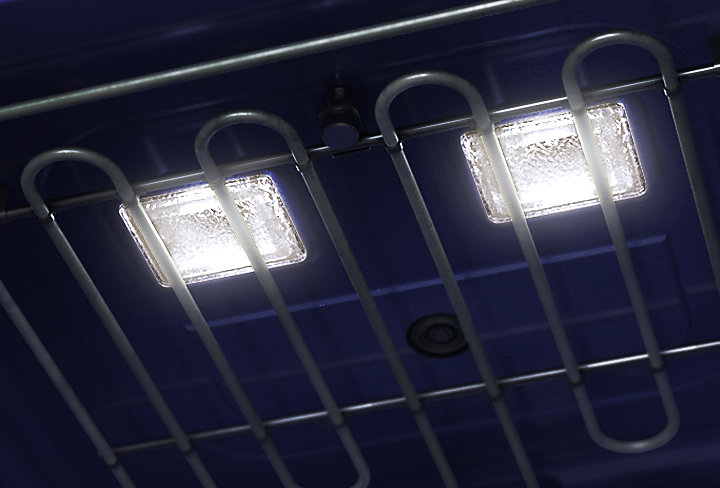 See the exact color
Bright LED Lighting lets you safely monitor your cooking without opening the door, as you can clearly see the exact color and condition of your food.
More space to cook larger meals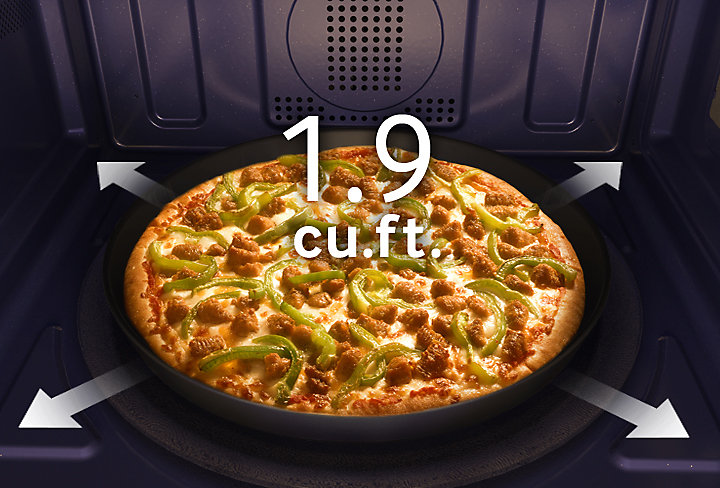 Cooks more meals
Enjoy all the space you need to cook sumptuous food for your friends and family. With a large 1.9 cu. ft. capacity it can accommodate virtually any sized meal or dish and cook it all quickly and efficiently.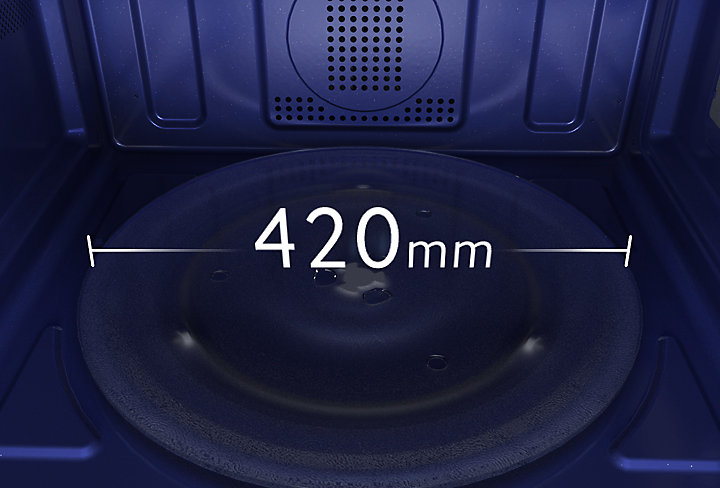 More space
Cook on a much larger scale using the 420 mm turntable. Despite its compact size, the internal dimensions have been increased, so the turntable is significantly wider, enabling you to cook larger plates of food.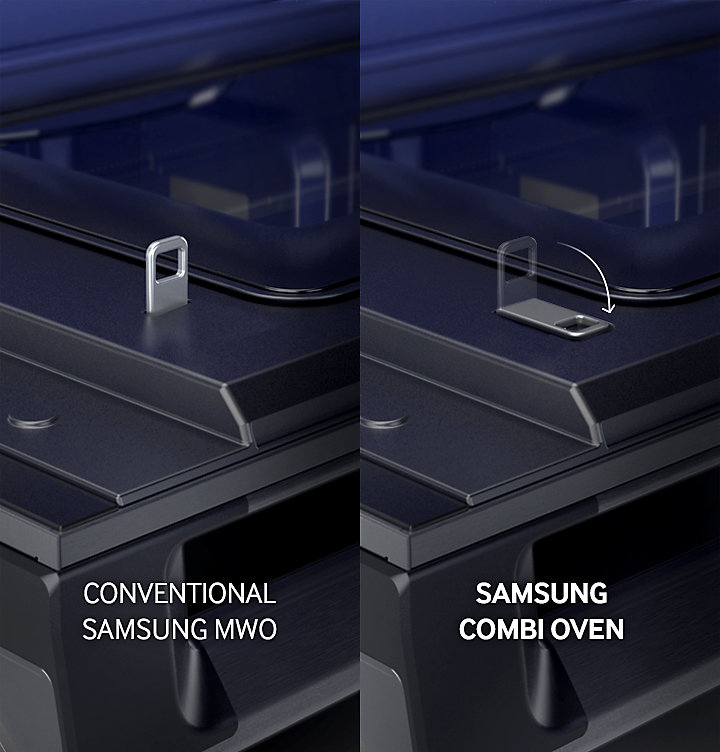 Neater Design
Auto Latch door
An Auto Latch door gives a neater look and makes it safer to put in and take out food. The hooks that secure the door are hidden, but pop up as it shuts. Only once the door is closed properly are microwaves radiated.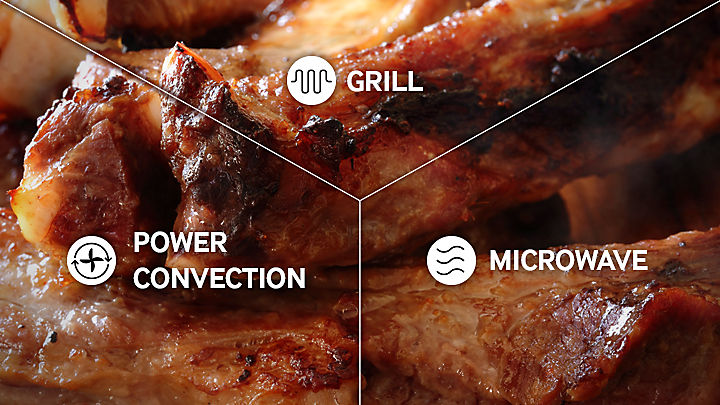 Cooks food faster
Speed Power Convection
A Speed Power Convection Combi system has 3 different heat sources. Using microwave and Power Convection technology plus a grill to crisp and brown it ensures food is cooked quickly, evenly and looks as good as it tastes.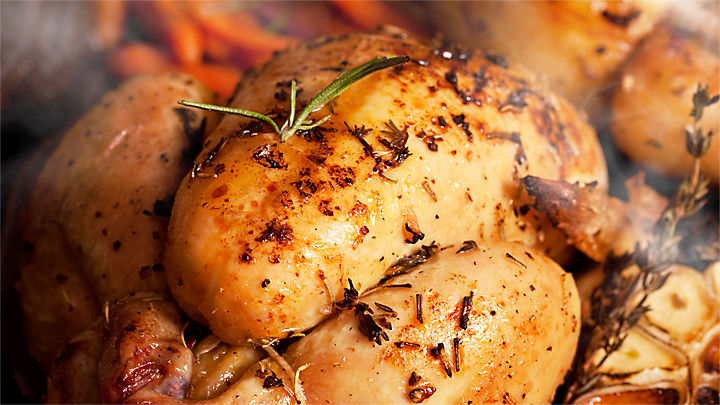 Tender inside and browned outside
Steam Roast (Lower oven)
The Steam Roast function ensures the best results when roasting, without food drying out. Roast meats, like poultry, pork and beef, are always deliciously brown outside, but meltingly tender and juicy on the inside.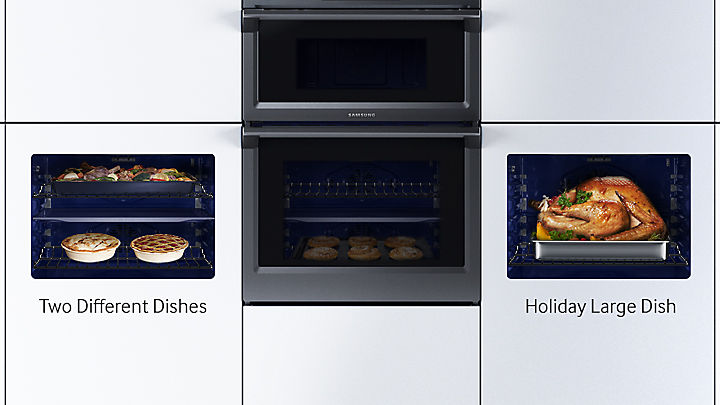 Two small ovens, or one big oven
Flex Duo™ (Lower oven)
The Flex Duo™ system gives you the ultimate in control. The upper and lower cooking zones can be used independently, to cook different dishes simultaneously with different temperature and time settings, or together.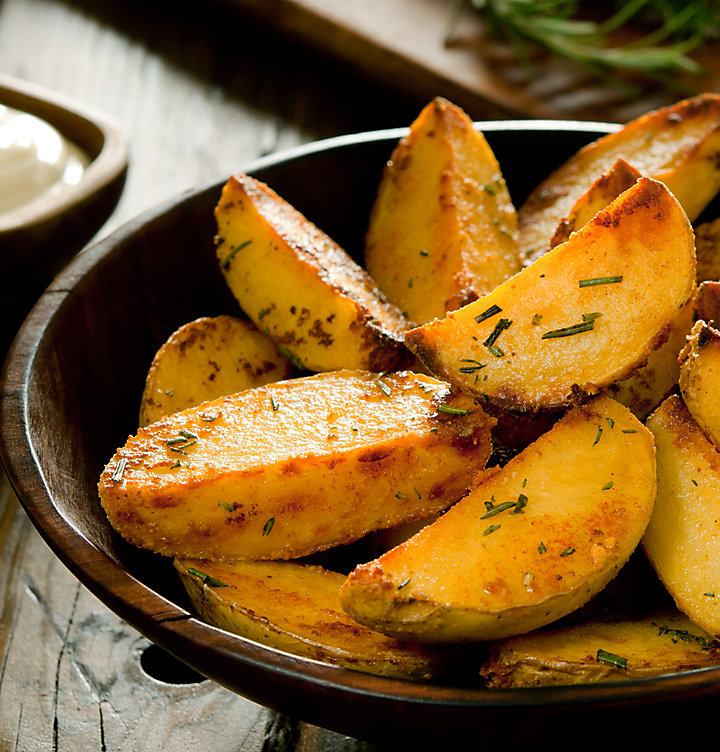 Enjoy healthier fried food
SLIM FRY™
Enjoy healthier fried food without a deep fryer. SLIM FRY™ technology combines a grill with warm air circulation, so food is cooked crispy inside and out using only a touch of oil. And no greasy pans or splatters!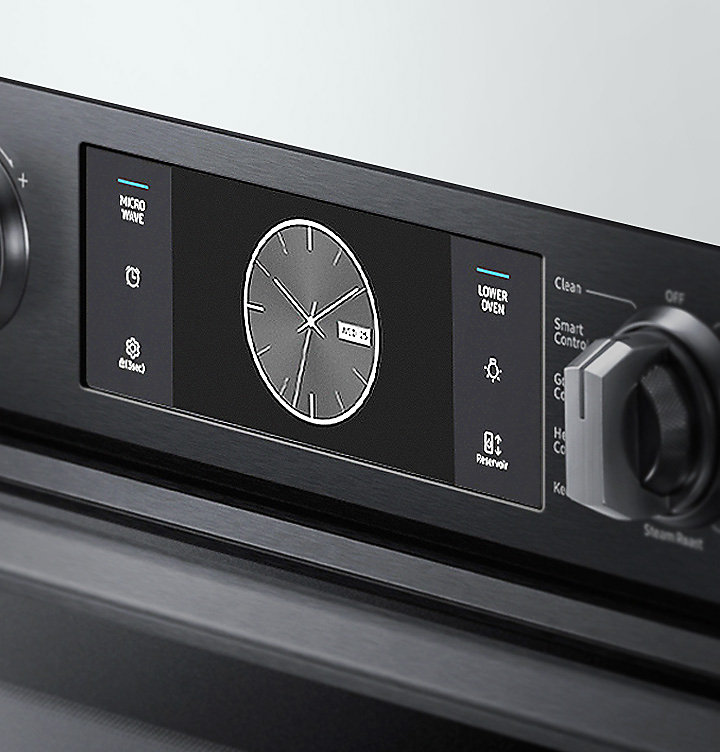 Clear & intuitive information
LCD Display
A bright, clear LCD display is easy to read, so you can quickly and intuitively check the status of the oven, even from a distance. And it gives you plenty of useful information to help you cook more effectively.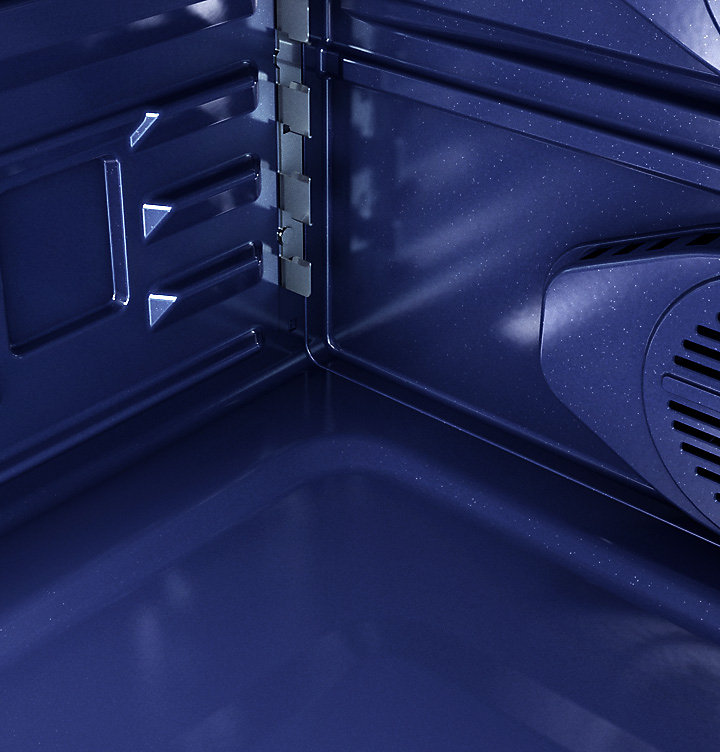 Durable, easy clean interior
CERAMIC ENAMEL
The smooth and durable Ceramic Enamel is easy to keep clean without scrubbing and won't discolor over time. It also prevents bacteria from spreading and is highly rust and scratch-resistant, so it lasts longer.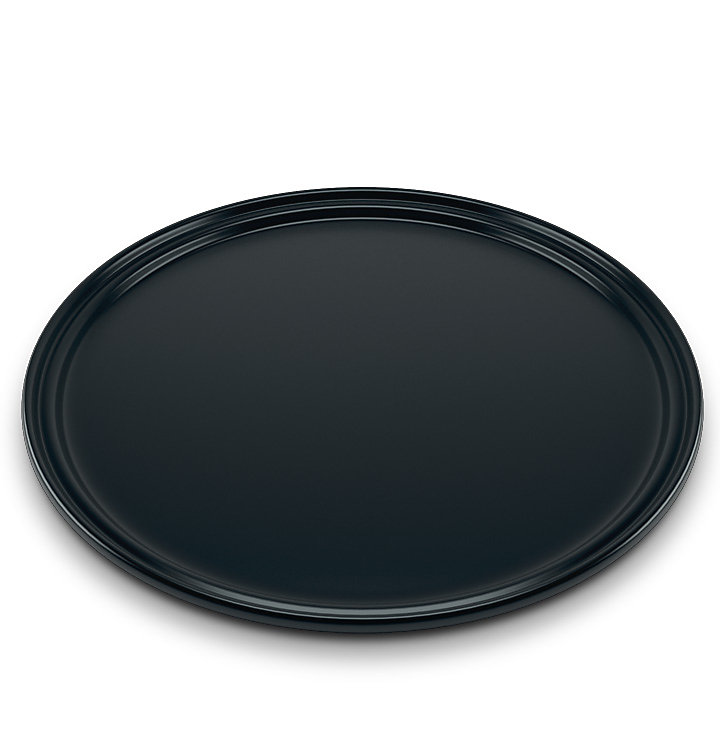 Perfectly crispy food
Hot Plate
With the Hot Plate you can enjoy crispy and crunchy foods. It evenly bakes and browns the top and bottom of frozen or leftover foods like pizza, quiche and chicken nuggets. You can also bake and fry without oil.
Capacity
Oven Capacity
Upper 1.9 cu.ft / Lower 5.1 cu.ft
Features
Heater Element
Broil 1650 W
Type of Controls
7" LCD + Knobs
Auto Programs
29
Child Safety Lock
Yes
Light (Lamp) On/Off
Yes
Convection
3250 W
Interior Lamp
LED
Type (Ceramic)
Yes
Materials/Finishes
Cavity Material
Ceramic
Oven Type
Convection
Display Type
LCD
Control Method
7" LCD + Knobs
Oven Door Glass
4
Door Type
Drop Down
Power/Ratings
MWO Watts
950 W
Type
Installation Type
Built-in
Weights/Dimensions
Net (WxHxD)
756 x 1099 x 685 mm
Gross (WxHxD)
854 x 1224 x 757 mm
Cutout (WxHxD)
724 x 1065 x 587 mm
Loading Quantity (20/40ft)
19 / 42
Weight (Net)
119
Weight (Shipping)
132.5
Reviews
Average Customer Ratings
| | | |
| --- | --- | --- |
| Overall | | 3.67 |
| Design | | 3.87 |
| Features | | 4.27 |
| Performance | | 4.00 |
| Value of Product | | 3.47 |
Cons
Poor quality, Did not meet expectations
Poor quality, Did not meet expectations
Poor quality, Did not meet expectations
Submitted a year ago
By Kuldip Singh
Reviewed at


1
Great on paper but flawed
Bought this 2.5 years ago and the touch screen panel is already stopped working. Cannot press buttons, constantly beeping and selecting its own menu items. Adds time by itself when using microwave, literally non responsive. Estimate to repair with 2 techs is close to $1000. Absolute trash along with every other Samsung appliance we have purchased. They all have issues just after warranty expires. DO NOT BUY!!!!!!!!!!!!!!!!!
Bottom Line No, I would not recommend to a friend
Submitted 2 years ago
By Ksingh85
Reviewed at


All the reviews are basically new reviews. Try living with the unit for a couple of years first. Purchased this unit Oct 2018. Not even 3 years later the touch screen is failing. Also another samsung product (fridge) ice make is frozen shut which is another major complaint most people have. Washer and dryer combo. Washing machine spends over an hour and half on a quick wash which is supposed to be 25 minutes. All of my samsung appliances which were bought for a newly built house less than 3 years ago have problems. I DO NOT RECOMMEND Samsung appliances unless you enjoy broken appliances and wasting money.
Bottom Line No, I would not recommend to a friend
Submitted 2 years ago
By Jaggu
Reviewed at


1
Very poor ,slow ,irresponsible service
i bought each and every appliances from Best buy, brampton ,ON with 05 years extended warranty and 03 months later my microwave oven combo display didn't work and strange three times technician visited but didn't fixed it ,even also high value dept. of samsung also hold my phone waited and waited .after 25 days they fixed my brand new oven combo in covid environment and everywhere fingure point with greese ,we feel like we bought used combo . very poor , slow , irresponsible service .
Bottom Line No, I would not recommend to a friend
Submitted 5 years ago
By Kwasney
Reviewed at


The oven works great, pre hearts quickly. The microwave is another story. It rarely works the first time. I have to Spend 5 or more minutes trying to melt 1tbsp of butter. It has a certain sound when it kicks in so you know when it's going to work but rarely does. A microwave is supposed to create convienence but this microwave does the opposite. Extremely frustrating especially since I was so excited for this microwave/oven combo.
Bottom Line Yes, I would recommend to a friend
Submitted 11 months ago
By Chewy
From Milwaukee, Wisconsin
Reviewed at


I had researched wall ovens for a long time and when remodeling our kitchen, I planned this into the design. We have been using it for about 6 months now and it is amazing. I love all the microwave/oven features and it so versatile. The only negative I've found is that you can't use the oven to go into orbit around the earth but besides that, it has exceeded all our expectations.
Bottom Line Yes, I would recommend to a friend
Submitted 11 months ago
By JP of Los Angeles
From Los Angeles
Reviewed at


5
Great features- very user friendly- looks elegant
I was looking for oven and microwave combo in stainless steel black and I saw this in a showroom - It was not available at that time but wen to samsung website and got it- it looked great with the rest of my appliances - the features are great and user friendly - it's tech packed and I can activate it remotely through the app- I absolutely love it
Bottom Line Yes, I would recommend to a friend
Submitted 11 months ago
By CarlDug
From Smyrna, Tennessee
Reviewed at


Nice features. Looks good and work great. If remodeling, will require some cabinet remodeling. One would have thought someone would have thought it would be a good idea to size it the same as a conventional double oven. Instead, I gained an additional drawer as the height is less.
Bottom Line Yes, I would recommend to a friend
Submitted a year ago
By VermontBorn
From Vermont
Reviewed at


I hate having a microwave on the counter, but had to because I wanted two ovens. This unit allows me a lot of flexibility without taking up space: two ovens; a microwave and an oven; a microwave and two small ovens; a steam oven, etc…
Bottom Line Yes, I would recommend to a friend
Submitted a year ago
By Jary316
Reviewed at


the microwave/oven wouls be a great product if the software was decent, unfortunately that is not the case. the clock drifts fairly quicky, the option to set the date and time triggers a reboot, and then the feature is still deactivated. the system also performs full reboots at least once a week. this needs a complete software overall.
Bottom Line No, I would not recommend to a friend
Submitted a year ago
By Rick
From Miami
Reviewed at


5
Great Oven, not for grandma to use
This is a great oven, full of technology and gadgets. My mother in law is scared of it and refuses to touch it. So far she just uses the basic microwave function. This oven has many options available and if all you do is light cooking or light usage, it may not be the one for you but if you want all to experience what a chef can do, this is it.
Bottom Line Yes, I would recommend to a friend