Apple True Wireless AirPods Pro With Wireless Charging Case In White - MWP22AM/A

Or as low as $54.83/month over 6 months. Apply Now

Apple True Wireless AirPods Pro With Wireless Charging Case In White - MWP22AM/A
MWP22AM/A
$329.00
Active Noise Cancellation for immersive sound.
Transparency mode for hearing what's happening around you.
A customizable fit for all-day comfort.
Magic like you've never heard.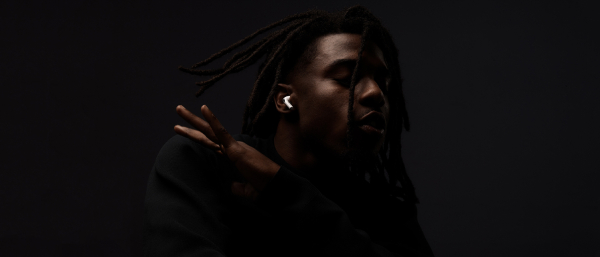 Comfort
Arrival of the fittest.
We refined the details of comfort, creating a new class of in-ear headphones with a customizable fit that forms an exceptional seal for Active Noise Cancellation. You'll feel your music, not your headphones.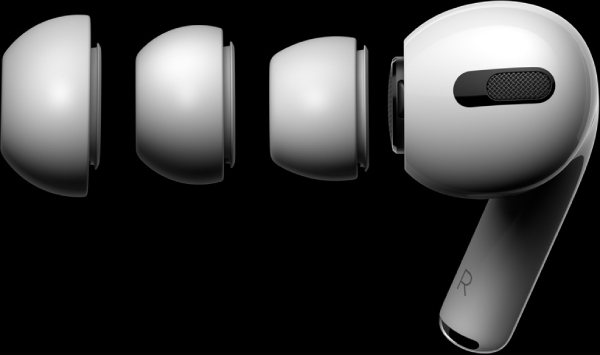 Choose from three sizes of soft, flexible silicone tips that click into place. Find the best fit — and get the best sound — by using the Ear Tip Fit Test.
These internally tapered tips conform to your ear shape, keeping AirPods Pro secure. And with vents helping equalize pressure, you feel like there's nothing in your ears.
Active Noise Cancellation
Sound that cuts out the noise.
AirPods Pro are the only in-ear headphones with Active Noise Cancellation that continuously adapts to the geometry of your ear and the fit of the ear tips — blocking out the world so you can focus on what you're listening to.
An outward-facing microphone detects external sound.
AirPods Pro then counter it with equal anti-noise, cancelling the external sound before you hear it.

An inward-facing microphone listens inside your ear for unwanted sound, which is also eliminated with anti-noise.
Noise cancellation is continuously adjusted at 200 times per second for truly immersive sound, so you're fully tuned in to your music, podcasts and calls.

Want to hear what's happening around you? Just press and hold the force sensor on the stem to move between Active Noise Cancellation and Transparency mode — which lets outside sound in, and allows things to sound and feel natural when you're talking to people nearby.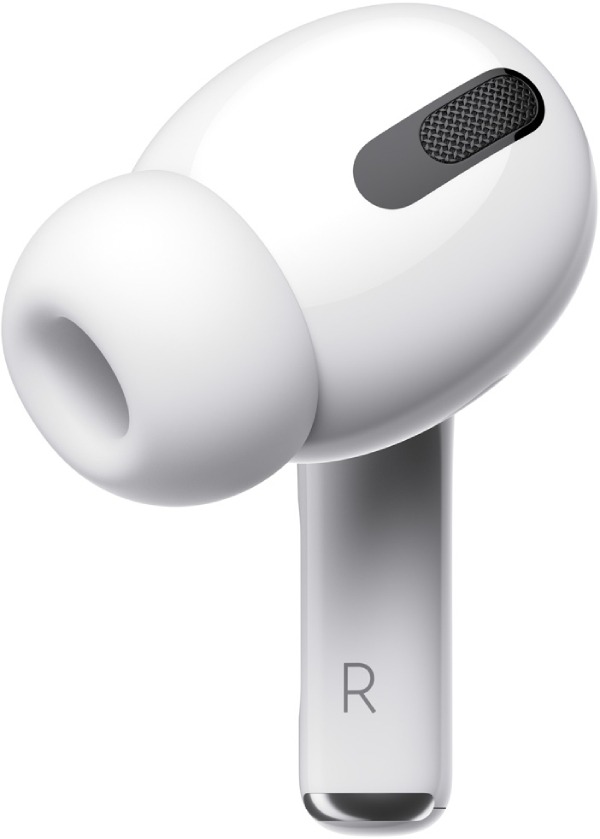 Audio quality
Everything you hear is unheard of.
Enjoy superior sound quality with Adaptive EQ, which automatically tunes music to the shape of your ear for a rich, consistent listening experience.
Spatial audio with dynamic head tracking turns movies and tv shows into a theatre-like experience, with sound that surrounds you in exactly the right place.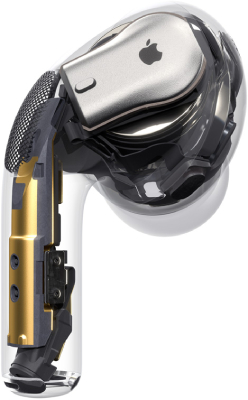 Performance and design
A chip with serious chops.
Tech-packed yet compact, AirPods Pro are built around our System in Package design — featuring the H1 chip that powers everything from sound to Siri.
The Apple-designed H1 chip employs 10 audio cores, creating incredibly low audio processing latency that enables real-time noise cancellation.
The System in Package design is meticulously arranged, with the placement of each component based on the form of the human ear — maximizing comfort, fit and stability.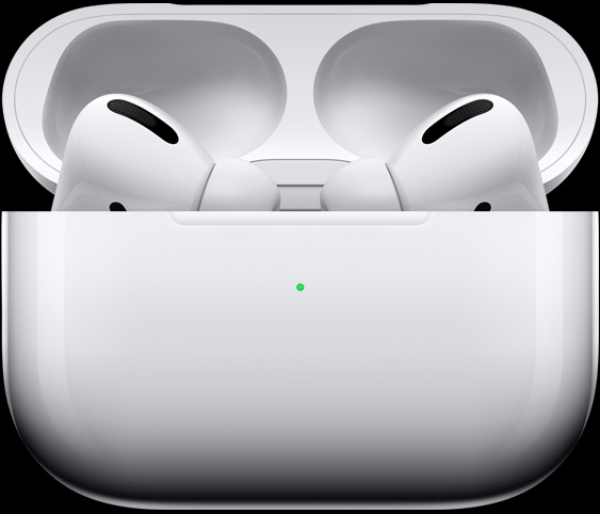 Battery
Charge wirelessly. Use tirelessly.
The Wireless Charging Case delivers more than 24 hours of battery life and is compatible with Qi-certified chargers. When the battery is low, AirPods Pro send a notification to your iPhone letting you know it's time to charge.
More than 24hrs of listening time with multiple additional charges in the case
Up to 4.5hrs of listening time on one charge
Around 1hr of listening time on only 5 minutes of charging
Specifications
Chip
H1-based System in Package
Sensors
Dual beamforming microphones, Inward-facing microphone, Dual optical sensors, Motion-detecting accelerometer, Speech-detecting accelerometer, Force sensor
Controls
Press once to play, pause or answer a phone call, Press twice to skip forward, Press three times to skip back, Press and hold to switch between Active Noise Cancellation and Transparency mode, Say "Hey Siri" to do things like play a song, make a call or get directions
Sweat- and Water-Resistant
Sweat- and water-resistant (IPX4)
Connectivity
Bluetooth 5.0
In the Box
AirPods Pro, Wireless Charging Case, Silicone ear tips (three sizes), Lightning to USB-C Cable, Documentation
Accessibility
Accessibility features help people with disabilities get the most out of their new AirPods Pro. Features include:Live Listen audio1
System Requirements
iPhone and iPod touch models with the latest version of iOS, iPad models with the latest version of iPadOS, Apple Watch models with the latest version of watchOS, Mac models with the latest version of macOS, Apple TV models with the latest version of tvOS