Clarion 2-DIN DVD Multimedia Station With Built-in Navigation And 7-inch Touch Panel Control - NX706

Or as low as $200.00/month over 6 months. Apply Now

Clarion 2-DIN DVD Multimedia Station With Built-in Navigation And 7-inch Touch Panel Control - NX706
NX706
$1,199.99
Literature

Expand Your World, Right from Your Car
7-inch Screen Makes Touch Operation Even Easier
The large 7-inch monitor offers comfort and convenience for any driver. With only a few key functions having a physical button, most of the fun takes place on screen. Everything from song selection to navigation is at your fingertips with intuitive touch panel operation designed to maximize enjoyment while ensuring safety.

Siri® Eyes Free for No-fuss Operation of iPhone®
Enjoy a safer hands-free driving experience with Siri Eyes Free. Just say the word and you can check your emails, check your schedule, play music stored on your iPhone, and so much more.

GPS Navigation with Rich Graphics & Superior Functionality
The NX706 features a built-in navigation system with simple destination input, turn-by-turn voice prompts and selectable route guidance. Preloaded with 11 million points of interest, its database includes national parks, restaurants, gas stations and much more. Everything you need to get to your destination quickly and efficiently is at your fingertips.

Enjoy the Latest Digital Functionality
In addition to listening to music stored on your smartphone through the car's audio system, you can also enjoy hands-free telephone communication. HDMI® mode is supported so smartphone app screens and video content can be displayed on the large screen. Experience a wider range of digital media thanks to high-resolution format support, such as H.264 video via USB as well as lossless FLAC audio files.

System Upgrading with Optical Digital Output
You can use an optical cable to connect the NX706 to a Full Digital Sound device or DSP via the optical digital output. The Full Digital Sound lineup includes the Z7 Full Digital Speaker, Z25W Full Digital Subwoofer and Z3 Full Digital Sound Processor/Commander/Full Digital Tweeter. By equipping a full system you'll be able to enjoy the highest quality digital sound experience.

High-Precision Personal Sound with 15-Band Graphic Equalizer
The NX706 has a built-in 15-band graphic equalizer that gives you the ability to sculpt sound to your taste. Make detailed adjustments with precision to create the perfect sound in your vehicle. Since the gain level can be pre-adjusted for each source separately, you won't have to fiddle with the volume knob each time you switch sources.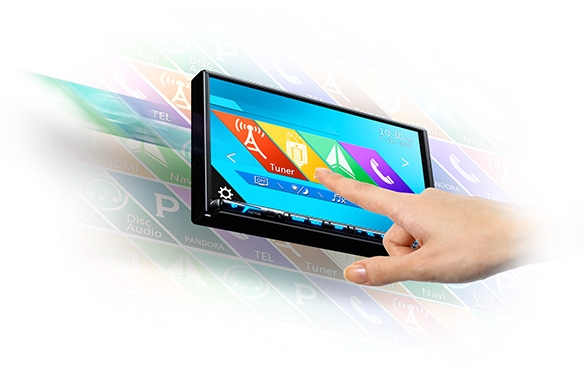 Design Interface
User Interface Offers Superior Visibility and Intuitive Operation
The large, highly visible icons on the touch panel make the NX706 extremely user friendly. Flick operation support enables you to scroll through map screens, music selection screens and more.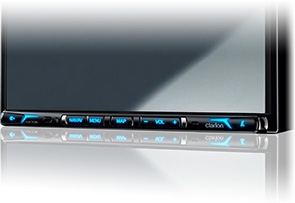 Sleek and Sophisticated Design
Physical operation buttons are lined up along the bottom of the NX706 creating a simple clutter-free design. A solid black frame gives the unit a modern yet timeless look.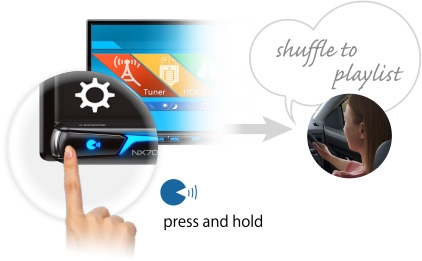 Smartphone Connectivity
Siri® Eyes Free
To connect to Siri Eyes Free, simply pair your iPhone®* to the NX706 via Bluetooth®. Once the pairing is established, long press the VOICE key on the unit to launch Siri and enjoy a smooth and safe drive with one-touch operation.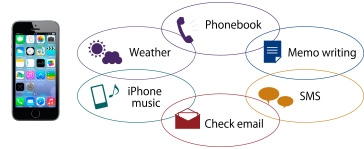 By simply talking to Siri, you can access various features from your phone. Check the weather, play music stored on your phone, read text messages aloud, access your contacts to make calls and so much more without ever taking your eyes off the road.

With Siri being so intuitive, simply saying things like "shuffle play" will start random playback of music stored on your iPhone.
Similarly, saying "check email" will prompt Siri to notify you of the number of new messages on your phone as well as read them aloud for you. It doesn't get easier than that!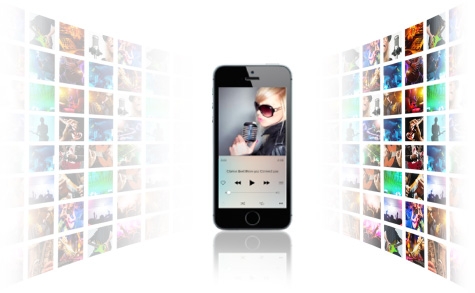 Intuitive iPhone Audio and Video Playback Provides the Sort of Functionality You're Used to
Audio and video playback operations on the NX706 offer the same simplicity as your iPhone. Album name and artwork as well as artist name are prominently displayed. Alphabet search allows you to tap in characters to search for artists, songs, etc. by name. Simply entering 1-3 characters of the item you're looking for offers quick results so you're doing less searching and more listening.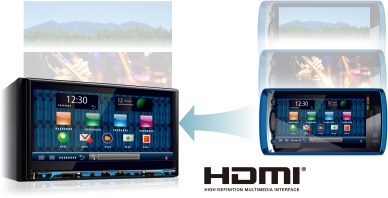 HDMI® Mode — Enjoy Your Apps on the Big Screen
Cable connection makes it possible to display your smartphone screen on the monitor of your NX706.

Pictures and videos taken on your smartphone can be enjoyed in your car.
Searching via the internet and music/video playback is also possible.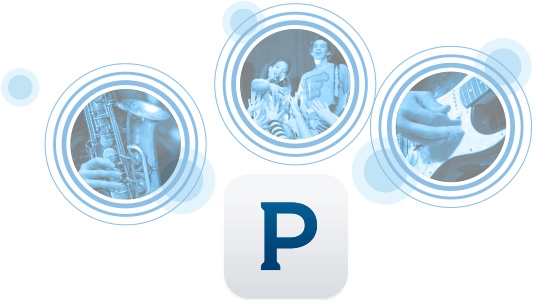 Enjoy Pandora® Internet Radio on the Road
Pandora radio plays and functions just like it would on your smartphone. Create your own stations, view album artwork and song information and bookmark artists/tracks. Your feedback indicated by a "thumbs up" or "thumbs down" reflects future song selections. This is all supported through the Pandora app on your smartphone.

Bluetooth for Hands-free Communication and Audio Streaming
Built-in Bluetooth provides hands-free voice communication, compatible with a wide variety of mobile phones. A built-in microphone* allows you to safely communicate and drive at the same time. Play music stored on any Bluetooth device, whether it's a mobile phone or a portable audio player, with wireless connection.
The pairing process is extremely easy as there is no need to input a complicated pass code on either device. To connect, all you need to do is confirm that the pass codes between the NX706 and Bluetooth device match.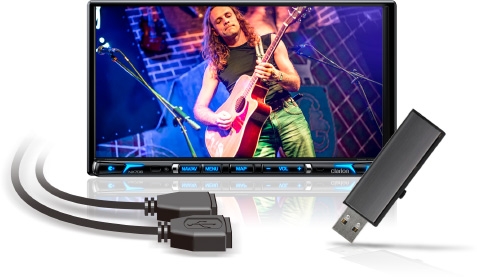 Dual USB Input
Dual Rear USB for Even More Connectivity
Equipped with two USB terminals towards the rear of the source unit, it's possible to access entertainment from a variety of sources. Play music or video files stored on a USB memory device, portable audio player or smartphone.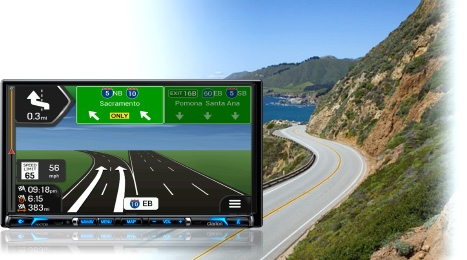 GPS Navigation with Rich Graphics & Superior Functionality
The onboard navigation system features map coverage of all 50 states plus Puerto Rico and Canada. It includes 8GB map storage, 11 million points of interest and supports English, Spanish and French. 3D mapping includes elevation, 3D buildings and landmarks for select cities.
GUI & Voice Guidance
Navigation Voice Guidance : English, French, Spanish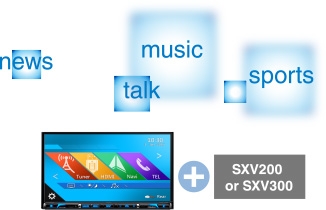 SiriusXM®
SiriusXM Satellite Radio with Optional Tuner (SXV200 or SXV300)
Connecting an optional SiriusXM Vehicle Tuner gives you access to hundreds of channels, including commercial-free music, sports, news, talk and entertainment. Features including Artist, Song, Game Alerts and Replay functions, make it easy to keep up with your favorites.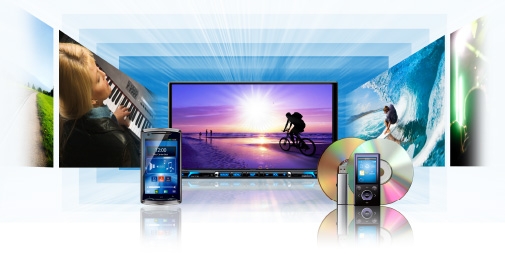 Extensive Media Support for High-Quality Video and Audio Enjoyment
In addition to CDs and DVDs, the NX706 also supports playback of music and video files stored on iPod® and iPhone, microSD card and USB Flash Drive. The NX706 uses a high-speed CPU to enable high-quality H.264 video as well as FLAC (Free Lossless Audio Codec) audio files to be enjoyed in your car.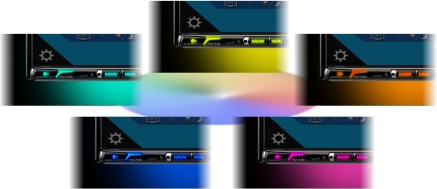 Variable Color Key Illumination
Multi-color selection allows you to select the color of your choice to match your car's instrument panel or your mood.
15-Band Graphic Equalizer
Equipped with a full-featured 15-band graphic equalizer, you will enjoy superior control over the audio spectrum with frequency adjustments in the 25 Hz to 16 kHz range over fifteen bands. This gives you the power to get the most out of your sound system, and the ability to contour the sound output to your musical taste. Since the gain level can be adjusted for each source separately, you won't need to adjust the volume every time you switch to a low-volume source such as the radio.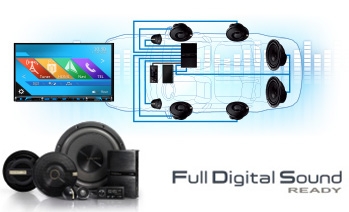 Optical Digital Output for System Upgradability
Thanks to the optical digital output, it is possible to use an optical cable to connect to external units such as Full Digital Sound units or DSP devices to upgrade your system to digital. Connecting the center unit to Full Digital Sound units enables you to enjoy cutting-edge high-quality digital sound. And since the output can be set to Fixed or Variable, you can maximize the volume of the source unit and adjust it at the processor, or finely adjust volume directly at the source unit.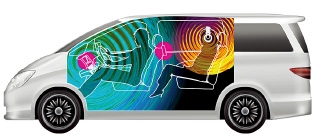 2-Zone Entertainment
Multi-zone entertainment allows rear seat passengers to enjoy one thing, such as a DVD movie or iPod® video, while front seat passengers enjoy another, such as their favorite radio station or music from a USB memory device.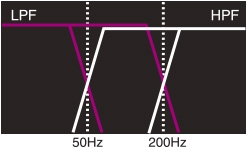 Built-in High Pass and Low Pass Filters
The NX706's internal High Pass and Low Pass filters allow your music to be played at the precise levels that they were meant to be heard. Enjoy bass with more muscle and highs with more clarity.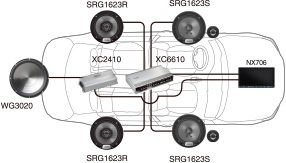 6-Channel / 2-Volt RCA Output with Subwoofer Control
With 3 sets of RCA outputs, you can add external power amplifiers to further enhance your NX706 system. In addition, independent volume control is enabled for the subwoofer so you can adjust the level of bass to your liking at any time, regardless of the output level of the other channels.
Optional Accessories
HDMI Cable (Type A to Type A): CCA802
HDMI to Micro HDMI Cable (Type A To Type D): CCA771
CMOS Vision Assist Camera: CC520
CMOS Vision Assist Camera: CC720
Remote control included

Power Output:
 20W × 4 RMS (4Ω@14.4V≤1% THD+N)
Signal to Noise Ratio:
 81dB (Ref; 1W into 4Ω)
MONITOR
Screen Size (Inches)
6.95
Aspect Ratio
16:9
Display Type
WVGA
Drive Principle
TFT active matrix
Number of Pixels
1,152,000 pixels (800 RGB(H) × 480 (V) × 3)
Tuner
Frequency Bands : FM/AM
FM : (MHz) 0.2 MHz steps : 87.9 - 107.9, AM : (kHz) 10 kHz steps : 530 - 1710
DVD
Useable Discs
DVD-Video/DVD±R/DVD±RW
Frequency Response (Hz)
20 - 20,000
Distortion (%)
0.05
CD
S/N Ratio (dB) 1 kHz
93dB
Frequency Response (Hz)
20 - 20,000
Dynamic Range (dB) 1 kHz
93dB
Harmonic Distortion (%)
0.1 %
Audio
Power Output (CEA2006 Power Ratings)
20W RMS x 4 Channels at 4Ω and ≤1% THD+N
General
Dimensions (W × H × D) (Approx Inches)
7 × 4 × 6.3
Dimensions (W × H × D) (mm)
178 × 100 × 163
Weight (Lbs)
5.0
Power Consumption
4A @ 1W
Power Requirement
10.8V - 15.6V
Speaker Impedance
4 ohm ~ 8 ohm