Clarion 2-DIN DVD MULTIMEDIA STATION WITH BUILT-IN NAVIGATION/SMART ACCESS NX605

Clarion 2-DIN DVD MULTIMEDIA STATION WITH BUILT-IN NAVIGATION/SMART ACCESS NX605
NX605
Literature
Clarion Intelligent VOICE™
Searching couldn't be simpler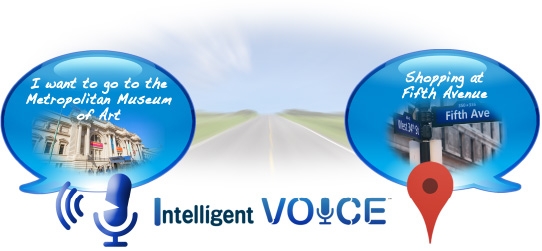 Just say something like "I'm hungry" and Clarion Intelligent VOICE will answer back. Throw it some questions like "Any good sushi bars in town?" and you'll get the answers and suggestions you're looking for, spoken out loud so you can keep your eyes on the road. Clarion Intelligent VOICE utilizes Google voice recognition technology and information to make searching a breeze.
Always be on top of things
Just say SMS (Short Message Service) and simple voice prompts will ask you the rest — tell it the name and the message to send, and off it goes hands-free. Google™ Account functionality enables you to sync with mail and calendar. Have your incoming emails read aloud to you, compose and send emails as well, and check your schedule too.
App connectivity
Cloud-based advantages that just don't stop


With Clarion's Intelligent VOICE functionality, you'll have a wide variety of real-time services and apps optimized for safe operation while driving at your fingertips. Smart Access enhances your mobile experience. Arguably one of the most advanced cloud-based information access, analysis and sharing platforms in the world, its fully adaptable architecture and always-on connectivity that makes it virtually future-proof.
Smartphone connectivity
Smartphone connectivity for seamless enjoyment of your favorite music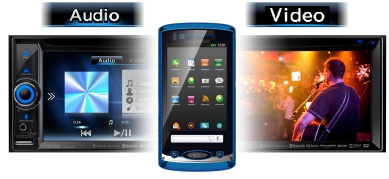 You can connect your smartphone to the NX605 and access your favorite stored music. Your device can be operated from the NX605's control panel with sound through the car's speaker system.

For video playback, an optional cable is required.
Please see our website for details of compatible smartphone models.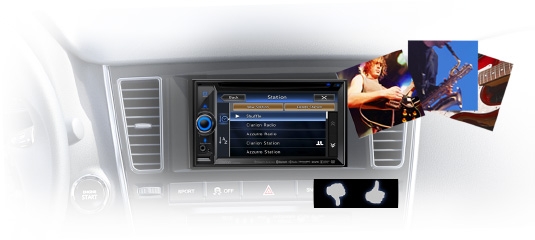 Enjoy Pandora® internet radio anytime on the road
Pandora internet radio plays songs while you feedback either "thumbs up" or "thumbs down" which is reflected in future selections. Album artwork and Song information, as well as the ability to bookmark Artists/tracks and create your own station, are supported by the Pandora app on your smartphone*.

NX605 plays Android Phone via Bluetooth®.
The Pandora App must be installed on the smartphone you are using.

GPS navigation
Superior GPS car navigation keeps you on track every time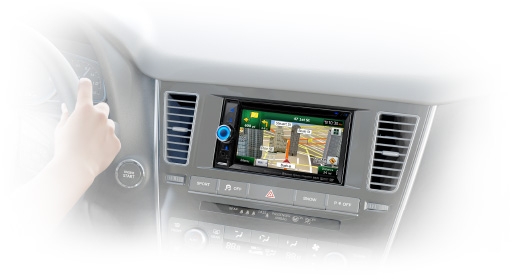 The onboard car navigation system features iGO primo® with map coverage of all 50 states plus Puerto Rico and Canada. It includes more than 11 million of Points Of Interest, and supports English, French, and Spanish.
RDS-TMC Information


Provides instant road condition updates from local traffic control centers via RDS-TMC (Traffic Message Channel). Additionally, the re-route feature lets you avoid traffic jams by choosing alternate roads.
Bluetooth® connectivity
Bluetooth for hands-free communication and audio streaming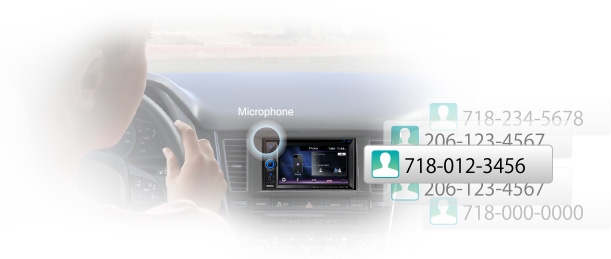 Built-in Bluetooth provides hands-free voice communication, compatible with a wide variety of mobile phones. A built-in microphone enables you talk and drive at the same time. Call waiting helps you avoid missing important calls, and Phonebook compatibility gives you easy access to your contacts. Play music stored on any Bluetooth devices, whether it's a mobile phone or a portable audio player, with wireless connection. And with a simplified pairing process, there is no need to input complicated pass codes to connect.
Built-in HD Radio™
HD Radio for Digital Quality Sound and Rich Information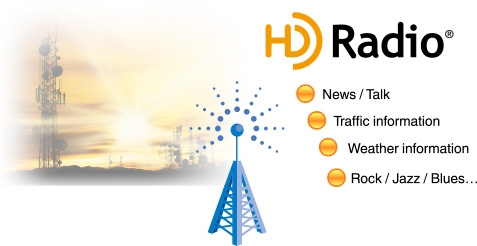 The built-in HD Radio tuner enables reception of thousands of CD-quality high-definition radio stations throughout the U.S. iTunes® Tagging is supported, so listeners can "tag" songs heard over the air for later purchase through the iTunes Store.
SiriusXM®
SiriusXM Satellite Radio with optional tuner (SXV200 or SXV300)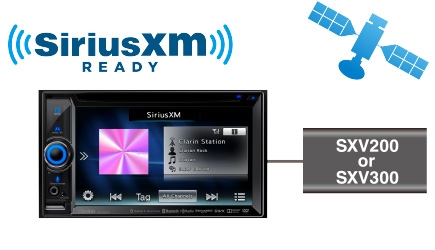 Connecting an optional SiriusXM Vehicle Tuner gives you access to hundreds of channels, including commercial-free music, sports, news, talk and entertainment. And also supports iTunes Tagging.
And so much more
Simple touch screen control is more intuitive than ever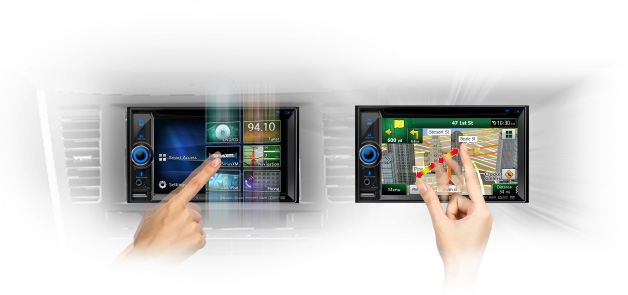 The interactive touch screen supports flick operation, so you can quickly find what your looking for. Sound familiar? Yes, it operates just like a smartphone screen. Additionally, menu icons are animated for an enhanced appearance.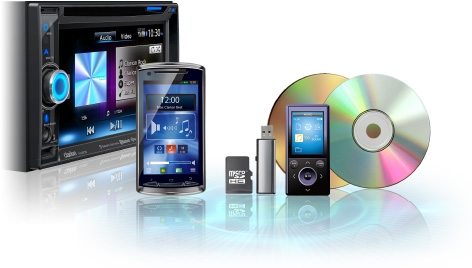 Enjoy a wide variety of content via multiple media formats media
Watch pre-recorded DVDs as well as home-burned DVDs containing DivX® files. Enjoy a wide spectrum of commercial and home-made visual entertainment. For your audio pleasure, pop in a CD and sit back. The NX605 also supports playback of audio files on USB and SD card to keep the music rolling.
Note: For your safety, video can only be viewed when the vehicle is parked.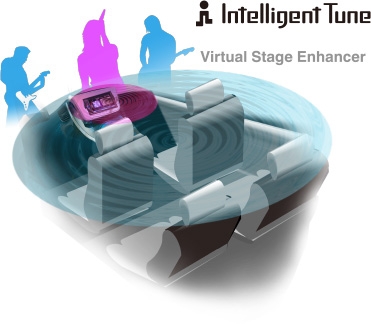 Intelligent Tune®: Clarion's exclusive sound technology
Clarion's sound technology was developed to turn the car interior into a sophisticated listening environment. "Intelligent Tune" features Virtual Stage Enhancer to keep vocals in the foreground while creating a dynamic sound field based on surround elements extracted from the source material. Instead of all the sound being focused around the driver's seat, you'll enjoy a more expansive soundscape such as a concert hall. Also included are Vocal Image Control to move the vocal to a specific seat in the car, Sound Restorer for full quality sound reproduction of compressed audio data, Virtual Bass for powerful bass without subwoofer, and other exciting sound technologies.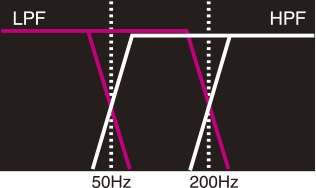 Built-in High Pass and Low Pass filters
The internal High Pass and Low Pass filters allow your music to be played at the precise levels that they were meant to be heard. Enjoy bass with more muscle and highs with more clarity.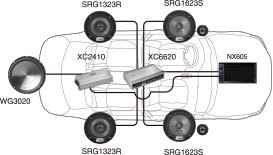 6-Channel 4-Volt RCA outputs make it easy to expand and upgrade
With 6-Channel 4-Volt RCA outputs, you can add external power amplifiers to create a more powerful, sophisticated audio system. What's more, the 4-volt output assures a pure, high quality signal for the entire sound system.

Optional
Optional remote control: RCB198
HDMI cable (Type A to Type A): CCA802
HDMI to Micro HDMI cable (Type A To Type D): CCA771
iPod / iPhone connecting cable: CCA750
Rear vision CMOS camera with distance guide lines: CC510
General
Power Consumption
4A @ 1W
Dimensions (W × H × D) (Approx Inches)
7 × 4 × 6.3
Audio
Power Output (CEA2006 Power Ratings)
18W
CD
Frequency Response (Hz)
20 - 20,000
S/N Ratio (dB) 1 kHz
93
DVD
Frequency Response (Hz)
20 - 20,000
Useable Discs
DVD-Video/DVD±R/DVD±RW
Tuner
Frequency Bands : FM/AM.
AM : (kHz) 10 kHz steps : 530 - 1710
Frequency Bands : FM/AM
FM : (MHz) 0.2 MHz steps : 87.9 - 107.9
MONITOR
Number of Pixels
1,152,000 pixels (800 RGB(H) × 480 (V) × 3)
Drive Principle
TFT active matrix
Display Type
6.2" WVGA
Aspect Ratio
16:9
Screen Size (Inches)
6.2
General
Power Requirement
10.8V - 15.6V
Speaker Impedance
4 ohm ~ 8 ohm