Clarion BLUETOOTH/CD/USB/MP3/WMA RECEIVER CZ305

All-new intuitive design
Sophisticated styling combined with intuitive controls
The all-new bold styling accentuates a refined high-end design with vivid blue illumination that makes any vehicle interior come to life.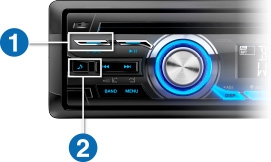 Easy to see controls balance good looks with usability
Key functions are positioned close for easy access. Even selecting songs stored on a connected Portable audio or USB memory is made simple. Switching between sources like CD and USB, as well as selecting your preferred sound settings, can be done easily and close to the volume knob.
Select source (Tuner, CD/MP3/WMA, AUX, USB)
Select sound functions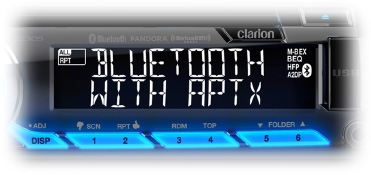 13-segment 10 X 2-line LCD
The 13-segment 2-line display on the CZ305 allows numbers and characters to be displayed clearly - in all lighting conditions. Whether you want to know what song is playing on Satellite Radio or just need to know the time, it's always easy to see.
Media connectivity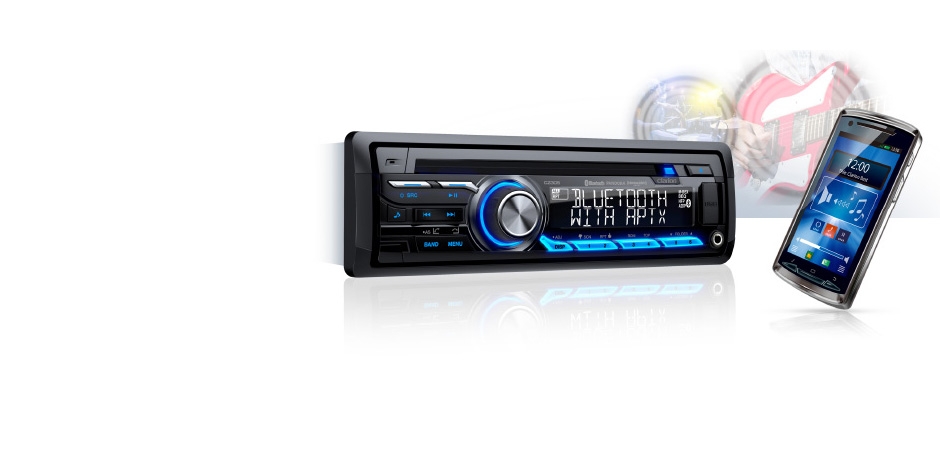 Bluetooth® aptX® support
The aptX codec lets you enjoy improved audio quality when listening to compressed audio over Bluetooth®. This is done by reducing the bit rate in a way that does not affect audio quality or introduce latency issues. With Bluetooth aptX support, you can get outstanding Bluetooth stereo audio quality that faithfully reproduces the full audio bandwidth.

Depending on mobile phone.
Please see our website for details of compatible Bluetooth mobile phones.


Due to its low compression, aptX is used in various digital devices including smartphones, enabling smooth playback of music from Android™ Phones too. Count on it for high-quality worry-free listening.Low compression contributes to high quality sound without latency or breaks.

Enjoy interactive Pandora® internet radio anytime on the road
The source unit's Pandora feature works together with the Pandora app on your smartphone, so you can easily listen to Pandora in your car. Choose from different song selections based on musical genre, etc. Pandora is interactive, so it plays songs while you feedback a "thumbs up" or "thumbs down" which is reflected in future selections. Song information, as well as the ability to bookmark Artists/Songs, or even create your own station, are supported by the Pandora App on your smartphone.
SiriusXM®


SiriusXM satellite radio with optional tuner (SXV200 or SXV300)
Connecting an optional SiriusXM Vehicle Tuner gives you access to hundreds of channels, including commercial-free music, sports, news, talk and entertainment. Artist, Song, Game Alerts and Replay functions, make it easy to keep up with your favorites and iTunes Tagging is also supported..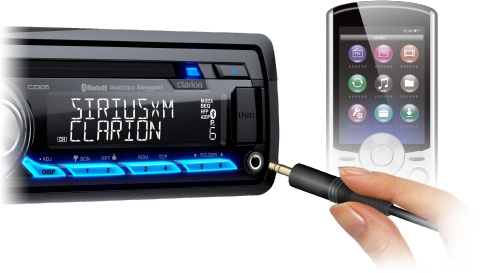 Front AUX input lets you easily connect to external sources
You may have a wide variety of music sources, from the latest digital device to the antiquated analog machine. Whatever it is, as long as it has an AUX output or headphone jack, you can easily attach it to the source unit's front panel AUX input , to continue enjoying your favorite music source.
Sound technology
Beat EQ for customizable sound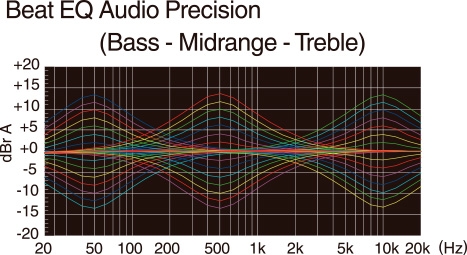 In addition to providing 3 preset equalisation patterns — BASS BOOST, IMPACT, and EXCITE — Clarion's Beat EQ even lets you freely customize the level and range of the bass, midrange and treble portions of each pattern. You can tune the sound to your liking, depending on the category of music, for a more personalized and fulfilling listening experience.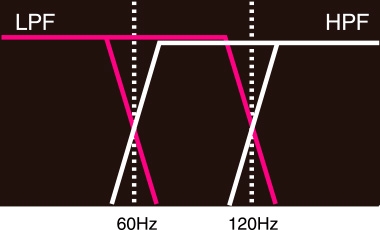 Built-in High and Low Pass Filters
The internal High Pass and Low Pass filters allow your music to be played at the precise levels that they were meant to be heard. Enjoy bass with more muscle and highs with more clarity.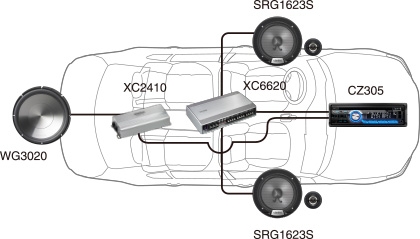 4-channel / 2 volt RCA output
With 2 sets of RCA outputs, 2-channels each, you are free to add external power amplifiers to create a more powerful, sophisticated audio system. What's more, the 2-volt output assures a pure, high quality signal for the entire sound system.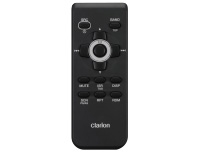 Remote control included

General
Speaker Impedance
4Ω (4Ω to 8Ω allowabl
Power Requirement
14.4 DC (10.8 - 15.6 V allowable)
Power consumption
less than 15 A
Weight (Lbs)
2.97
Remote control (W × H × D) (Approx mm)
42 × 10 × 112
Remote control (W × H × D) (Approx Inches)
1-2/3 × 2/5 × 4-2/5
Dimensions (W × H × D) (mm)
188 × 58 × 179
Dimensions (W × H × D) (Inches)
7-2/5 × 2-7/25 × 7
Audio
Power Output (CEA2006 Power Ratings)
4 × 21W
CD
Harmonic distortion (%)
0.1
Dynamic range (dB)
93
Frequency response (Hz)
20 to 20,000
S/N ratio (dB)
94
SATELLITE RADIO READY
Connection
Simple Plug'N Play Compatible
SiriusXM-Ready™
SXV-200/SXV-300 Required
CONNECTION FOR USB
WMA Decoding
Windows Media™ Audio
MP3 Decoding
MPEG-1/2 AUDIO Layer-3
File System
FAT 12/16/32
USB Class
Mass Storage Class
USB Requirements
USB 1.1/2.0
Bluetooth®
Output Power
Power class 2
Bluetooth Version
Bluetooth V2.1+EDR
Tuner
FM stereo freq. resp. @ ±3 dB (Hz)
30 to 15,000
FM stereo separation @1 kHz (dB)
30
FM alternate channel selectivity (dB)
60
FM usable sensitivity (dBf)
12
Frequency Bands : FM/AM
FM : (MHz) 0.2MHz steps : 87.9 to 107.9 AM : (kHz) 10 kHz steps : 530 to 1710
General
Pre-Maximum Output Voltage
4V / 10 kΩ
Maximum Mounting Angle
30°