36" Samsung 22.9 Cu. Ft. Counter-Depth French Door Refrigerator With AutoFill Water Pitcher In Stainless Steel - RF23A9071SR
36" Samsung 22.9 Cu. Ft. Counter-Depth French Door Refrigerator With AutoFill Water Pitcher In Stainless Steel - RF23A9071SR
36" Samsung 22.9 Cu. Ft. Counter-Depth French Door Refrigerator With AutoFill Water Pitcher In Black Stainless Steel - RF23A9071SG
Read Reviews 4.91 (22)
Write a review
100% would recommend this to a friend
$

2,899.99

CAD

Save $1,600.00

Or as low as $241.67/month over 12 months. Apply Now

36" Samsung 22.9 Cu. Ft. Counter-Depth French Door Refrigerator With AutoFill Water Pitcher In Stainless Steel - RF23A9071SR
RF23A9071SR/AC
$2,899.99 CAD

Save $1,600.00

Or as low as $241.67/month over 12 months. Apply Now
$2,999.99 CAD

Save $1,600.00

Or as low as $250.00/month over 12 months. Apply Now
Literature
Easy access to fresh and flavoured water with Autofill Water Pitcher
More ice with more choice - Dual Auto Ice Maker
Keep food fresher with Triple Cooling System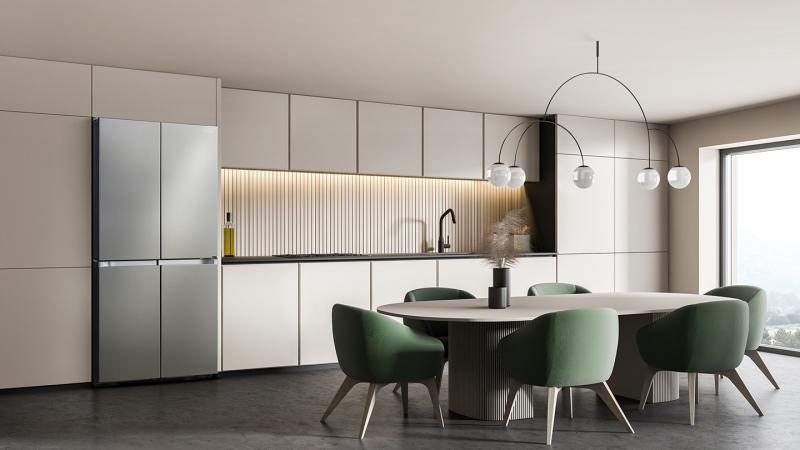 Redefining refrigeration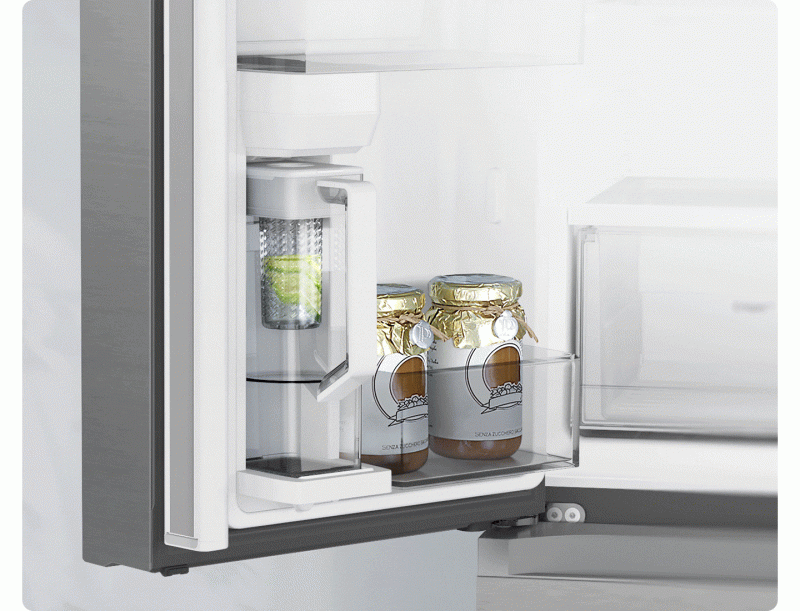 Chilled water, Ready to serve
Autofill Water Pitcher
Enjoy easy access to fresh and flavoured water. The BPA Free* Autofill Water Pitcher fills up automatically to give you easy access to a glass of fresh water.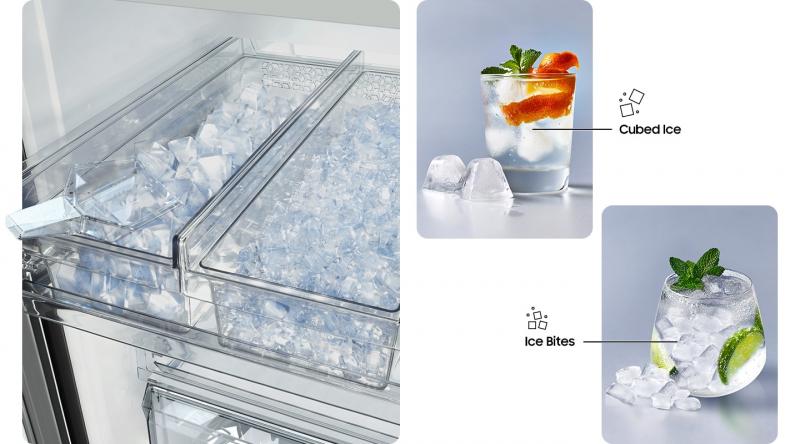 More ice with more choice
Dual Auto Ice Maker
Make sure you are prepared for any occasion with two different types of ice. The Dual Auto Ice Maker makes both Cubed Ice and Ice Bites™, which chill drinks much faster. It can produce 2.8kg/6.16lbs of ice a day and store up to 3.8kg/6.8lbs*. And, as it's in the freezer, it frees-up fridge space.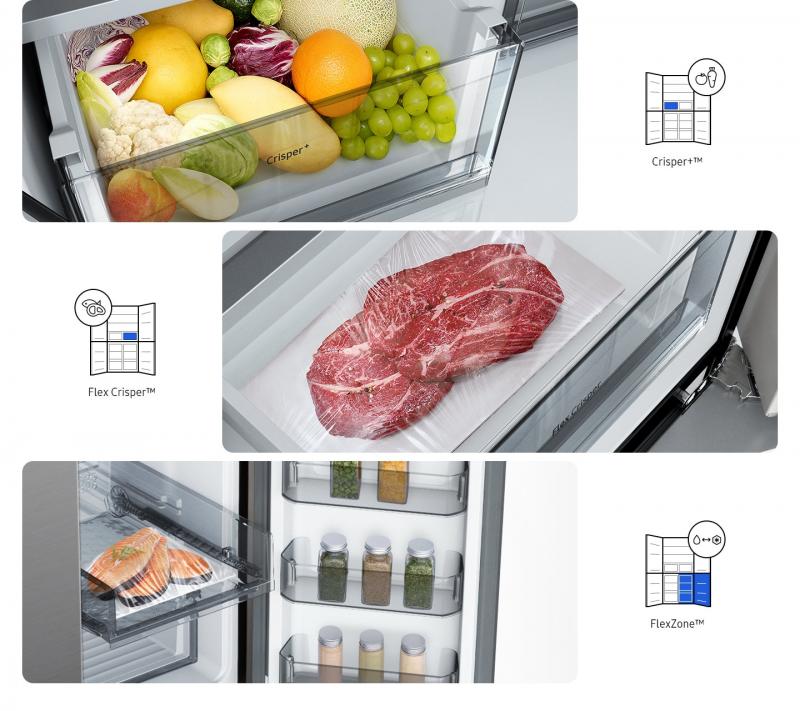 Store food in the right places.
Flexible Storage
Keep your food fresh in the right places. The FlexZone™ is an independently controlled compartment with five different temperature modes: Freeze, Soft Freeze, Meat/Fish, Fruit/Veggies and Beverage. You can also store meat or fish in the Flex Crisper and fruits and vegetables in the Crisper+.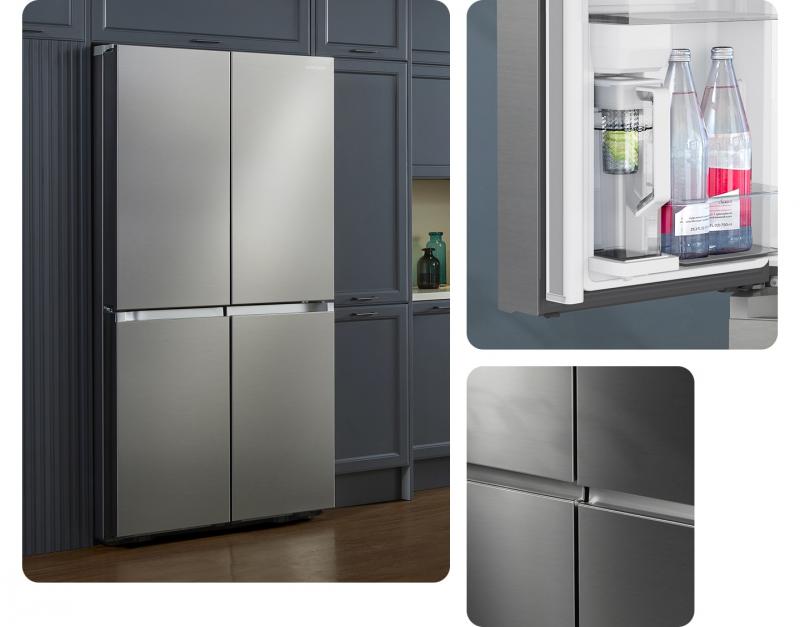 Clean Lines, Stylish Look
Modern Design
Give your home a stylishly integrated appearance. The new premium design features minimalist flat doors with recessed handles that give a sleek and neat look to your kitchen, easily blending in with existing appliances and cabinetry.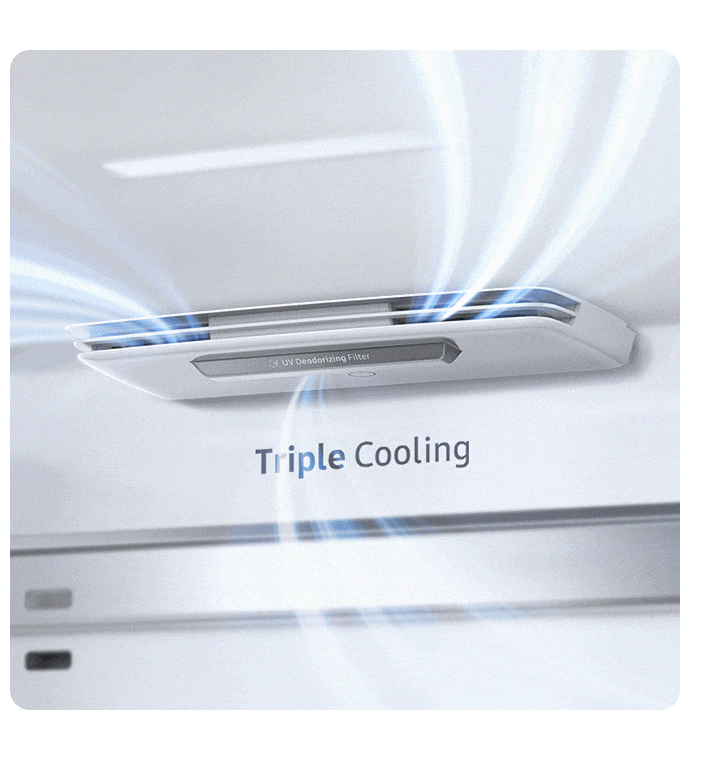 Fresh air in your fridge
UV Deodorizing Filter
Keep fresh air in your fridge everyday. A new built-in deodorizing filter reduces unpleasant odour caused by bacteria in your fridge. Also UV light in the filter system continuously cleans the filter to keep it clean all the time.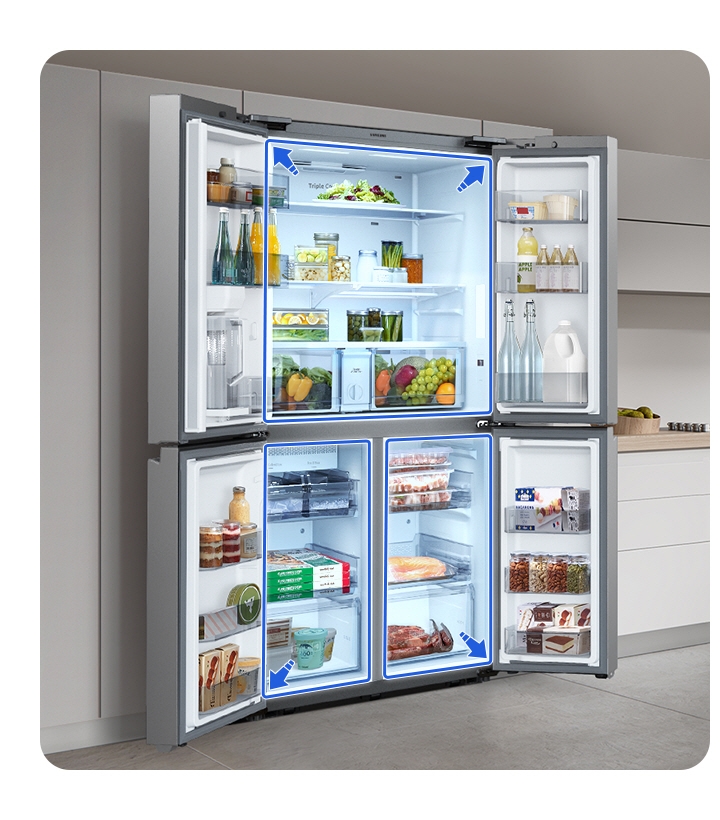 Store more food for your family
Large Capacity
Neatly store more food. A huge 22.9 cu. ft. capacity* means there's plenty of room in the fridge and freezer to store your grocery shopping.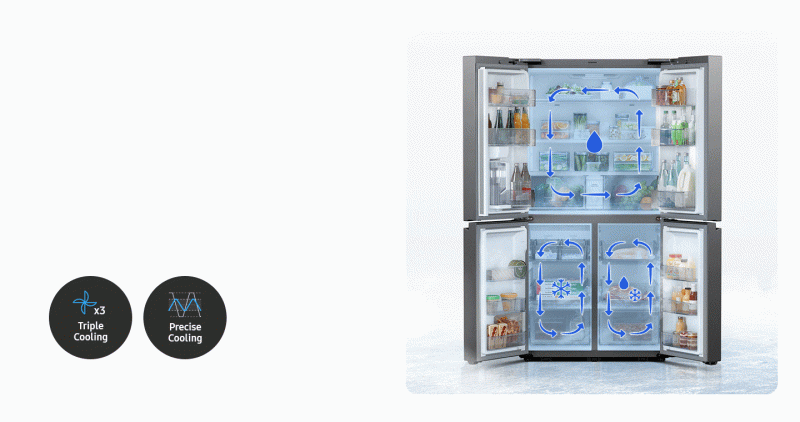 Keep your food moist and fresh
Triple Cooling + Precise Cooling
Ensure food stays moist and fresh for longer.* Triple Cooling system optimizes the temperature and humidity in the fridge and freezer with independent cooling. It preserves food better and protects its flavour by preventing odours from mixing. Precise Cooling system minimizes temperature fluctuation to preserve the quality and texture of food.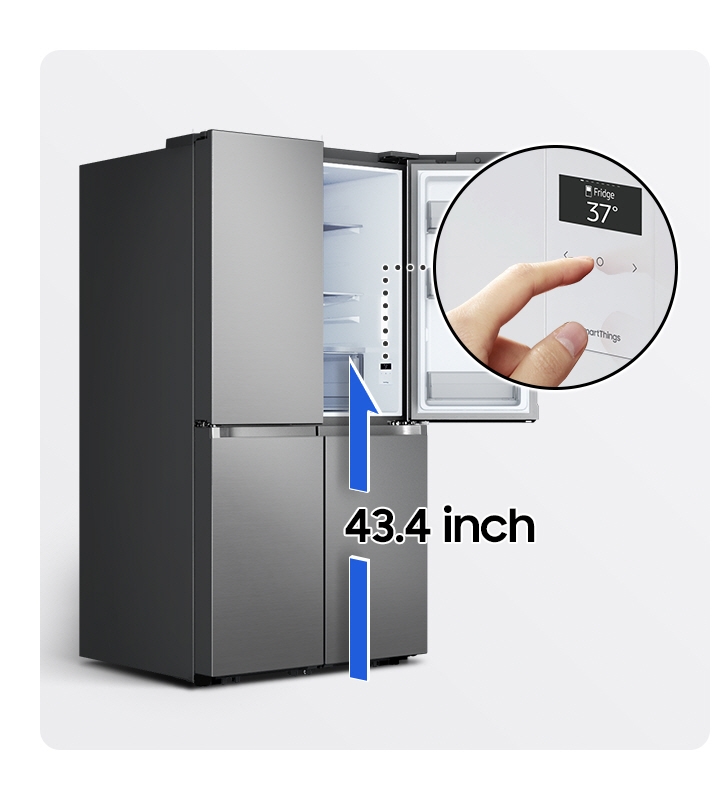 Seamless control with easy accessibility
Simple LCD Display
Easily control the fridge, even if you have restricted movement. The control panel located inside the fridge features a seamless and unobstructive design within arm's reach and can be used with one hand.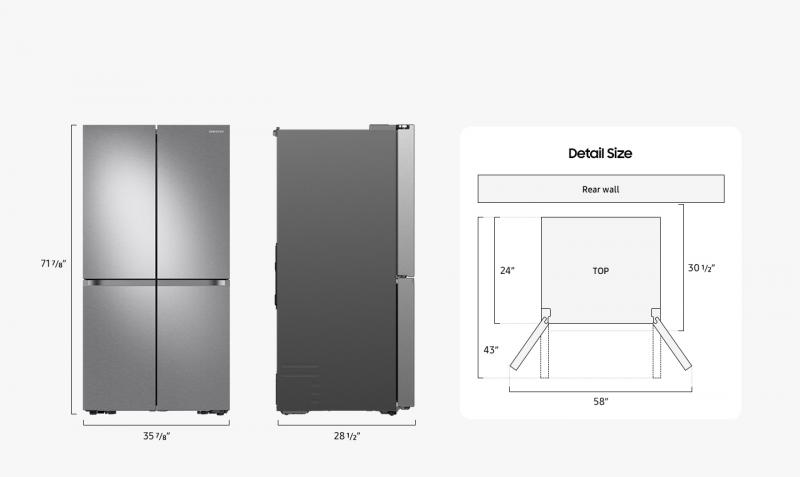 How to measure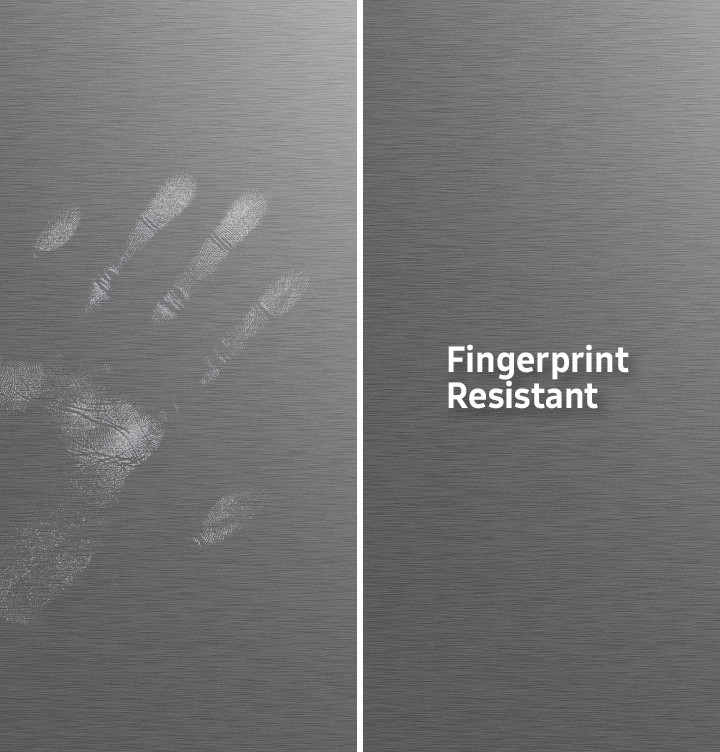 Brilliantly Clean and Smudge free
Fingerprint Resistant Finish
Make sure your fridge always looks spotlessly clean. A special Fingerprint Resistant Finish prevents surfaces from becoming covered in unsightly fingerprints and other marks and smudges. And they can be quickly wiped away if they do appear. So your home will stay looking stunningly beautiful.
Specifications
Filter by Category
French Door Refrigerators
Refrigerator Feature
Shelf Material
Tempered Glass
Number of Vegetable&Fruit Drawer
2 EA
Number of Door Pocket
6 EA
Number of Shelf (Total)
4 EA
Interior LED Light
LED Lighting
Physical specification
Packing Weight (kg)
138 kg
Packing Dimension (WxHxD)(inch)
38 1/4 x 77 5/8 x 30 5/8 inch
Net Width (inch)
35.875 inch
Net Weight (kg)
128 kg
Net Dimension (WxHxD)(inch)
35 7/8 x 71 7/8 x 28 1/2 inch
Net Depth without Door (inch)
24 inch
Net Depth without Door Handle (inch)
28.5 inch
Net Depth with Door Handle (inch)
28.5 inch
Net Case Height without Hinge (inch)
70.75 inch
Net Case Height with Hinge (inch)
71.875 inch
General Feature
Refrigerant
R600a
Door Alarm
Yes
Installation Considerations
Counter Depth
Yes
Performance
Energy Consumption
635 kWh/year
Exterior Feature
Dispenser Type
Autofill Pitcher
Door Handle
Recess Handle
Dispenser with Water Filter
Yes
Display Type
ADA Display
Colour
Stainless Steel
Energy
Energy Star
Yes
Bottom Left
LED Interior Light
Yes
Box
1 EA
Bottom Right
Box
1 EA
Shelf
2 EA
Temperature Control
Yes
Convertible Room (F)
-23~-15, -5, -1, 2, 4 °C
Capacity
Total Capacity
22.9 cu.ft
Net for Fridge (cu.ft)
14.1 cu.ft
Net for Freezer (cu.ft)
8.8 cu.ft
Cooling Feature
Triple Cooling
Triple Cooling
Bottom Left
Shelf
2 EA
Reviews
Average Customer Ratings
| | | |
| --- | --- | --- |
| Overall | | 4.91 |
| Design | | 4.92 |
| Features | | 4.85 |
| Performance | | 5.00 |
| Value of Product | | 4.54 |
Submitted a year ago
By Diane in Montreal
Reviewed at


5
Love love LOVE my new refrigerator!
When I renovated my kitchen, I also wanted to upgrade my old Samsung fridge that I've had since 2005. I must say that this new model is absolutely wonderful! No issues whatsoever with it and I love that I control everything about it, from deciding whether I want more of a certain type of ice cube, to the automatic water pitcher to the bottom flex zone in the freezer. I'm so happy and I even kept the older model as a backup ;)
Bottom Line Yes, I would recommend to a friend
Submitted a year ago
By p5browne
Reviewed at


Wife wanted a refrigerator with less back to front. Too much food was going to waste due to hiding in the back corner. Why less one Star, the door closings. You have to be very careful the doors are fully closed before walking away. Issue with the following Pros and Cons - aren't they meant for a TV ? Wife likes the separate freezer area - again, easier to find things
Bottom Line Yes, I would recommend to a friend
Submitted a year ago
By AP5678
Reviewed at


Great fridge. No complaints except that no where on the Samsung website is any information whatsoever on the type of water filter required for my specific fridge.
Bottom Line Yes, I would recommend to a friend
Submitted a year ago
By Sillyan
From Houston
Reviewed at


I really like having 4 doors and having the option to use the 3rd section as a freezer or refrigerator. I also really like the sliding shelves to store tall items. The automatic water refill is very nice as well. The side door shelves are nice a deep so you have lots of room for stuff.
Submitted a year ago
By JeffS
From Larchmont, NY
Reviewed at


We had a side by side and normally did not like French doors with a freezer on the bottom since getting things from the freezer was too cumbersome. Samsung fixed that issue with a great design. Their 4 door multiple drawers with easy access won us over.
Bottom Line Yes, I would recommend to a friend
Submitted a year ago
By Lynpasion
From Roswell
Reviewed at


5
Our favorite part of the kitchen!
This is one of the best Fridge in the market! We've own this for few months and so far we've been enjoying all the nice features such as: 1. Having four doors is such a convenient organizational feature; now we can separate food properly without having to open big doors. We also like the water pitcher that stays inside the fridge and automatically refills so we're enjoying the fruit infused fresh water all the time. The capacity is big and helps store more food than we used to have with our old fridge. But most of all, the cleaning of this fridge is a lot easier since it has finger print resistant stainless steel cover . Added bonus is, it really is also sleek and beautiful!
Submitted a year ago
By Big Jim
From West Lafayette, IN
Reviewed at


We've been looking at this fridge for some time, I could just never pull the trigger. I talked with a Samsung rep who talked me into the one without the beverage station. This one still has the water pitcher and both ice trays. It is a really nice fridge. I don't even regret it. We don't really drink many beverages in cokes and things. Took awhile in getting used too because we've been used to the bigger fridge. This is a counter depth. Honestly it's great. You don't have to dig behind things to find stuff it's all right there. Lots of shelf trays and shelves that pull out. The smart things connection is great, you can control everything right from your phone. It reminds of the door is still open. The pitcher is a little hard at getting used to because it is a little hard to get out. If you are in the market for a fridge I highly recommend picking this one up.
Bottom Line Yes, I would recommend to a friend
Submitted a year ago
By Kitdepaolo
From Vancouver Washington
Reviewed at


5
Love the 4 doors! And nugget ice maker
I bought this a month ago and I love this fridge. The floors are very convenient. The icemaker is my favorite part. My kids love the water pitcher that is always full. And we infused with lemon water and cucumber water all the time.
Bottom Line Yes, I would recommend to a friend
Submitted a year ago
By Sol21308
From San Benito
Reviewed at


5
I'm glad I have this fridge
I love my fridge. When I first received the fridge i was scared that all my food was not going to fit since it looked smaller than my old fridge, less bulkier more of a slick look, but was I wrong, all my food fit and I still had space for more. It's so much easier to keep all my food looking organized. A few thing that I love about my new fridge, first that is counter depth so it looks a lot nice in my kitchen, second that It was four doors. I like that i can connect it to my alexa. I love that it has two types of ice, we love ice in my house. I also love the auto fill pitcher no more forgetting to fill out the pitcher it saves so much time. Now the thing I love the most is the flex zone, I can convert from fridge to freezer depending on what I need it for.
Submitted a year ago
By Rjean
From Union City
Reviewed at


Being selected to receive the 23 cu. ft. Smart Counter Depth 4-Door Flex Refrigerator has been a true blessing. The style is stainless steel very modern and classy. Because of the 4-Door design, it has lots of space for storage and organization. Due to the rise in grocery prices, you're able to organize and not allowing food to go bad before using it. Something that would have made my life much easier during the peak of the Pandemic. Some of the features that stand out are the dual ice tray with the option of Dual Ice Maker the make nugget style ice and larger cubes. My family and I will put this feature to a great deal of use during the upcoming summer months. We live in Georgia and ice becomes your best friend during this time to keep your beverages cold. Speaking of beverages, the water pitcher is hidden in the door of the refrigerator. My fiancé is getting use to is because he prefers it on the outside. It is perfect for me with the extra layer of Covid-19 cautions needed, now you can't just walk in and fix a glass of water. The pitcher has an area to add fruit or tea for infused water. I also am a fan of the digital control panel. It allows for the exact temperature to be set. My old refrigerator had the knob that you twisted to adjust the temperature of both the freezer and refrigerator. So having this new feature is definingly at plus. When leaving the door open too long, there is a beeping sounds lets you know. Having this indicator is great when you have teenage nephews that stand with the door open like they are waiting on the food to just walk out. I am super excited to show off my new refrigerator, I even volunteered to host the next family gathering.