Samsung 5.1 Channel Soundbar With 3D Surround Sound - HW-Q60T/ZC
Read Reviews 2.33 (6)
Write a review

Or as low as $98.00/month over 6 months. Apply Now
Samsung 5.1 Channel Soundbar With 3D Surround Sound - HW-Q60T/ZC
HW-Q60T/ZC
Literature
Samsung Audio Lab
3D surround sound
Samsung Acoustic Beam
Q-Symphony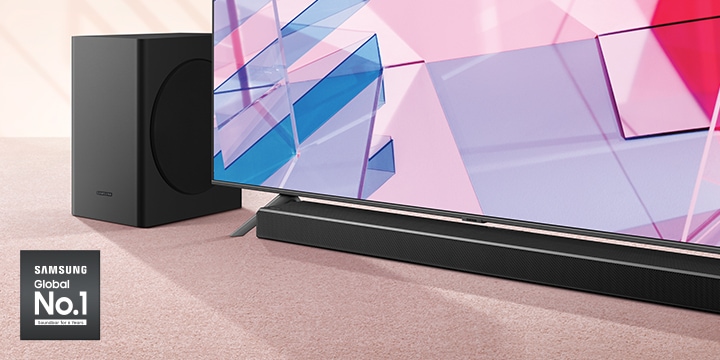 The ideal match for QLED.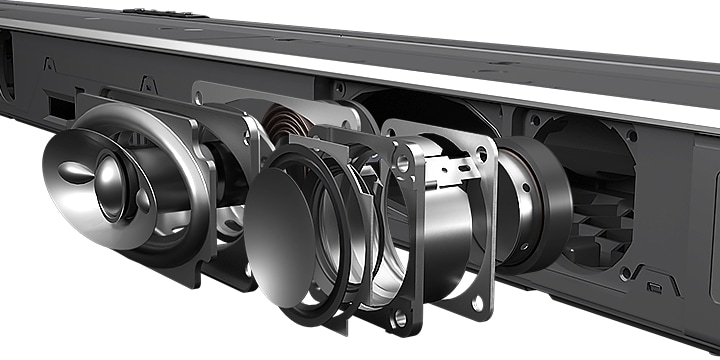 Experts in sound innovation
Samsung Audio Lab
Tested and tuned at the California Audio Lab, where our world-class audio engineers apply advanced acoustic technologies and cutting-edge computer modeling to give you incredibly balanced, room-filling sound.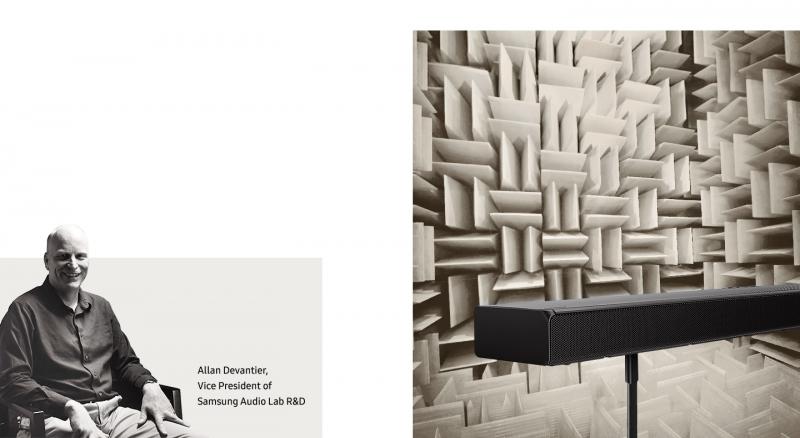 "About two-thirds of people who buy a TV dont even buy a soundbar, and if we can give them better sound, then I think that's definitely something to be proud of."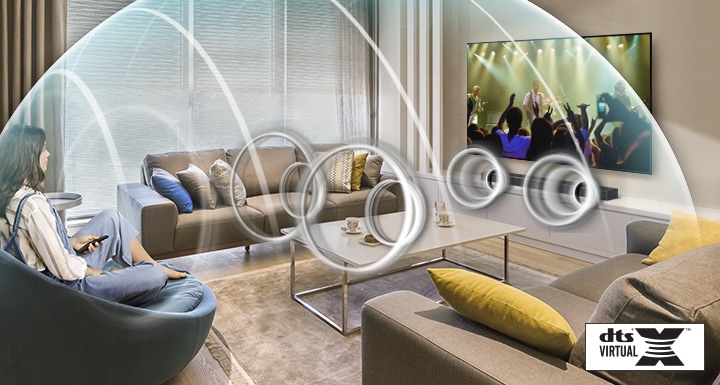 Sound that wraps around you
3D surround sound

The power to make surround sound come to life. Samsung Soundbar supports DTS Virtual:X, which recreates sound to bring it to new heights and take your audio to 3D.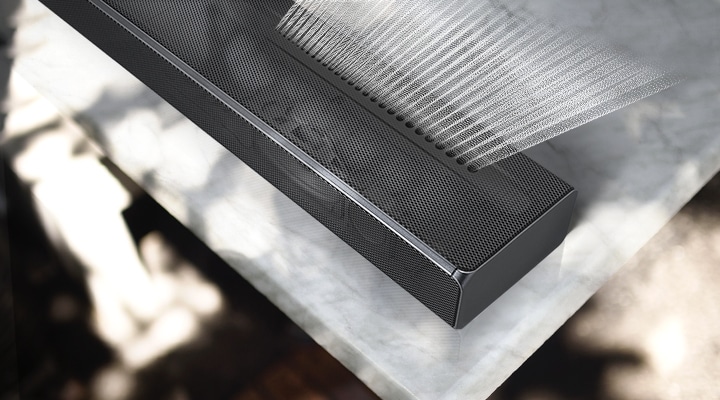 Feel the depth of moving sound
Samsung Acoustic Beam
Samsung Acoustic Beam Technology delivers a dynamic sound that matches the action on-screen.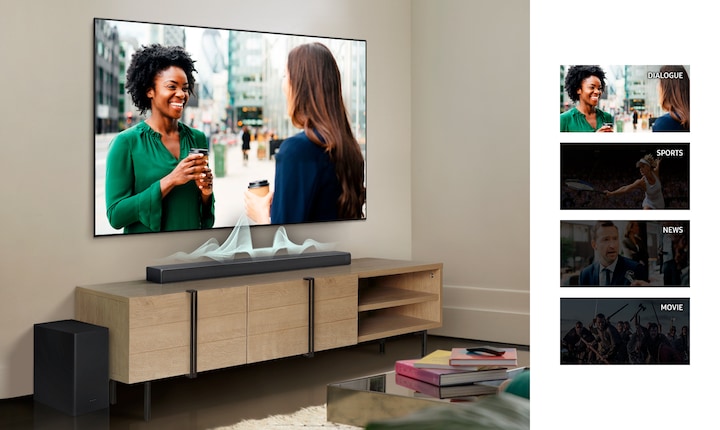 Sound optimized for each scene
Adaptive sound
Automatically enhances voice clarity on low volumes. Actively optimizes sound for any content.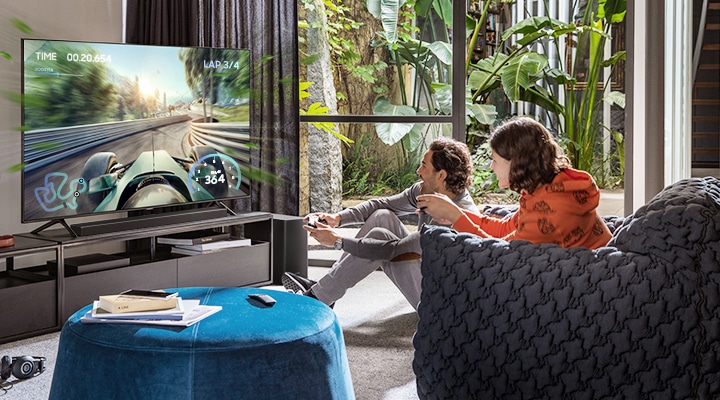 Hear better. Play better
Game Mode Pro
Immerse yourself in the action with a dedicated setting that optimizes sounds specifically for gaming.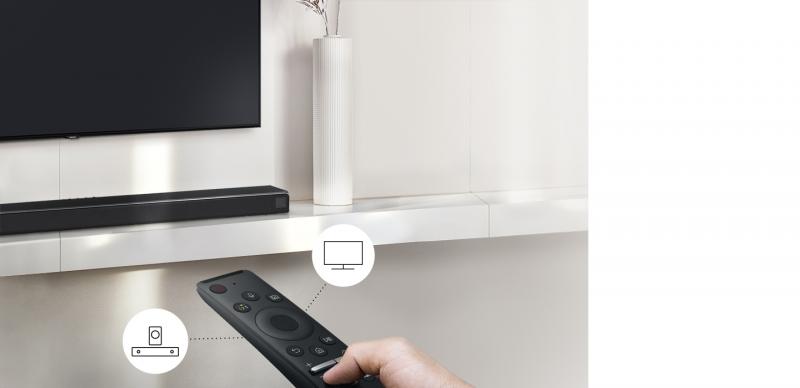 A world of sound with one remote
One Remote Control
You dont need several remotes. Control key soundbar functions like power, volume, and even sound effects with the Samsung TV remote right from your TV.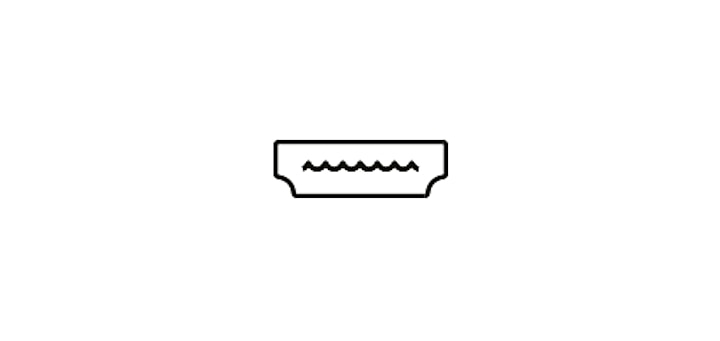 HDMI
Trying to watch a movie from your laptop, or wanting to game on a bigger screen? Simply connect to your TV with HDMI.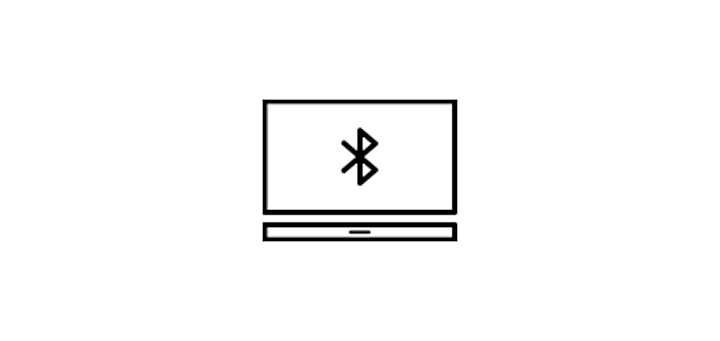 Bluetooth TV connection
Simply use Bluetooth to connect the soundbar to your Samsung TV and enjoy your favourite content right away.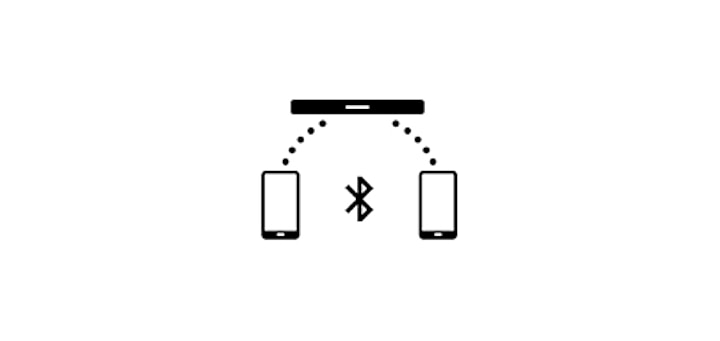 Bluetooth multi connection
Use the soundbar's Bluetooth to connect two different mobile devices at the same time, and listen to the magic happen even as you switch between the two.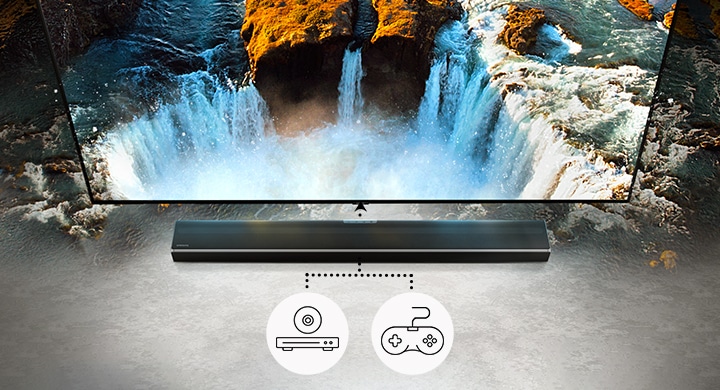 Sound as good as the picture
Seamless HDR 10+ experience
Experience amazing sound to complement your beautiful HDR 10+ content as intended. When you connect HDR 10+ device to the soundbar, you will get detailed picture as well as incredible audio.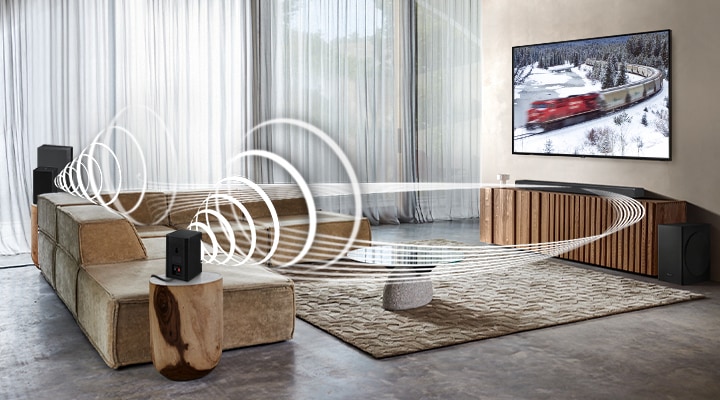 More sound without the wire
Wireless surround sound ready
The Wireless Surround Kit* lets you expand your soundbar to a surround sound system easily without the mess of wires**. Together with your soundbar, you can create a 7.1ch channel system for a great surround sound experience.
General Feature
Total Power
360W
Number of Channel
5.1
Number of Speaker
9
SPEAKER
Subwoofer Type ( Active / Passive / Wireless, Bulit-in )
Wireless
Center Speaker
Yes
Up-firing Speaker
Yes
Side-firing Speaker
No
Wide Range Tweeter
No
Hole Array Technology
Yes
Wireless Rear Speaker Included
No
Wireless Rear Surround Speaker Ready (Compatible)
Yes
Audio Feature
Dolby
Dolby 5.1
IMAX
No
Sound Modes
Surround Sound Expansion,Game Pro,Adaptive,DTS Virtual:X,Standard
Distortion Cancelling
No
Video Feature
4K Video Pass
Yes
HDR
HDR 10+
Decoding Format
AAC
Yes
MP3
Yes
WAV
Yes
OGG
Yes
FLAC
Yes
ALAC
No
AIFF
Yes
Certifications
HDMI In
1
HDMI Out
1
HDMI ARC
Yes
HDMI CEC
Yes
Optical In
1
Audio In
No
Bluetooth
Yes
Bluetooth Codec
AAC
Bluetooth Multi Connection
Yes
Wi-Fi
No
USB Music Playback
Yes
Ethernet Port
No
One Control
Yes
Bluetooth Power On
Yes
NFC
No
Special Feature
Smart Things App (Changed from Samsung Connect App)
No
Q-Symphony
Yes
Bixby
No
Alexa
No
Spotify Connect
No
Dimension
Net Dimension (Main Speaker) (WxHxD)
980.0 x 58.0 x 105.0 mm
Net Dimension (Wireless Module) (WxHxD)
N/A
Net Dimension (Surround Speaker) (WxHxD)
N/A
Net Dimension (Sub Woofer) (WxHxD)
205 x 353 x 303 mm
Gross Dimension (WxHxD): One Packing
1036.0 x 460.0 x 252.0 mm
Weight
Net Weight (Main Speaker)
3.4 kg
Net Weight (Wireless Module)
N/A
Net Weight (Speaker)
N/A
Net Weight (Sub Woofer)
6.2 kg
Gross Weight (One Packing)
12.1 kg
POWER
Stand-by Power Consumption (Main)
0.5 W
Stand-by Power Consumption (Rear)
N/A
Stand-by Power Consumption (Subwoofer)
0.5 W
Operating Power Consumption (Main)
38 W
Operating Power Consumption (Rear)
N/A
Operating Power Consumption (Subwoofer)
28 W
Free Voltage
Yes
Energy Star
Yes
Accessory
Remote Controller
Yes
Wall Mount Bracket
Yes
Reviews
Average Customer Ratings
| | | |
| --- | --- | --- |
| Overall | | 2.33 |
| Design | | 3.50 |
| Features | | 2.33 |
| Performance | | 2.00 |
| Value of Product | | 2.17 |
Cons
Did not meet expectations
Did not meet expectations
Poor quality, Did not meet expectations
Did not meet expectations, Not high def
Poor quality, Did not meet expectations
Submitted 2 years ago
By SHSH
Reviewed at


3
Poor Dialogue - other wise good
Even with Dynamic Range Compression turned on the surround channels are way too loud in comparison to the centre channel and it can be hard to hear the dialogue in one scene and not have sound effects blowing open the windows in another. I generally listen in standard mode to take full advantage of the dolby digital 5.1 (the primary feature of the unit) and avoid the undesired effects from the sound processing of the other modes. This soundbar would provide better value if you had access to the balance settings and could change the volume of the center channel independently from the others. Hopefully this is changed in a software update soon.
Bottom Line No, I would not recommend to a friend
Submitted 2 years ago
By Julien33
Reviewed at


1
Delay sound image with bluetooth
when the sound bar is used on Bluetooth mode there is a huge lag between image and sound, if it is plug with cable it work but I m very disappointed by the delay with the Bluetooth
Bottom Line No, I would not recommend to a friend
Submitted 2 years ago
By reconsider another option
Reviewed at


2
Sound is very muffled-Horrible bass response
Any volume set below15 has a very constant very muffled sound... HORRIBLE!!. I have tried changing settings on both the TV and the (both Samsung Products) itself with no change. It is connected via HDMI in the ARC port. Low frequency bass response is not up to par vs my Sony soundbar in another room. I expected more out off this for the price.
Bottom Line No, I would not recommend to a friend
Submitted 2 years ago
By Snoopy
Reviewed at


I just purchased these 3 days ago, In comparison to my 20 year old logictech speakers these dont really out perform it much. The speaker itself looks very sleek but the subwoofer is very large and doesn't provide much "boom" even when maxed out.
Bottom Line No, I would not recommend to a friend
Submitted 2 years ago
By Big big mistake
Reviewed at


I bought this two weeks ago. I returned the sound bar twice as the sound bar remote would not synchronized with the soundbar, the woofer and the two external surround speakers. I am on my third sound bar which was serviced and still does not sync. Don't buy this product. Samsung has a problem. Note, however the Samsung TV remote communicates with the TV and soundbar and woofer, but no other external devices.
Bottom Line No, I would not recommend to a friend
Submitted 2 years ago
By Chandan
Reviewed at


4
Does not support Q symphony with Q60 T tV?
I bought this soundbar to compliment my Samsung Q 60t Tv and was hoping to take advantage of the Q symphony feature as advertised on Samsung's website. However, I think this feature doesn't work with this TV which is quite upsetting. Apart from the dismal regarding the Qsymphony feature, this soundbar is good overall. Please note that it lacks low bass right out of the box. Some tweaking can be done to enhance the sound profile little bit. Compared to T650 the sound quality of the bar itself is better as it has 2 more speakers but bass performance is lower than t650. I wish Samsung can release a software update to get the bass performance at par or even better than T 650. Lastly, please make the Q Symphony feature work with Q60T TV as they are advertised to be a good pair!
Bottom Line Yes, I would recommend to a friend