36" Bosch French Door Refrigerator Freezer Located Ice Dispenser - B36CL81ENG
$

6,499.00

CAD

Save $1,100.00

Or as low as $541.58/month over 12 months. Apply Now

36" Bosch French Door Refrigerator Freezer Located Ice Dispenser - B36CL81ENG
B36CL81ENG
Literature
SuperCooling quickly chills food and beverages with a touch of a button
Energy Star® Qualified for Energy Efficiency.
Home Connect brings smart technology to your Bosch Refrigerator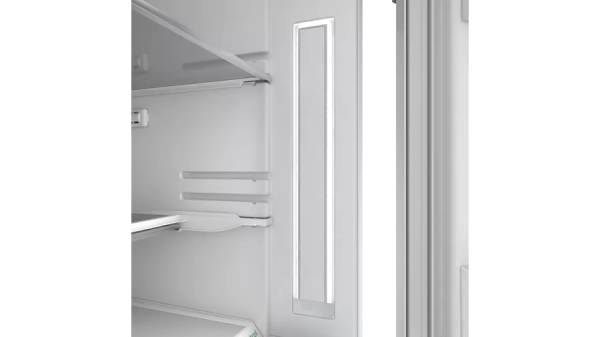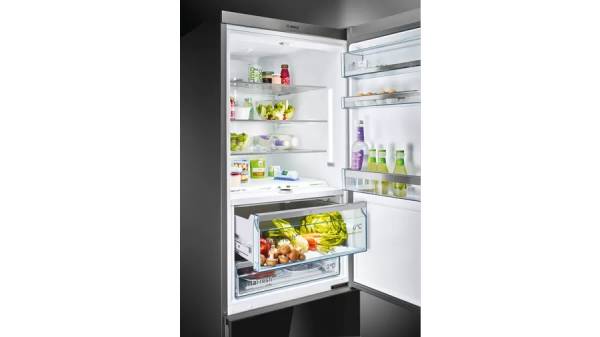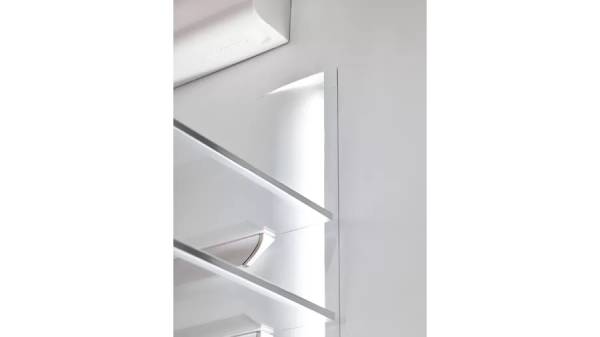 LED light: keeps the contents of your fridge in the spotlight.
LED lights bring a completely new lighting concept to fridges, guaranteeing even, glare-free interior illumination. LED lights use less electricity than conventional fridge lights and last an (appliance) lifetime.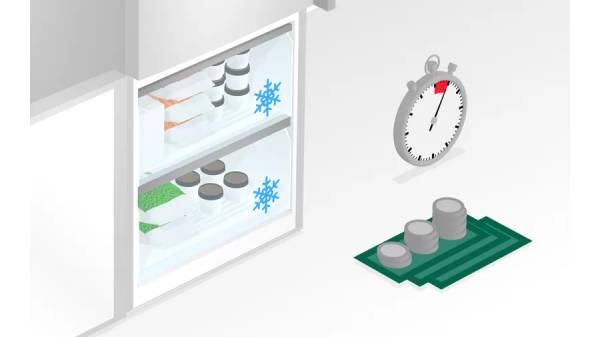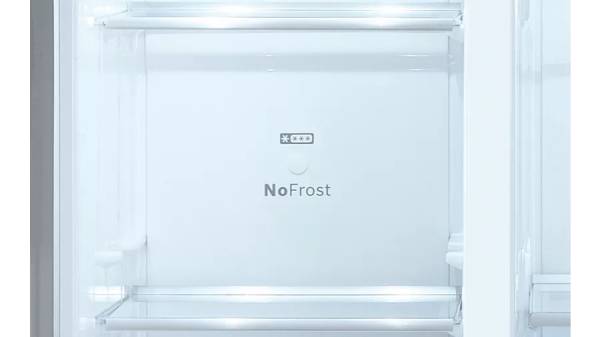 With NoFrost, never defrost your fridge again.
Unlike conventional fridges, the air humidity in our fridges with NoFrost is permanently collected in a central chiller unit. So your fridge automatically defrosts on a frequent basis. The resulting condensation is simply channeled outside out of the fridge, where it then evaporates. NoFrost keeps your fridge free of ice. And removes the need to manually defrost. So you can focus on more important things.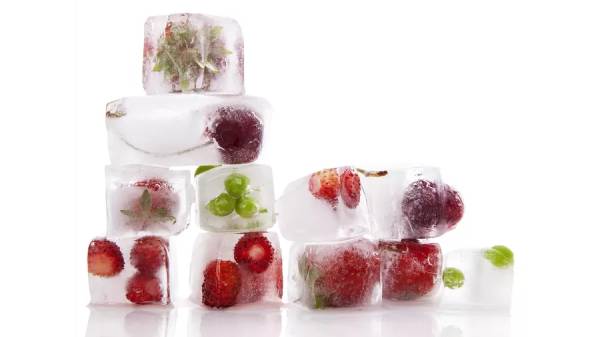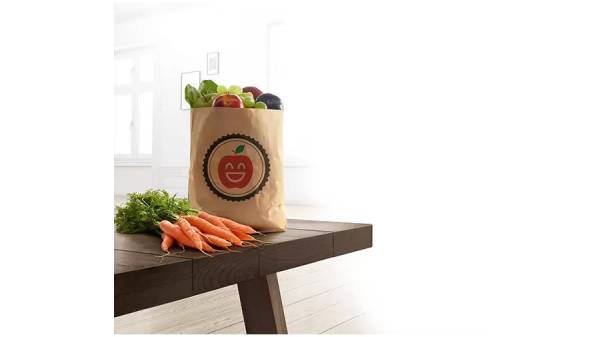 Close the door on warm air.
Opening the fridge allows warm air to enter, which can spoil the food inside. Activating the SuperCool function rapidly drops the temperature of the fridge to insulate the food inside. It also makes sure that the new purchases will be cooled more quickly. The temperature is lowered by pushing a button (36 °F at the lowest). To prevent unnecessary power consumption, the function automatically switches off after approximately six hours. Supercool keeps your old and new food fresh through clever anticipation.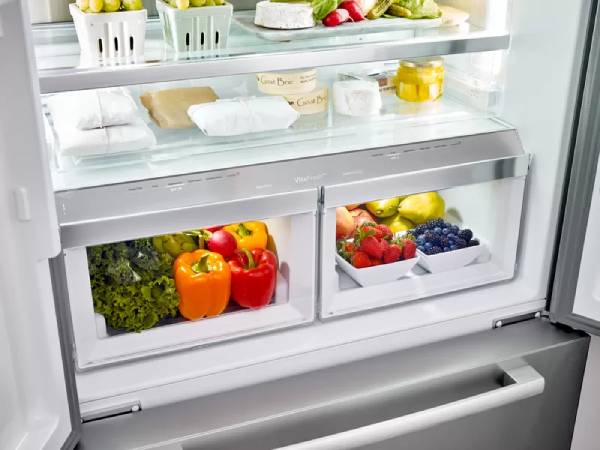 Full width chiller drawer
Store oversized platters with ease until you're ready to serve them, or store snacks for quick access and easy visibility.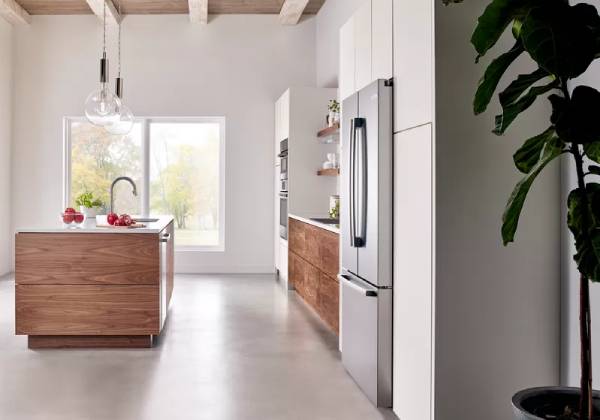 True counter-depth
This freestanding refrigerator sits flush with the countertop, features hidden hinges, and discreet tucked away feet, all to give you a true built-in look and feel.

Door ajar notification
Receive a notification on your phone should you accidentally leave your refrigerator door open for an extended time.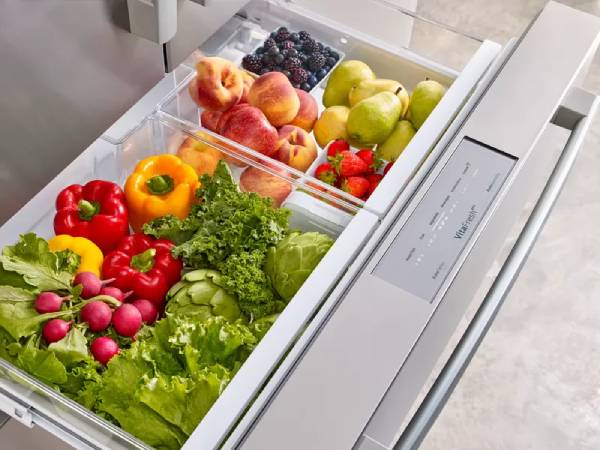 Dual compressors. Stronger performance.
Dual compressors and dual evaporators offer efficient and precise cooling and humidity control, while significantly limiting odor transfer between the refrigerator and freezer, for the optimal freshness environment.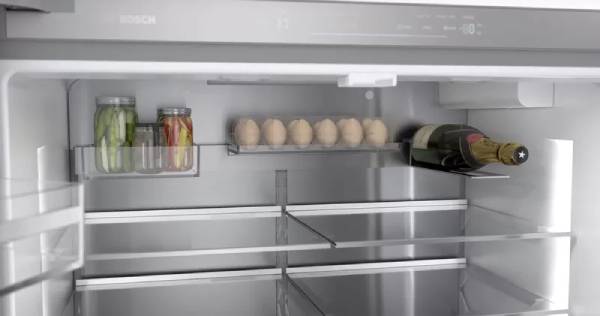 Adjustable FlexBar™
The industry first FlexBar™ utilizes typically unused space in the refrigerator, enabling you to organize your fridge in new ways. The FlexBar™ features a variety of hanging shelves, the perfect location for wine bottles, condiment jars, eggs, and more. The FlexBar™ offers the ultimate in customization, and can be adjusted to sit in any of the shelf brackets, from top to bottom.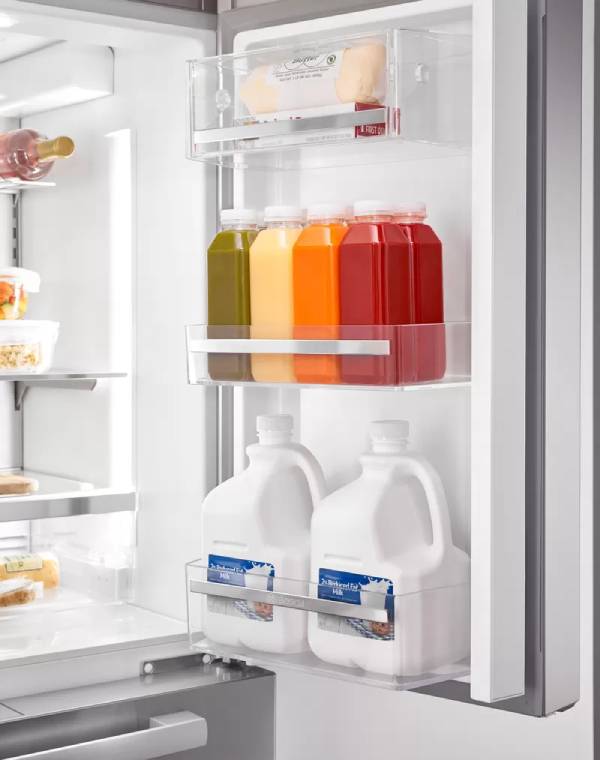 Wide gallon door bins
Transparent door bins frame the interior of the refrigerator, creating ample space for all of your needs. This refrigerator boasts six door bins total, three of which are wide gallon door bins, easily accommodating two one-gallon containers each.

Master your day with Home Connect™
The Home Connect™ app allows you to remotely monitor and control your Bosch refrigerator from your smartphone or tablet. Control the temperature, adjust lighting, run diagnostics, for ultimate convenience. Connected refrigerators from Bosch are designed to give you peace of mind, customization, and simplification.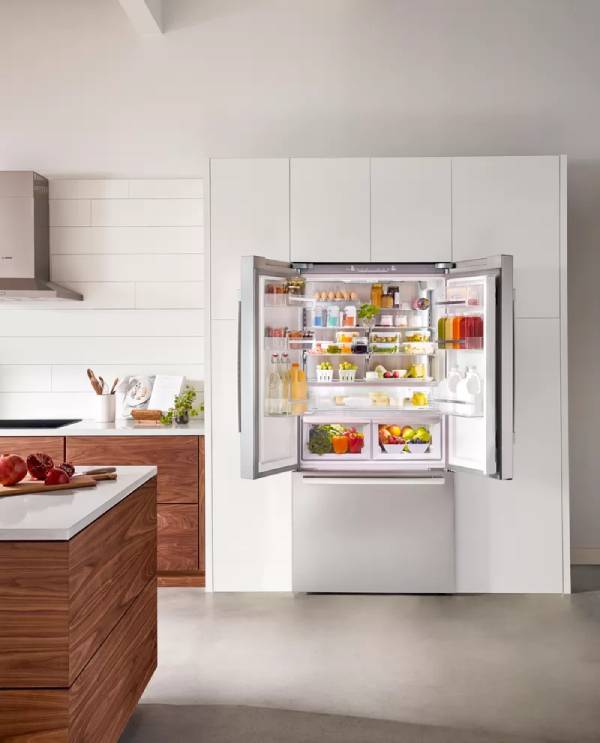 Interior capacity
A generous 21 cu. ft. capacity is made event more spacious with flexible storage features like FlexBar™, removable shelves, and door bins.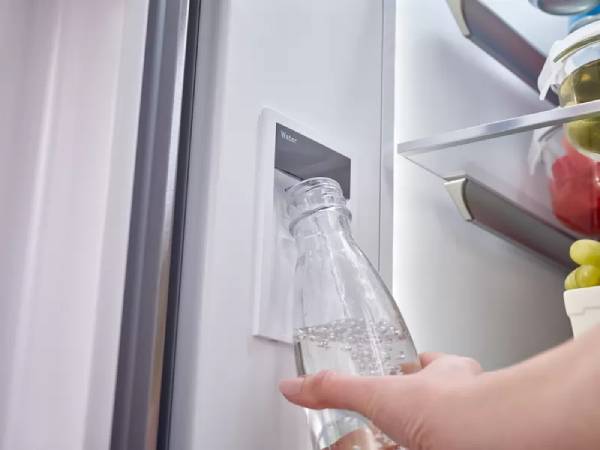 Filtered internal water
Thoughtfully tucked away is the internal water dispenser for refreshing, pure water at the touch of a button, or push of a nozzle, without disrupting the exterior design.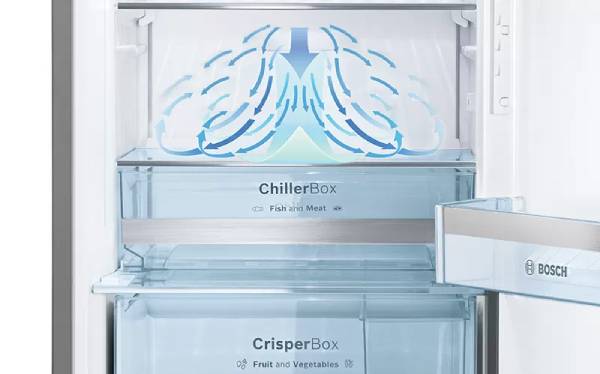 MultiAirFlow™
MultiAirFlow™ evenly circulates cool, fresh air to maintain consistent temperatures throughout the entire fridge cavity, from the door bins to back corners.

Temperature customization
Adjust your VitaFreshPro™ drawer to the precise temperature and humidity you need to store your favorite foods, right from your Home Connect™ app.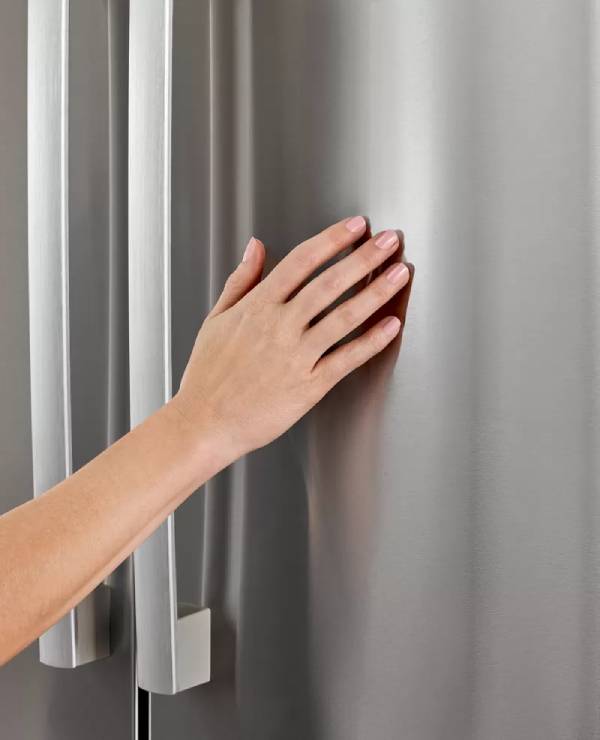 Easy to clean stainless steel exterior
Keep your kitchen looking beautiful with an easy to clean stainless steel exterior.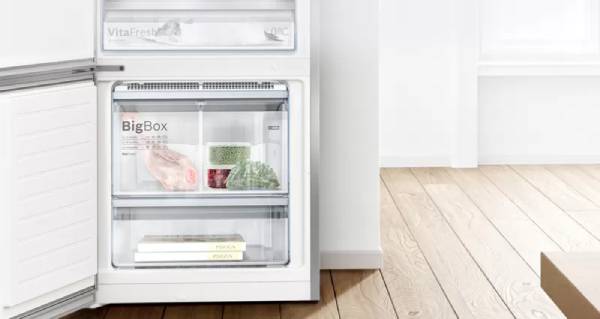 Protects frozen food from defrosting.
Adding new food to the freezer raises the internal temperature, which can result in defrosting and a loss of flavor. The SuperFreezing function ensures that new food is frozen quickly and thereby prevents the other content inside the freezer from defrosting. Appliances with an automatic freezing function return to normal operation once the required temperature is reached, in order not to waste energy. As a result, frozen food keeps its flavor, even when new food is being added.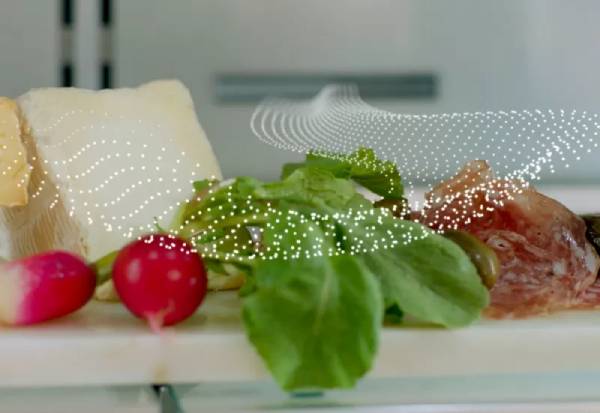 Keep your fridge smelling fresh.
Refrigerators are meant to keep your food fresh, yet sometimes they don't smell the part. The Airfresh Filter with antiBacteria actively neutralizes odors inside the refrigerator and filters out bacteria. It's built into the fan system and makes sure that flavors don't mingle, so that the food retains its natural taste. The Filter ensures constant freshness for the lifetime of the appliance.
Organized freezer drawers
An ingenious three-tier layered freezer drawer system creates extra storage for frozen items, from pizza boxes to frozen waffles. The new organized shelving system, paired with LED lighting, clearly displays all freezer items, so food doesn't get buried and forgotten.
Specifications
Filter by Category
French Door Refrigerators
Connection
Power cord length (cm)
240 cm
Current (A)
10 A
Frequency (Hz)
60 Hz
Plug type
120V-3 prong
Watts (W)
180 W
Comfort
Warning signal door open
visual / acoustic
Warning signal / malfunction
visual and audible
Star Rating
4
SUPERFREEZE
No
Humidifying equipment
No
SUPERCOOL
Yes
Lockable door
No
Type of control
Economy setting / Holiday mode, Super setting for freezer, Super setting fridge, Temperature display fridge, Temperature for freezer, Warning function freezer sect., Warning signal door open, Warning signal for malfunction
Shelves for Bottles
Yes
Freezing
Thaw water drainage system
No
Temperature adjustable freezer
Yes
Number of freezing flaps (Stck)
0
Icemaker
Yes
Freezing drawers (Stck)
3
Defrost process freezer section
Automatic
Cooling
Temperature display fridge
digital LED
Number of shelves in fridge compartment
4
Adjustable Shelves - Refrigerator
4
No. cont. in refrig. comp.
2
Defrost process fridge section
Automatic
No. of shelves in fridge
4
Size and Weight
Appliance Width (in)
35 5/8"
Connection
Volts (V)
110-127 V
Size and Weight
Width of the product (mm)
905 mm
Net weight (lbs)
380.000 lbs
Required cutout size (HxWxD) (in)
72" x 36" x 25"
Net weight (kg)
172.282 kg
Height of the product (mm)
1,830 mm
Depth (in)
28 "
Certifications
Connectivity type
Wi-Fi
Size and Weight
Depth of the product
711 mm
Certifications
Home Connect Features
iService Remote, Remote Monitoring and Control
Home Connect
Yes
General
Power cord length (cm)
240 cm
Shelves for Bottles
Yes
Door hinge
Other
Silence level (dBA)
40
Variant color
Easy Clean Stainless Steel
Required cutout size (HxWxD) (in)
72" x 36" x 25"
Height of the product (mm)
1,830 mm
Appliance Width (in)
35 5/8"
Width of the product (mm)
905 mm