36" Samsung French Door Refrigerator with Freezer Located Ice Dispenser - RF28T5A01SR
Read Reviews 3.00 (3)
Write a review
50% would recommend this to a friend
$

2,199.99

CAD

Save $400.00

Or as low as $183.33/month over 12 months. Apply Now
36" Samsung French Door Refrigerator with Freezer Located Ice Dispenser - RF28T5A01SR
RF28T5A01SR/AA
Literature
Space Max Technology - Large Capacity
All-Around Cooling
Fingerprint Resistant Stainless Steel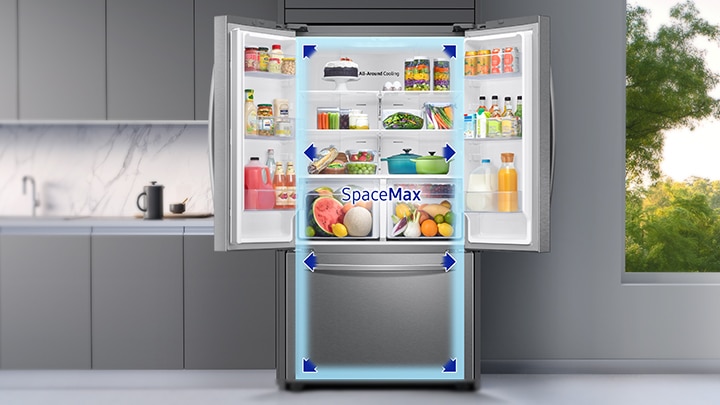 Simply bigger inside, same size outside
Large Capacity
Stock-up all your food with a huge 28.2 cu. Ft.* of storage space. SpaceMax Technology creates more room inside without increasing external dimensions or compromising energy efficiency.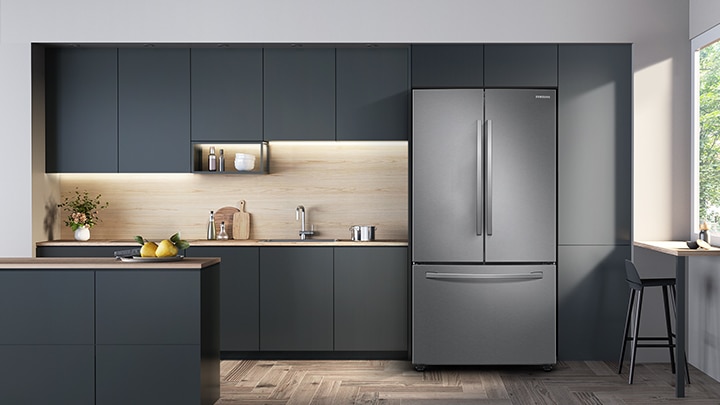 As beautiful as it is functional
Modern design, clean lines, and seamless features make this a showcase piece that enhances your kitchen in more ways than one.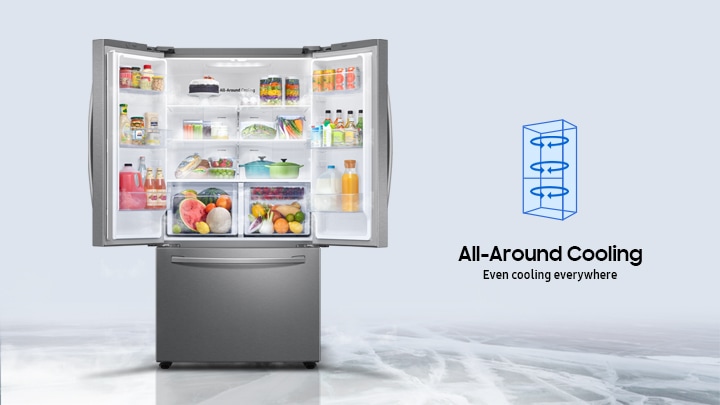 Keep every item evenly cooled
All-Around Cooling and multi-vent technology maintain even air circulation on every shelf for a consistent temperature throughout.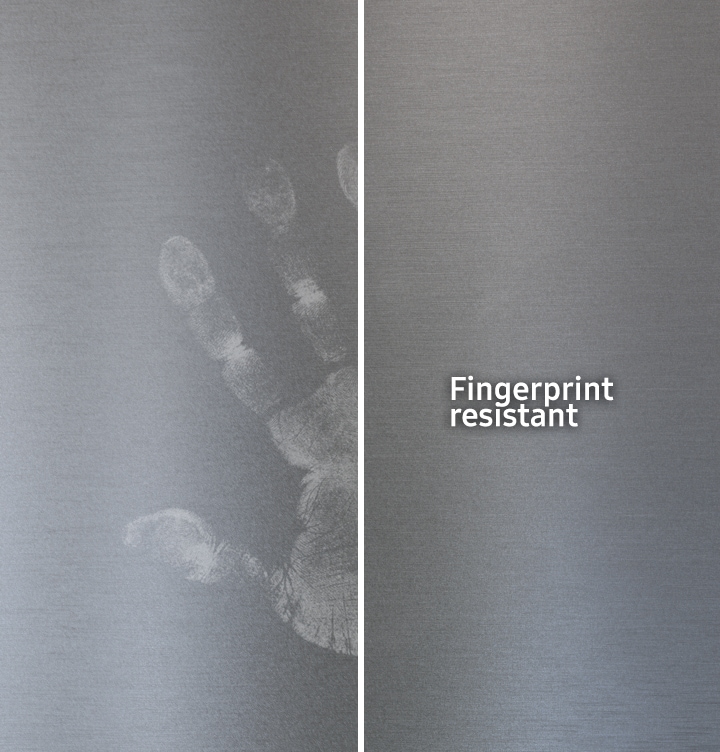 Fingerprint Resistant Finish
Spend less time cleaning with fingerprint resistant finish that helps withstand everyday smudges.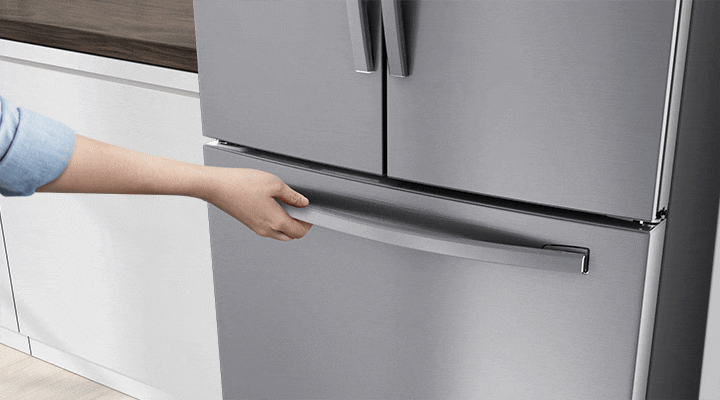 EZ-Open Freezer Handle
Open the heavy freezer drawer with a gentle pull using the EZ-Open Handle.
Capacity
Net for Fridge (cu.ft)
19.6 cu.ft
Net for Freezer (cu.ft)
8.6 cu.ft
Physical specification
Net Dimension (WxHxD)(inch)
35 6/8 x 70 x35 3/8 inch
Net Case Height without Hinge (inch)
68.875 inch
Net Case Height with Hinge (inch)
70 inch
Net Width (inch)
35.75 inch
Net Depth with Door Handle (inch)
35.375 inch
Net Depth without Door Handle (inch)
32.875 inch
Packing Dimension (WxHxD)(inch)
37 23/32 x 75 5/16 x35 29/32 inch
20/40/40H (Container)
26
Net Depth without Door (inch)
28.875 inch
Packing Weight (kg)
125 kg
Net Weight (kg)
121 kg
Cooling Feature
Cooling Type
All-Around Cooling
Refrigerator Feature
Humidity Control (Vegetable&Fruit Drawer)
Yes
Gallon Door Storage
6 EA
Number of Shelf (Total)
5 EA
Shelf Material
Tempered Glass
Number of Door Pocket
6 EA
Number of Vegetable&Fruit Drawer
2 EA
Power Cool Function
Yes
Interior LED Light
LED
Freezer Feature
Interior LED Light
LED
Icemaker
Automatic Ice Maker
Power Freeze Function
Yes
General Feature
Refrigerant
R600a
Door Alarm
Yes
Tactile, Electronic Control
Electronic Control
Exterior Feature
Door Type
Sleek Edge
Installation Considerations
Free Standing
Yes
Energy
Energy Star Certification
Yes
Performance
Energy Consumption
645 kWh/year
Exterior Feature
Colour
Stainless steel
Door Handle
Flat Handle
Capacity
Net Total (cu.ft)
28.2 cu.ft
Reviews
Average Customer Ratings
| | | |
| --- | --- | --- |
| Overall | | 3.00 |
| Design | | 3.33 |
| Features | | 2.67 |
| Performance | | 3.00 |
| Value of Product | | 3.00 |
Cons
Poor quality, Did not meet expectations
Poor quality, Did not meet expectations
Submitted 7 months ago
By Eddie1234
Reviewed at


I don't have this exact model, butr a previous one...RF26HFENDSR. Worked fine for 3 years, now we have to defrost the fridge every 2 months. Calling in a repair technician. Off warranty, so Samsung is no help. Doing my research, seems this icing up issue is common for Samsung fridges. Too bad I didn't see that earlier. I would have hoped that what appears to be a common issue would get some additional support from the manufacturer, but no. Last Samsung product for me.
Submitted a year ago
By Toni
Reviewed at


1
Samsung should not make home Appliances
Lest start with i have a Samsung cell tablet my family have the same and i like them silly me i went out and got a 3-Door French Door Refrigerator (Stainless Steel) i had to call about three times to come and fix it because it leak into the trays and freezer now i have to go i the bottom of the freezer every week to look for gold but all i keep getting is ice. with the refrigerator i can not put any thing to close to the back because it freeze in the refrigerator. i have samsung stove washer and dryer too. i am not a fan of digging for ice every week if i do not get to it in time it leak outside the freezer then i have to dig for ice under the fruit and veggie tray as well. i am begin to hate any thing Samsung.
Bottom Line No, I would not recommend to a friend
Submitted a year ago
By MDinVan
Reviewed at


5
Great no-frills giant fridge
I was looking for a no-frills fridge with solid performance. I had settled on a model from another company, but the pandemic kept delaying the shipment. With my occupancy date approaching, my appliance store called to offer this new Samsung they had in stock. I am so glad they did. I love the thing! It is totally no-frills. You get an ice-maker and that's it. The positives: - All-around cooling is not a gimmick - it really works! The result is that items towards the front of the fridge end up being significantly colder than you expect them to in a regular fridge, so you need to adjust for that. - Fantastic freezer performance. It really freezes stuff solid, and keeps it that way. Strong seal, easy to open. - S - P - A - C - E! You will never, ever run out of it. - Quiet! Some reviews of its sister models mentioned weird noises, so I was a bit concerned. I shouldn't have worried - this thing is as quiet as they come. - Sleek looking, finished to perfection, easy to clean. The only negative I can think of is that space organization could be better. I would have liked a pantry drawer. Samsung offers it in the more upscale models, but you also need to get some of the extra features that eat up space (water dispenser, built-in pitcher), and it was not in stock in my location anyways. Also, the vegetable and bins are really, really deep. They will swallow anything you throw in them, but this also means you will find yourself rummaging around to get to that item on the bottom. And the shelves could use an additional height adjustment. There is no way to get a one gallon jug of milk standing on the main shelves (but the left door holds up to two of them). All in all, I am very pleased with this fridge. If you find it on sale (which it seems to constantly be on) it offers remarkable value for money.
Bottom Line Yes, I would recommend to a friend