27" Samsung 5.0 Cu. Ft. Top Load Washer With ActiveWave Agitator In White - WA44A3205AW
27" Samsung 5.0 Cu. Ft. Top Load Washer With ActiveWave Agitator In White - WA44A3205AW
WA44A3205AW/A4
ActiveWave™ Agitator prevents clothes tangling
Soft Close Lid
Keep the washer fresh with Self Clean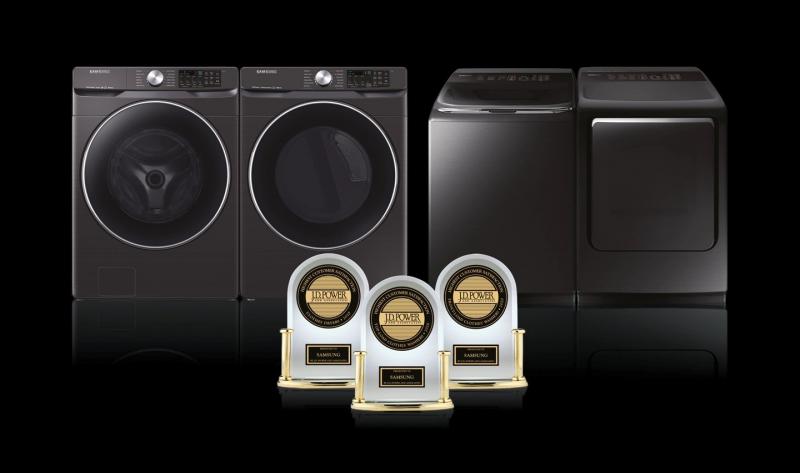 Number one in Customer Satisfaction
JD Power Award 2020*
#1 Highest in Customer Satisfaction with Top-Load Clothes Washers in the U.S., 2 Years in a Row. Samsung has received more J.D. Power Awards for Kitchen and Laundry Appliances than any other manufacturer in 2020.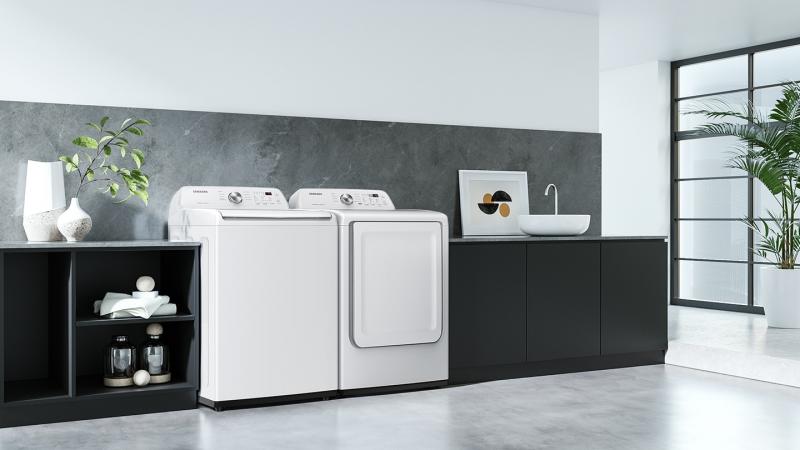 More speed, less energy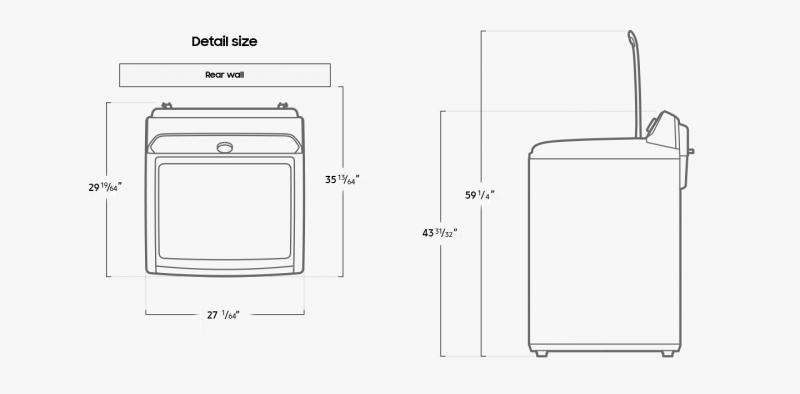 How to measure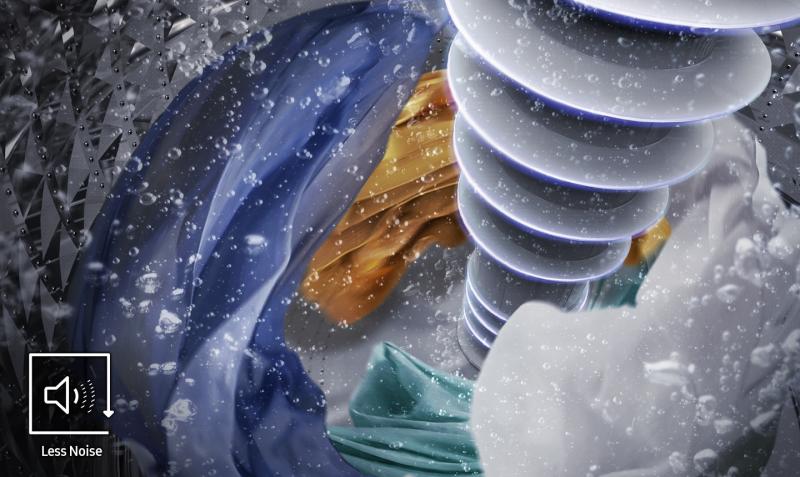 Gentle clothes care
ActiveWave Agitator
Stop your clothes from getting tangled up and enjoy more peaceful washing. The special wing shape and size of the ActiveWave Agitator reduce the tangling of clothes around the pillar of the agitator. It also spins smoothly and efficiently, so it produces less noise*.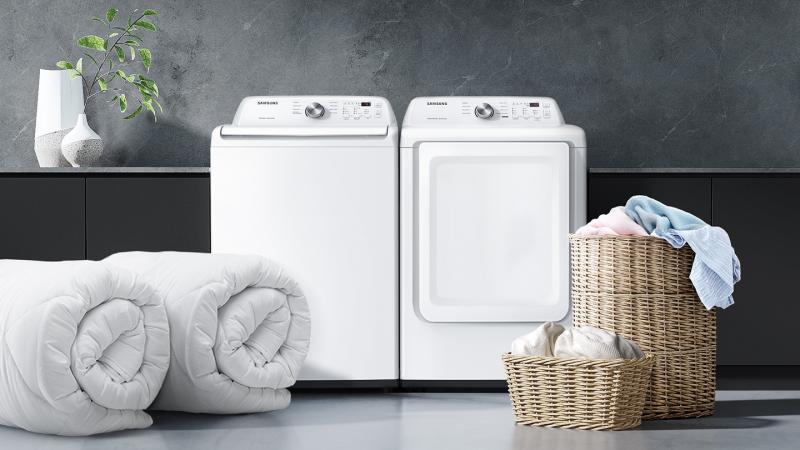 Wash more at once
Large Capacity (5.0 cu.ft.)
Wash more in fewer loads – save time and effort. A large capacity of 5.0 cubic feet means you can fit more clothes into a single load, including big items like a king-sized comforter. So you can spend more time doing the things you love.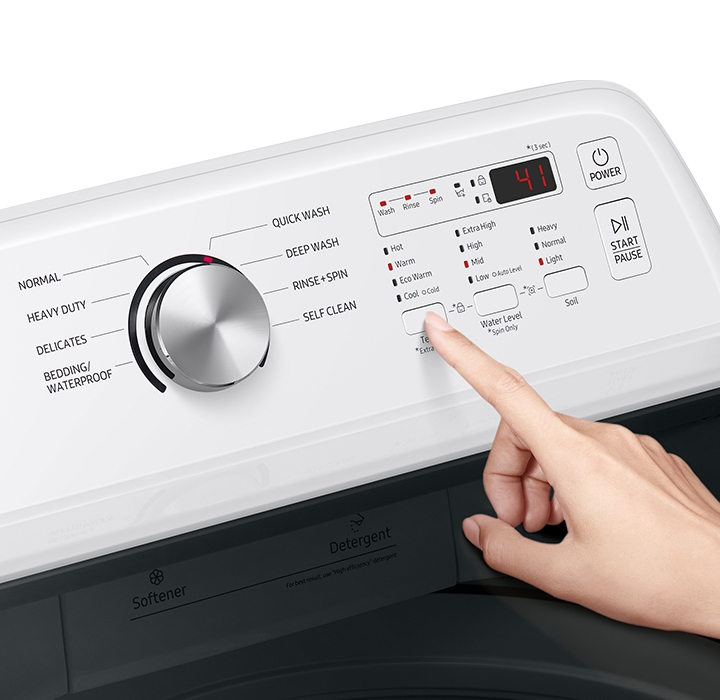 Easy to use controls
Digital Control Panel
Control your washing easily and intuitively. The Digital Control Panel includes a variety of options, so you can easily find the right setting. It also has a digital display that clearly shows the washing time. And the jog wheel makes it simpler and more intuitive to select a cycle.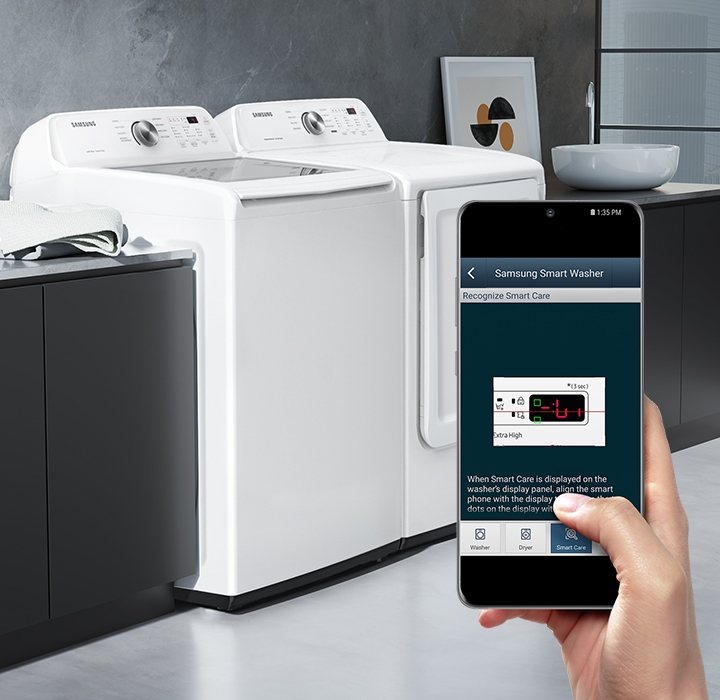 Easy to troubleshoot
Smart Care
Easy troubleshooting from the convenience of your smartphone.* Smart Care interacts with your washer and dryer to perform an immediate diagnosis and offer quick solutions.
Cycle
Number of Cycle
8
Cycle List
Normal, Heavy Duty, Delicates, Bedding/Waterproof, Quick Wash, Deep Wash, Rinse+Spin, Self Clean
Specification
Water Level
4 Levels
VRT
VRT+
Soft Close Lid
Yes
Self Clean
Yes
Smart Care
Yes
Spin Speed
700 rpm
Super Speed
No
Progress Indicator
Yes
Number of Temp. Level
5 EA
Number of Soil Level
3 EA
Motor
AC Motor (Spring Clutch)
Drum type
Diamond Interior Drum
Child Lock
Yes
Performance
IMEF
1.57
IWF
6.5
Energy Consumption (annual)
240
Cycle time (min)
73 min
Energy Star Certification
No
Design
Top Cover
ABS
Washing Capacity
Washing Capacity (cu.ft)
5.0 cu.ft
Design
Pulsator
Agitator(PP)
Body color
White
Panel Display
LED
Cycle
Number of Option
4
Option List
Extra Rinse (Long Key), Child Lock(Dual Key), Smart Care (Dual Key), Spin Only (Long Key)
Physical specification
Net Dimension (WxHxD)
27 1/64 x 43 31/32 x 29 19/64 inch
Net Weight
130.1 lb
Gross Dimension (WxHxD)
29 1/2 x 46 1/2 x 31 inch
Gross Weight
141.1 lb
Voltage/Frequency
120V / 60Hz
Reviews
Average Customer Ratings
| | | |
| --- | --- | --- |
| Overall | | 3.72 |
| Design | | 4.22 |
| Features | | 4.00 |
| Performance | | 3.78 |
| Value of Product | | 3.89 |
Pros
Bright display
Inexpensive, Bright display
Bright display
Cons
Did not meet expectations
Too big, Did not meet expectations
Did not meet expectations
Submitted 10 months ago
By Disappointed in Toronto
Reviewed at


2
Disappointed - Not what I paid for
I bought this in Dec based on the overall positive reviews here. By Feb, I started getting this 8C error code. Also, I noticed in the Normal Operation, the machine did not agitate during the Rinse cycle, it filled part way with fresh water, drained, then went directly to Spin - for 30 minutes! I ended up having to pause after Wash, then switch to Rinse and Spin. Funny, it seemed to work correctly for the other operations of Quick Wash, Bulk and Delicate. Another weird thing I noticed, the water temperature is different when I change operation, for eg. Cool water under Normal is "cool"; however Cool water under the Delicate is "warm" as the glass top fogs up. I would have expected the water temperature to be independent of the Wash cycle. A repair technician came out and replaced the board, 8C error gone, but the rinse and water temp. issues were not fixed. Not sure if I got a lemon - on the phone 4 weeks now with their 1 800 customer support, they promise to call, but never do. Every time I call, I get someone new and have to explain the same thing over again. I paid close to $900 for this with taxes and expect it to work. Come on Samsung, you're a huge conglomerate, why can't you assign one person to a case number and solve my problem promptly?
Bottom Line No, I would not recommend to a friend
Submitted 11 months ago
By Debbiedo
Reviewed at


Do not buy this if you are petite. Cannot reach into bottom of washer to retrieve small items ie socks and underwear. Have NEVER had this problem with a top load. Also, I was reading in the q and a, that the use of vinegar can damage your machine. I have always used vinegar as a fabric softener, what are you building your machine with that vinegar can damage them? That is need to know info that your sales reps should share before selling these units, it's a deal breaker. I like to soak my gentles before washing, just cannot figure out how to accomplish that with this machine? And, I just do not find that there is near enough water to provide proper cleaning of my loads. Have not yet figured out how to add water as I see fit! And….the cycles are sooo long, unless you use the quick wash which I haven't tried so not sure if your load will be clean. Big mention here, there is no light in the matching dryer, also a deal breaker and sales reps should make sure to point that out before making the sale. Put a light in your dryers Samsung, just an easy small step to make life a little brighter for you customers:) I so wish I could return these units and make a better choice!
Bottom Line No, I would not recommend to a friend
Submitted a year ago
By Satisfied launder
Reviewed at


5
Worth buying this machine
We bought this washer to replace our 1990's top load which finally gave up. Good riddens to it. We are a family of 4. After 2 weeks of use, I have no negative feedback. The capacity of this machine has reduced our weekly number of loads from around 7 to around 4. It cleans the clothes very well and has just about every cycle option any household could ever use. It uses more water than my prior one however I'll trade more water consumption for less electricity consumption. Plus our clothes are cleaner than previous. The machine seems to be every bit the intelligent life form that it claims to be and that other users have reviewed It to be. Price point is very good for the quality/capacity/features of the washer (around 1000 CAD regular price, we got it on sale for 750 CAD) It sings a nice song at the end of a cycle.
Bottom Line Yes, I would recommend to a friend
Submitted a year ago
By Irie_Mon_Bumboklaat
Reviewed at


5
Awesome Top Load Washing Machine!!!
I've used washing machines from the 70's to today and the technology behind these washers have dramatically changed in the last 20 years with HE front loaders being the standard in homes today. I replaced a first gen Samsung front loader that lasted about 15 years. Over time, the machine started to develop an unpleasant odor and mould was building up in drain pipe and throughout the machine. I religiously kept the door open and had the dispenser drawers open when the machine was not in use. I believe it was a bad design as there lots of complaints about that model. Fabric softener usage was also a culprit. It was time to replace and here is where the story begins.. Purchased the Samsung Top Loader WA44A3205AW/A4. I was skeptical on going back to a top loading washing machine because agitators perform thorough cleaning but, they are not gentle on fabrics. I find from previous experience that a front loader is less harsh on clothes and it doesn't stretch, nor does it cause the wear and tear like an agitator type machine would. The design of this agitator is much different in comparison to other agitator types. It won't pull or snag fabrics which convinced me to buy this front loader. Once it was delivered, the setup was pretty straightforward and easy. Performed the calibration as instructed and filled the basket with my first load. Used Persil Laundry detergent, selected a normal wash cycle, selected warm water for wash and used the automatic water level option. After the cycle completed, I was beyond impressed!!! The clothes were implicitly clean!!! I couldn't keep myself out of the laundry room lol. I love the cleaning performance of this machine. It may use more water than the typical and conventional front loader but, using more water with the combination of the actionwave agitator, this machine deserves the accolades for the qualities this washer features. The price wasn't bad either. I just hope that I will be able to get years of service from this machine. Overall, I would recommend this washer for its cleaning performance, design, large capacity, and price.
Bottom Line Yes, I would recommend to a friend
Submitted a year ago
By Retired in Killaloe
Reviewed at


3
Washer will not fill for Rinse cycle
I just got my washer on August 26, 2021. I let the machine set the water level as indicated in the manual, it defaulted to HIGH. For a load of towels, etc. the water level was ok, covered the load. When it got to the Rinse cycle, there was only about 1 inch of water and it started to empty after only a few minutes. Why would the washer only bring in that little amount of water for a Rinse? What should be done to correct this problem? Other than that I do like the washer but I need help on this, please.
Submitted 7 months ago
By HaqM
From Dallas
Reviewed at


Take my advice and DO NOT buy this product. The washer goes through many rinse cycles and is basically wasting water and using electricity. At start it shows cycle of 1:10 hours and the washing does not finish until 2.5 hours. Moreover, through rinse cycle clothes will get lumped in one side and it cannot spin. You have to open and start process AGAIN from middle. No more Samsung. I had bad experience with another high value Samsung product. Should have learnt my lesson.
Bottom Line No, I would not recommend to a friend
Submitted 7 months ago
By ACARUI01
From Louisville
Reviewed at


3
Performance could be better
I bought this a month ago, did a heavy duty wash. As it was rinsing it stopped completely so I had to re-run as new cycle :(
Bottom Line Yes, I would recommend to a friend
Submitted 7 months ago
By RayB
From San Jose CA
Reviewed at


Replaced 25 year old washer. My wife has been using the washer for over 2 months and she really likes the following options... heavy duty, bedding, quick wash and self cleaning feature. I'm so glad I purchased Samsung washer
Bottom Line Yes, I would recommend to a friend
Submitted 7 months ago
By thegeb3
From Galloway, NJ
Reviewed at


4
Amazing Washing Machine
I am so happy that I purchased this machine. The quality, speed, functions are amazing, only thing I wish it had was the Wi-Fi option.
Bottom Line Yes, I would recommend to a friend
Submitted 7 months ago
By Mike
From Waynesville, OH
Reviewed at


5
Huge wash size for a big family
We bought this washer when our old one died and it has been amazing. We have a family of six and needed something with a large wash capacity and this is it. Cleans really well and the auto dispensing of detergent and fabric softener is great. Price is right on par for this washer. Recommended.