30" Samsung Combi Double Oven With Power Convection - NQ70M7770DS
30" Samsung Combi Double Oven With Power Convection - NQ70M7770DS
30" Samsung Combination Double Oven With Power Convenction - NQ70M7770DG
Read Reviews 3.71 (17)
Write a review
68% would recommend this to a friend

Or as low as $466.67/month over 12 months. Apply Now

30" Samsung Combi Double Oven With Power Convection - NQ70M7770DS
NQ70M7770DS/AA
$5,599.99

Or as low as $466.67/month over 12 months. Apply Now

Or as low as $483.33/month over 12 months. Apply Now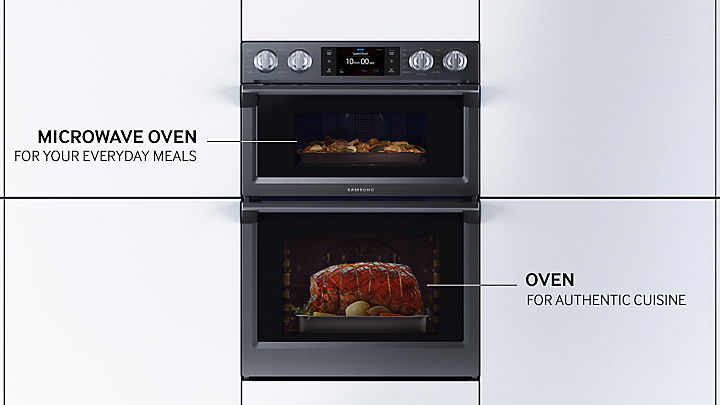 Flexible choice of cooking
Combi Double Oven
A Combi Double Oven offers a flexible choice of cooking methods to perfectly match your needs. The upper cavity works as a microwave oven, with Power Convection technology, while the lower cavity is a normal oven.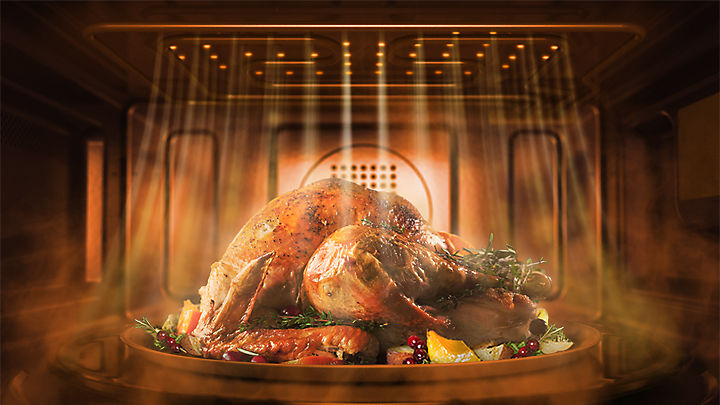 Crispy outside, Juicy inside
Power Convection
Power Convection is a new method that reduces cooking times significantly. Powerful hot air is blown through multiple air-holes directly onto your food, so it's cooked evenly with a crispy outside, but juicy inside.
Easily check your food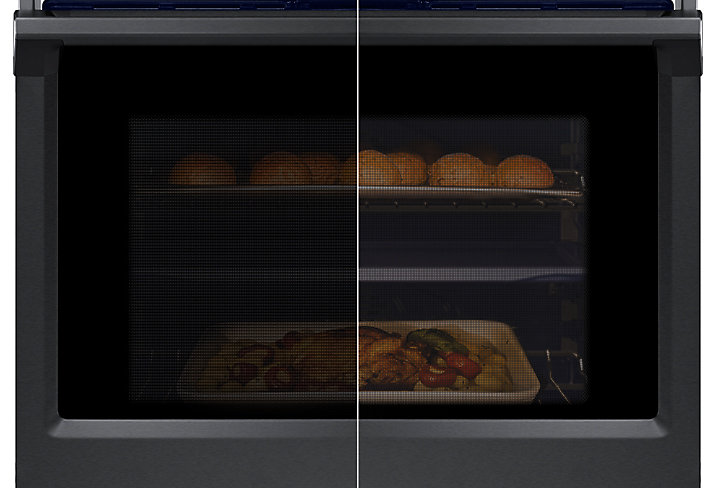 Clearly check
An EasyView Glass Door lets you check on your cooking without opening the door. A metal mesh in the glass provides better visibility, but still protects.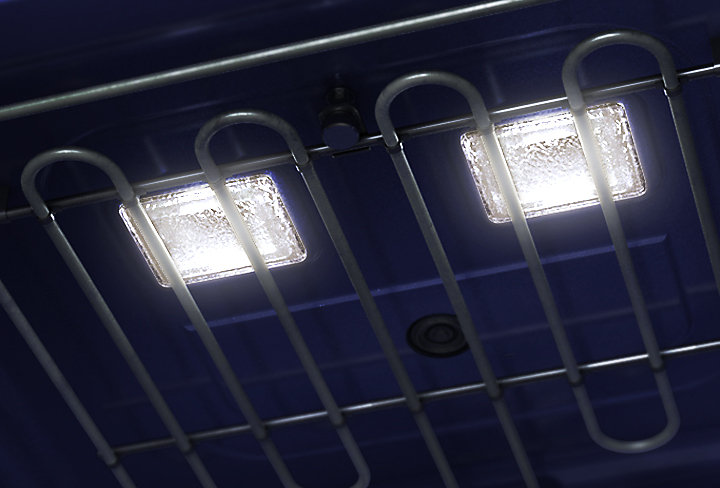 See the exact color
Bright LED Lighting lets you safely monitor your cooking without opening the door, as you can clearly see the exact color and condition of your food.
More space to cook larger meals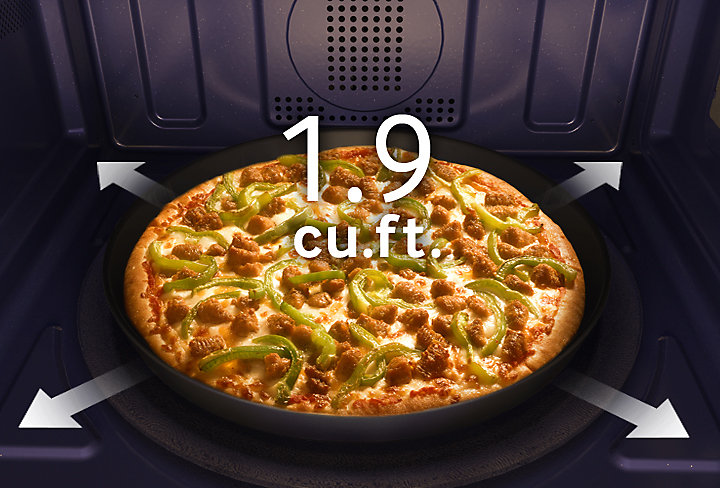 Cooks more meals
Enjoy all the space you need to cook sumptuous food for your friends and family. With a large 1.9 cu. ft. capacity it can accommodate virtually any sized meal or dish and cook it all quickly and efficiently.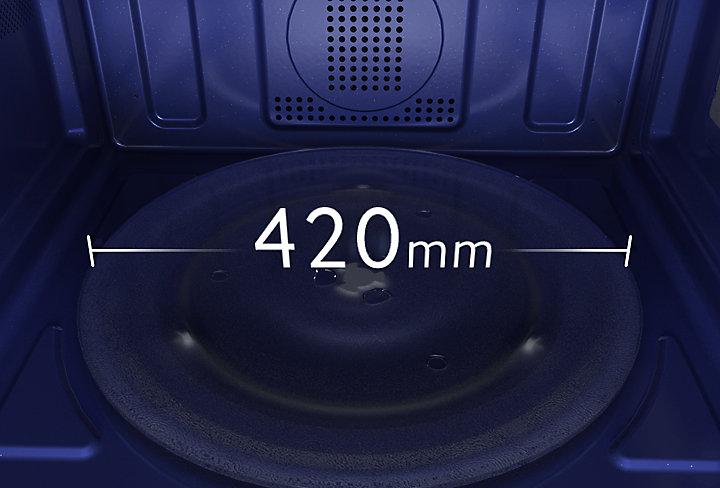 More space
Cook on a much larger scale using the 420 mm turntable. Despite its compact size, the internal dimensions have been increased, so the turntable is significantly wider, enabling you to cook larger plates of food.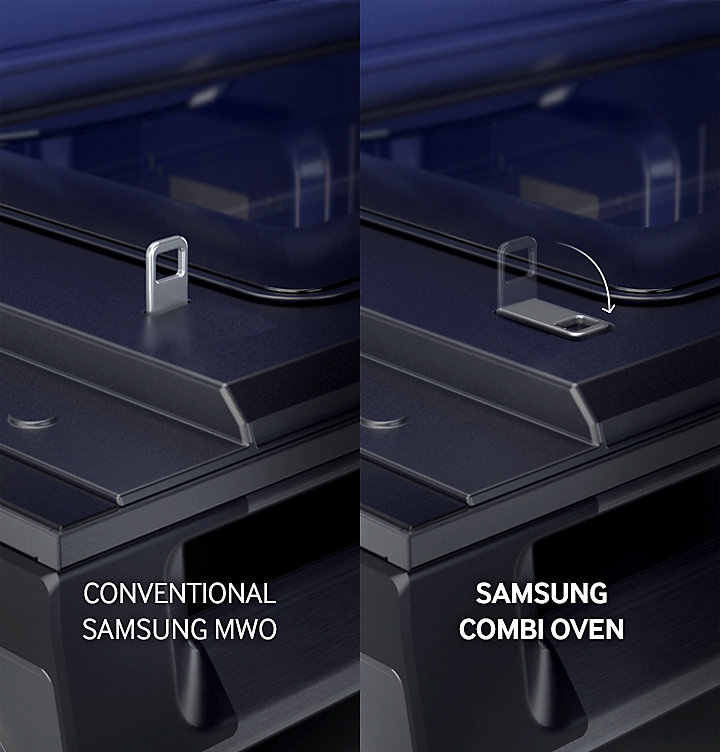 Neater Design
Auto Latch door
An Auto Latch door gives a neater look and makes it safer to put in and take out food. The hooks that secure the door are hidden, but pop up as it shuts. Only once the door is closed properly are microwaves radiated.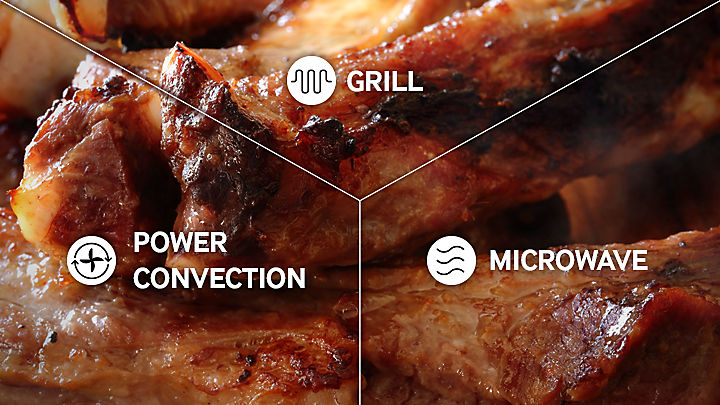 Cooks food faster
Speed Power Convection
A Speed Power Convection Combi system has 3 different heat sources. Using microwave and Power Convection technology plus a grill to crisp and brown it ensures food is cooked quickly, evenly and looks as good as it tastes.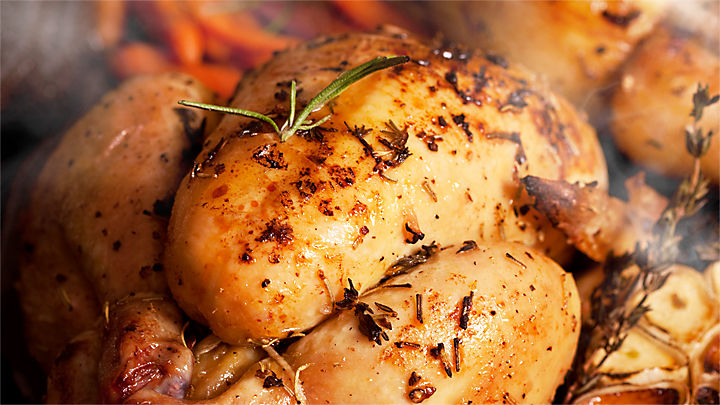 Tender inside and browned outside
Steam Roast (Lower oven)
The Steam Roast function ensures the best results when roasting, without food drying out. Roast meats, like poultry, pork and beef, are always deliciously brown outside, but meltingly tender and juicy on the inside.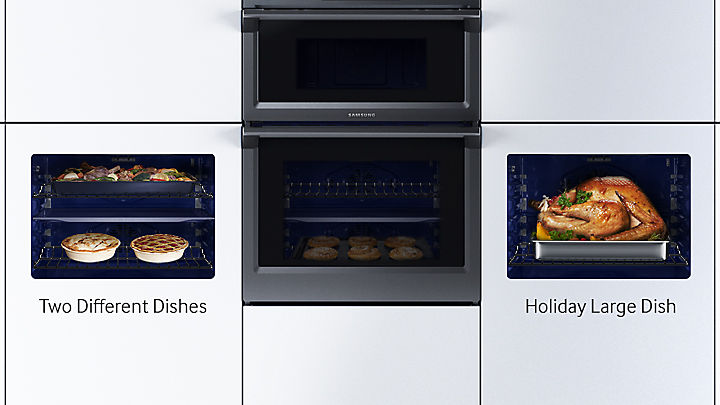 Two small ovens, or one big oven
Flex Duo™ (Lower oven)
The Flex Duo™ system gives you the ultimate in control. The upper and lower cooking zones can be used independently, to cook different dishes simultaneously with different temperature and time settings, or together.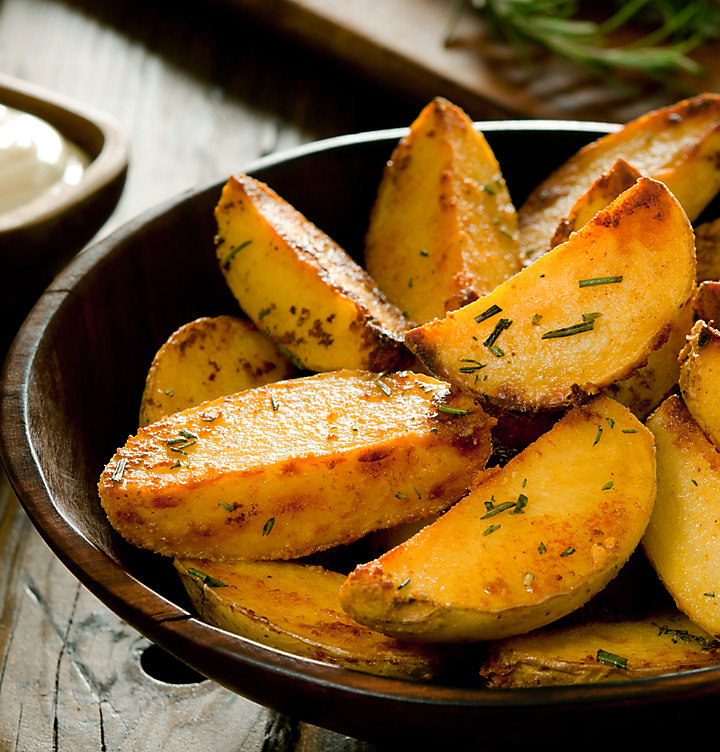 Enjoy healthier fried food
SLIM FRY™
Enjoy healthier fried food without a deep fryer. SLIM FRY™ technology combines a grill with warm air circulation, so food is cooked crispy inside and out using only a touch of oil. And no greasy pans or splatters!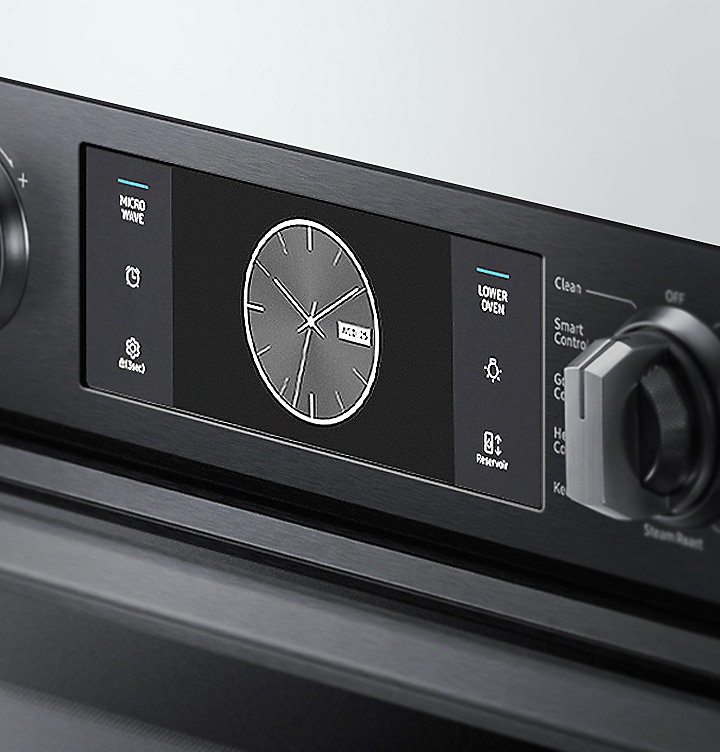 Clear & intuitive information
LCD Display
A bright, clear LCD display is easy to read, so you can quickly and intuitively check the status of the oven, even from a distance. And it gives you plenty of useful information to help you cook more effectively.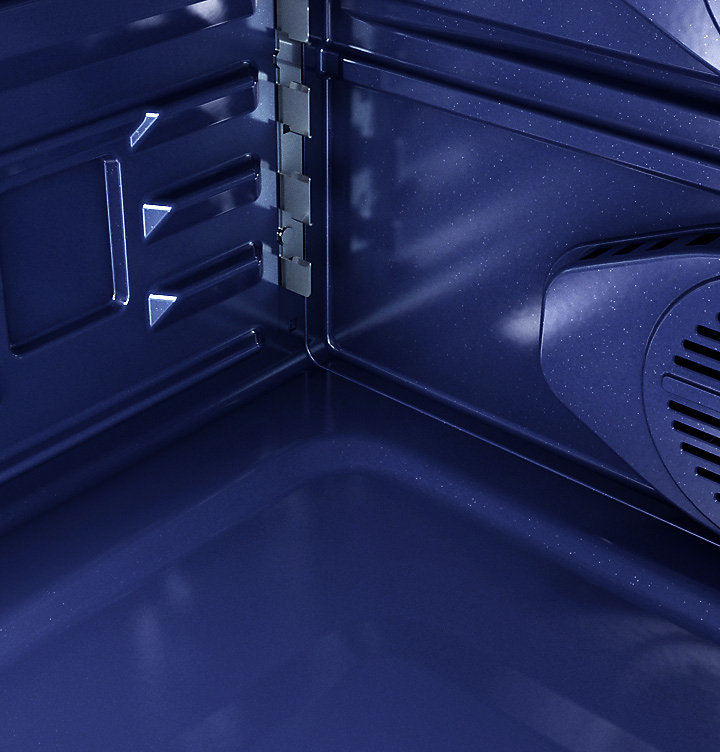 Durable, easy clean interior
CERAMIC ENAMEL
The smooth and durable Ceramic Enamel is easy to keep clean without scrubbing and won't discolor over time. It also prevents bacteria from spreading and is highly rust and scratch-resistant, so it lasts longer.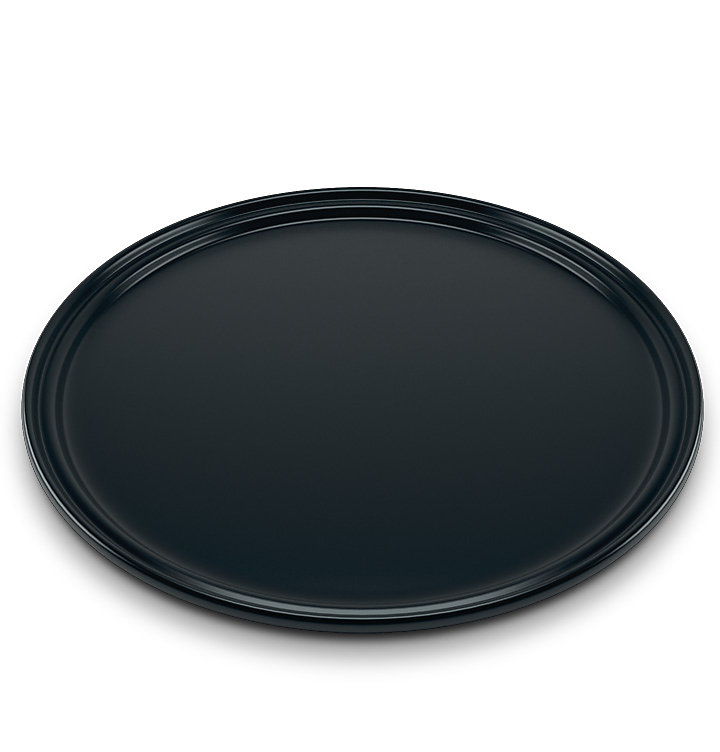 Perfectly crispy food
Hot Plate
With the Hot Plate you can enjoy crispy and crunchy foods. It evenly bakes and browns the top and bottom of frozen or leftover foods like pizza, quiche and chicken nuggets. You can also bake and fry without oil.
Weights/Dimensions
Cutout (WxHxD)
724 x 1065 x 587 mm
Loading Quantity (20/40ft)
19 / 42
Weight (Net)
119
Weight (Shipping)
132.5
Net (WxHxD)
756 x 1099 x 685 mm
Gross (WxHxD)
854 x 1224 x 757 mm
Type
Installation Type
Built-in
Power/Ratings
MWO Watts
950 W
Materials/Finishes
Door Type
Drop Down
Oven Door Glass
4
Control Method
7" LCD + Knobs
Display
LCD
Oven Type
Convection
Cavity Material
Ceramic
Inputs & Outputs
Type (Ceramic)
Yes
Interior Lamp
LED
Oven Convection Cooking System
3250 W
Light (Lamp) On/Off
Yes
Child Lock
Yes
Auto Programs
29
Type of Controls
7" LCD + Knobs
Heater Element
Broil 1650 W
Capacity
Oven Capacity
Upper 1.9 cu.ft / Lower 5.1 cu.ft
Reviews
Average Customer Ratings
| | | |
| --- | --- | --- |
| Overall | | 3.71 |
| Design | | 4.12 |
| Features | | 4.59 |
| Performance | | 3.94 |
| Value of Product | | 3.35 |
Pros
Bright display
Bright display
Cons
Did not meet expectations
Poor quality
Poor quality
Poor quality
Submitted a year ago
By p5browne
Reviewed at


3
Not a MicroWave Popcorn ideal - wife not happy !
Right off the bat, tried microwaving popcorn. Does a lousy job and we have to use our old Pansonic in the basement to get done properly. C-21 error for bottom oven resulted in a service request - went nowhere. What's with this give you a service code, then you have to Chat ? My morning cereal went from 1 min 10 seconds to 1 min 30 seconds. Tricky time on cooking lower oven - will take some adjustments. Wife not happy how it warms up her coffee. Same Pros and Cons issue - designed to review a TV !
Bottom Line No, I would not recommend to a friend
Submitted a year ago
By unhappy baker
Reviewed at


1
Terrible oven and even worse support
Where do i start with this oven? First off my wife bakes on the regular, and the biggest issue with this oven is it doesn't keep it's temperature...ever.. If you set it to 350, it is NEVER 350. we put a manual oven thermometer inside and it never is the proper temperature. some batches will burn because of the fan. For such an expensive oven, if you are into a lot of baking, DO NOT get this oven. issue number 2, the oven restarts randomly, even during a baking process. This is obviously a software issue, and even with a tech coming to update the software, still never fixed this issue. issue number 3, why have this fancy oven with a fancy looking clock on the front, for it to turn off after 5 mins. We have had 6 techs come look at my oven..changed the door, the motherboard and heat sensor and STILL has all the issues above. 4 out of 6 techs told us these issues are common with this oven...SO WHY MAKE SELL THIS OVEN?
Bottom Line No, I would not recommend to a friend
Submitted a year ago
By Wesleyw
Reviewed at


We bought this product summer 2020. For the most part it functions well except the lower oven. The lower oven constantly bakes 50 degrees cooler than it states, even when adjusted to the max allowable setting its still 50 degrees cooler. Then there's the lower oven fan. It runs periodically to help "even out heat". I can tell you as someone who bakes buns and bread, all that fan is doing is burning your food. I can't bake buns in this oven without that fan burning the tops. ANY time the lower oven is trying to get to or maintain temperature that fan runs. So if you open the oven door to check on something, the heat escapes, the element turns on to maintain temp and then so does the fan. As far as I know, there is no setting to turn that fan off. We haven't had the feeling problems that a lot of bloggers report, just horrendously inaccurate baking temperatures. The breadproof setting is too cold - your dough won't rise. There are better products out there.
Bottom Line No, I would not recommend to a friend
Submitted a year ago
By DavidinVan
Reviewed at


1
Low reliability but good looking
The oven looks well designed. Mine is 1.5y new, however, I got a couple of random crashes in the first year, so I had to reset the breaker to get it back. Time never went correctly. And then, I got a hot control panel. Now microwave is running with loud noises; light is on, but not heating.
Bottom Line No, I would not recommend to a friend
Submitted a year ago
By QB Zhang
Reviewed at


3
Only two years lifetime
I bought it in 2019, Microwave is not working for now, I called service coming two times, paid service fee 112$ each time (NZ system in London Ontario), they told me , they need replace all relative parts and will cost thousands to fix and suggested me to find other guy to fix it, NZ system is only service contractor in London, they can't fix, who could? you tell me.
Submitted 4 years ago
By Gil Fiazon
Reviewed at


Happy with it in every way, performs like a product that would cost 2 - 3 times as much money.
Bottom Line Yes, I would recommend to a friend
Submitted a year ago
By Chewy
From Milwaukee, Wisconsin
Reviewed at


I had researched wall ovens for a long time and when remodeling our kitchen, I planned this into the design. We have been using it for about 6 months now and it is amazing. I love all the microwave/oven features and it so versatile. The only negative I've found is that you can't use the oven to go into orbit around the earth but besides that, it has exceeded all our expectations.
Bottom Line Yes, I would recommend to a friend
Submitted a year ago
By JP of Los Angeles
From Los Angeles
Reviewed at


5
Great features- very user friendly- looks elegant
I was looking for oven and microwave combo in stainless steel black and I saw this in a showroom - It was not available at that time but wen to samsung website and got it- it looked great with the rest of my appliances - the features are great and user friendly - it's tech packed and I can activate it remotely through the app- I absolutely love it
Bottom Line Yes, I would recommend to a friend
Submitted a year ago
By CarlDug
From Smyrna, Tennessee
Reviewed at


Nice features. Looks good and work great. If remodeling, will require some cabinet remodeling. One would have thought someone would have thought it would be a good idea to size it the same as a conventional double oven. Instead, I gained an additional drawer as the height is less.
Bottom Line Yes, I would recommend to a friend
Submitted a year ago
By VermontBorn
From Vermont
Reviewed at


I hate having a microwave on the counter, but had to because I wanted two ovens. This unit allows me a lot of flexibility without taking up space: two ovens; a microwave and an oven; a microwave and two small ovens; a steam oven, etc…
Bottom Line Yes, I would recommend to a friend