Kenwood 10.1 Inch Digital Multimedia Receiver - DMX1057XR
Free Shipping
$

1,798.00

CAD

Save $101.00

Or as low as $149.83/month over 12 months. Apply Now

Kenwood 10.1 Inch Digital Multimedia Receiver - DMX1057XR
DMX1057XR
Literature
10.1" High Definition Monitor with Capacitive Touch Panel
Floating Panel Mechanism with 3-way Position Adjustment
Android Auto™ & Android Auto™ Wireless
Wired and Wireless Apple CarPlay™
High-Resolution Audio Wireless
Wireless Mirroring for Android
4 Camera Inputs
HD Front/Rear Camera Ready
Built-in Bluetooth, HD Radio & Wi-Fi
3 Preouts 5V
INTRODUCING A REVOLUTIONARY 10.1 INCH HD DISPLAY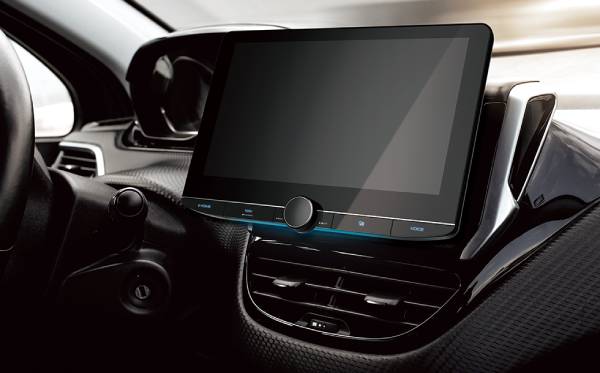 Large 10.1 inch HD display
Provides room for more information that is large and easy to see with just a glance.

High Definition
Overwhelming Power of Expression
10.1" Display features an electrostatic capacitive touch panel and HD 1280 x 720 pixel LCD panel with high luminance white LED backlight and superior wide viewing angles.

BONDED OPTICAL DISPLAY
VIVID COLORS WITH HIGH CONTRAST
Optical Clear Adhesive (OCA) is added between the touch screen and the LCD to eliminate the air layer and suppress light reflection and glare. This feature enhances the contrast and brightness and maintains the visibility of the display in various environments.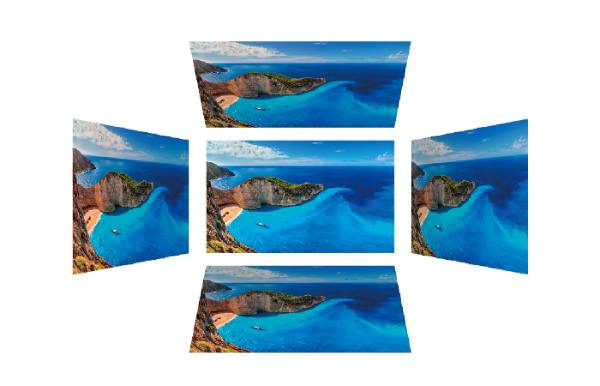 WIDER VIEWING ANGLE
BEAUTIFUL FROM ANY SEAT
The AAS display technology of the LCD panel assures you a wider viewing angle of 170° for both horizontal and vertical directions. Together with the protective film which minimizes reflection and glare from sunlight, you can enjoy clear images even from the passenger or back seats
DRIVING WIDGET HOME SCREEN
The 10.1" home screen is composed of a Driving Widget as well as a Source Control Widget overlaid on the background. You can move the Driving Widget from side to side or enlarge the Source Control Widget to optimize the screen for your intuitive operation. The Driving Widget allows selection of a clock, compass, or equalizer setting, etc., while the background allows selection of album art, audio visualizer, or photo.
FLOATING PANEL MECHANISM WITH 3-WAY POSITION ADJUSTMENT
Fully adjustable display allows you to change the depth, height and angle for easy vehicle fitment.
Forward / Backward: 13/16"
Up / Down: 1-9/16"
Tilt: -10°/ +45°
Smartphone Connectivity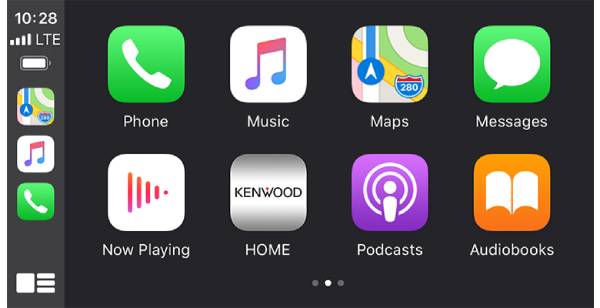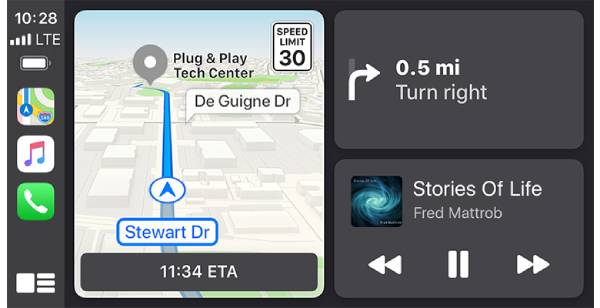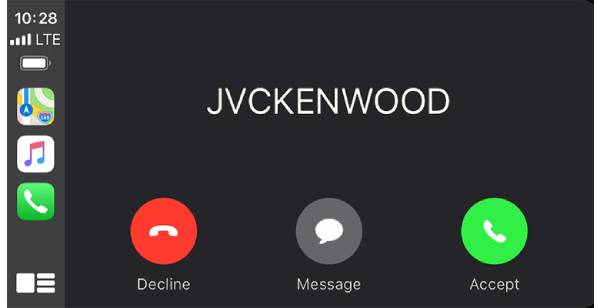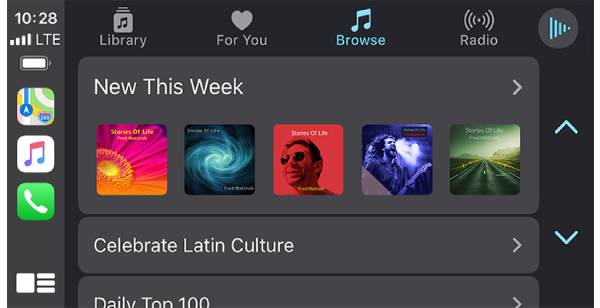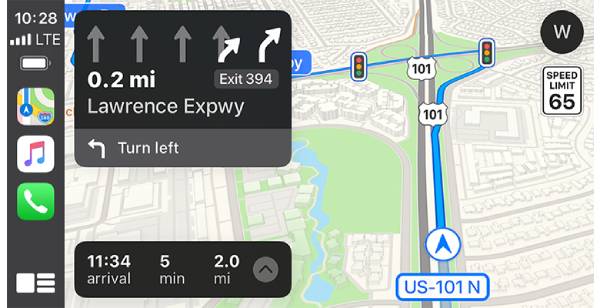 Safe, Smart and Comprehensive Control with Apple CarPlay™
Apple CarPlay™ is a safer way to use your iPhone in the car. Simply talk to Siri or touch the receiver's display to get directions from Apple Maps, make phone calls, listen to voicemail, send and receive texts, and listen to music from Apple Music or your favorite 3rd party streaming services like Pandora and Spotify, all in a way that allows you to stay focused on the road. With the latest iOS version (iOS 12.0 and higher), 3rd party navigation apps like Google Maps and Waze are also supported.
New KENWOOD Wi-Fi receivers now support Apple CarPlay™ wirelessly (compatible phone required).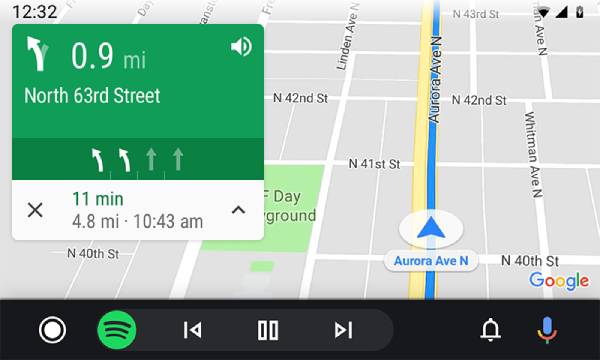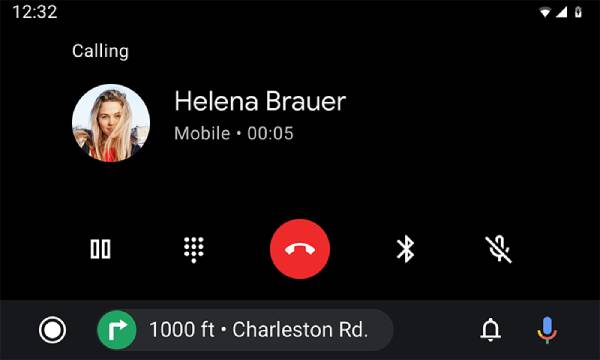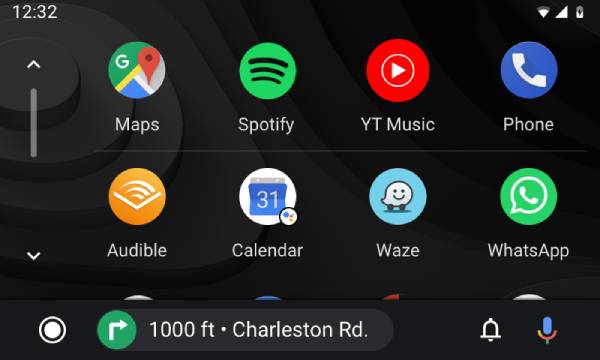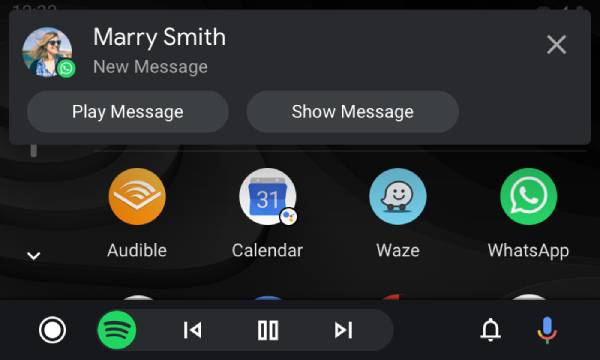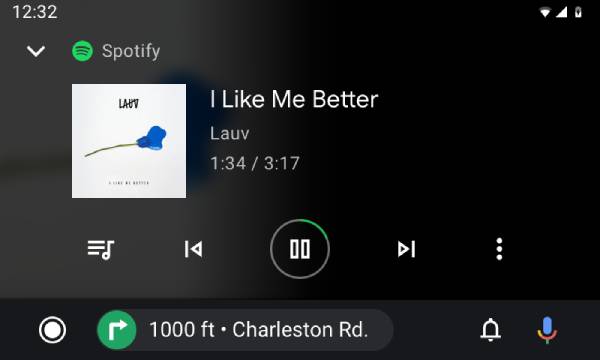 Android Auto for Easy Connectivity
Android Auto was designed with safety in mind, helping you to minimize distractions and stay focused on the road. KENWOOD's multimedia receivers combine an intuitive voice controlled interface with a large touch screen and superior sound quality, making it the perfect complement for your in-car life. You can even listen to and control music from your favorite streaming services like Pandora and Spotify. Navigate to where you need to with Google Maps or Waze. New KENWOOD Wi-Fi receivers also support Android Auto wirelessly (compatible phone required).
To use Android Auto on your car display, you'll need an Android Auto compatible vehicle or aftermarket stereo, an Android phone running Android 5.0 or higher, and the Android Auto app.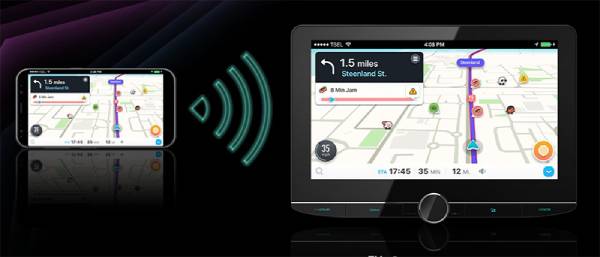 Wireless Mirroring for Android
Solution for seamlessly displaying and controlling your smartphone apps on a screen without cables on select Android devices.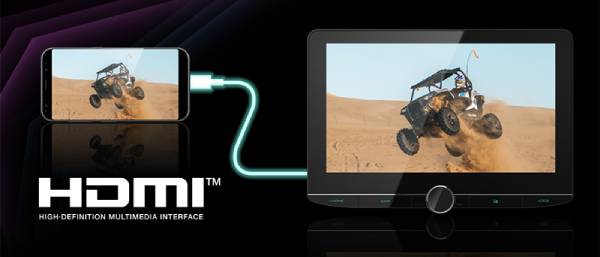 HDMI Input
Display your smartphone screen or other device via an HDMI cable (and third party adapter as applicable) on the 10.1" monitor. KCA-HD100 optional HDMI cable sold separately.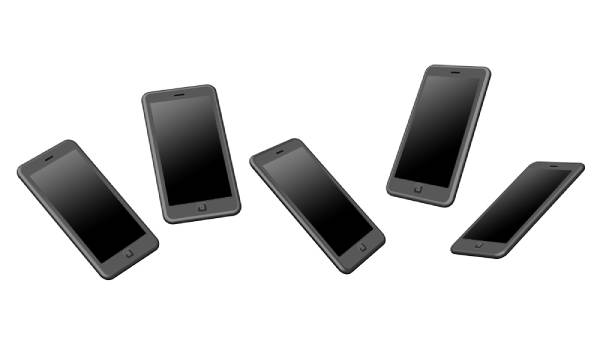 Equipped with the Intuitive KENWOOD Music Mix
Up to 5 Bluetooth® devices can be connected to the receiver at the same time, allowing you to take turns streaming music with your friends and family.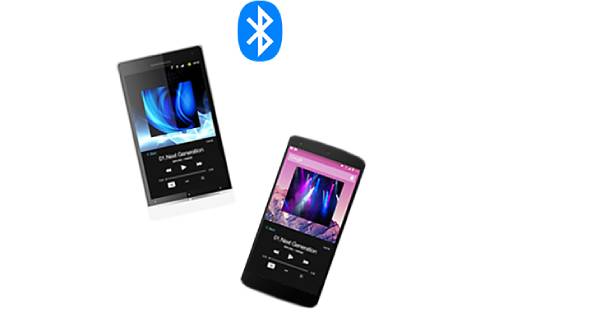 Dual Phone Connection
While you are connected through Bluetooth, with a touch of a button you can switch between two phones.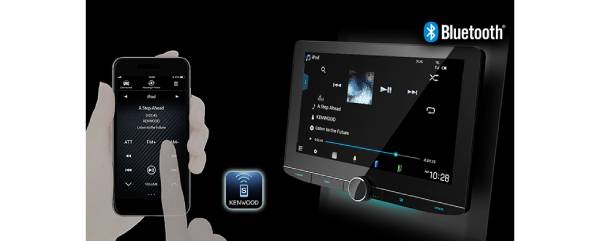 Control the Receiver from Your Smartphone with the KENWOOD Remote App S
A smartphone application can control most basic functions of the receiver over the Bluetooth connection of the paired phone (iPhone or Android).
KENWOOD Portal App
Display image files stored in your iPhone or Android on the receiver's photo frame widget and/or wallpaper.
The Best Audio Experience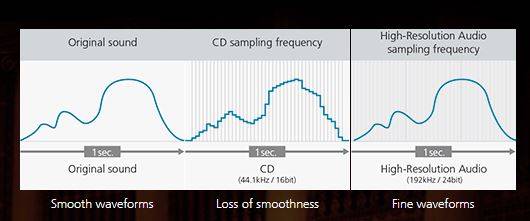 High-Resolution Audio Wireless
High-Resolution Audio is high-quality sound that exceeds CD standard. High-Resolution audio captures and beautifully expresses all the details of your favorite music. Through ultra-high and low frequencies, immerse yourself in a rich and high-quality listening experience. Select KENWOOD receivers now support Hi-Resolution Audio Wirelessly via LDAC. LDAC is an audio coding technology that enables the transmission of High-Resolution Audio over a Bluetooth connection.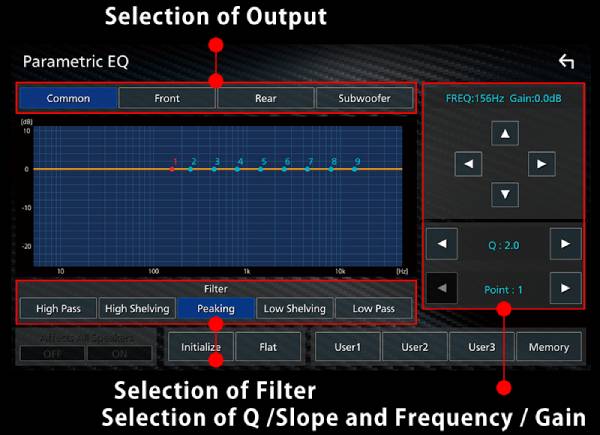 Parametric Equalizer
You can fine-tune advanced sound properties to achieve professional audio sound quality in your vehicle. It allows you to set parameters of Q factor, slope, frequency and gain at 14 points separately (Common: 9 / Front: 2 / Rear: 2 / Subwoofer: 1). With adjustments such as high and low shelving filters, more realistic sound can be delivered.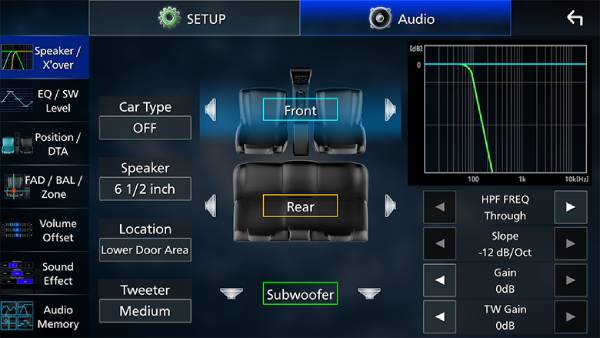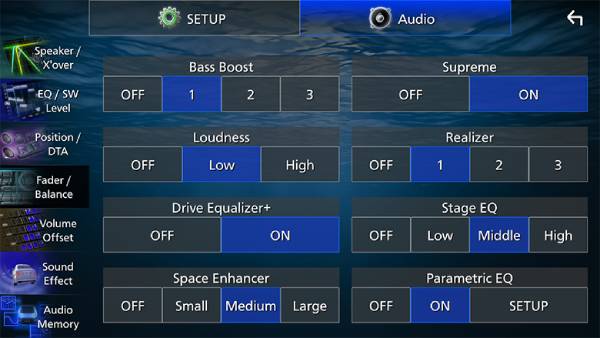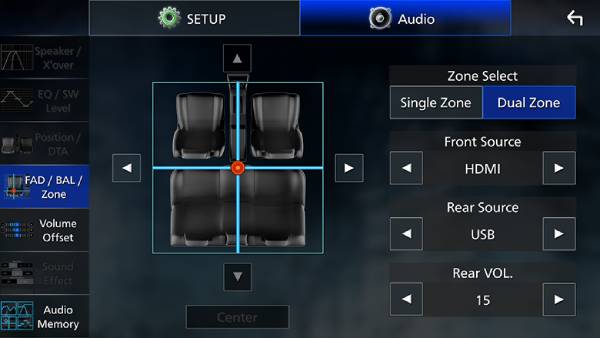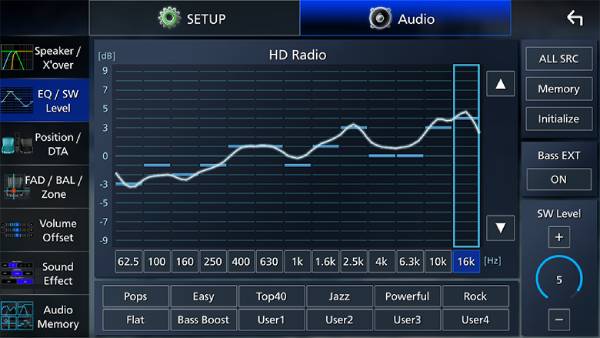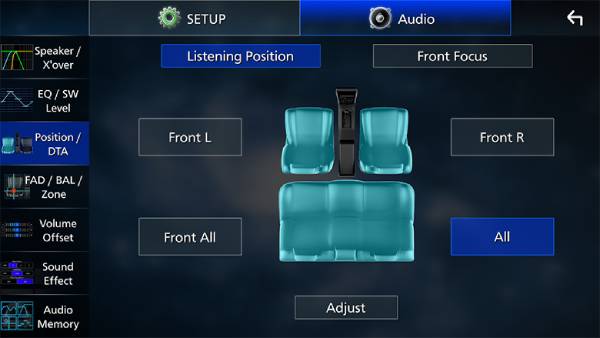 Optimal Sound Performance with 13 Band Graphic EQ and Time Alignment
Use the graphic equalizer to tailor the sound quality to your unique tastes. Additional sound staging is available with the Time Alignment feature, designed to provide optimal sound performance.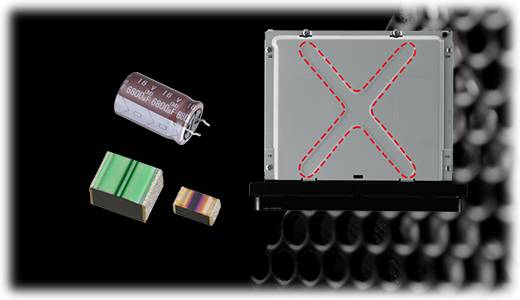 High Quality Audio Parts Supporting High-Resolution Audio Reproduction
To ensure the best possible sound quality, the receivers use custom-made and carefully selected parts, such as audio quality power supply capacitors, high quality coupling capacitors and cross-shaped panel structures. These parts are further optimized through meticulous tuning of the component values and circuit paths.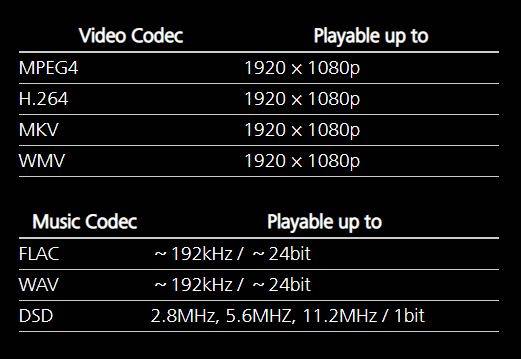 Playable FULL HD Video and FLAC Files
You can play back from USB devices audio and video files compressed in various formats.
USB sources are available on rear monitor via video output.
The powerful USB provides max 1.5A quick charge for selected Android and 1.0A charge for iPhone.
Safe Driving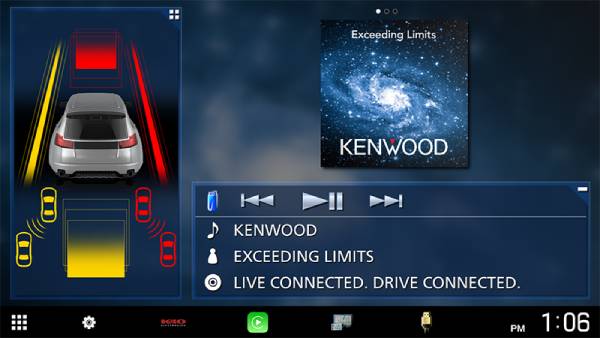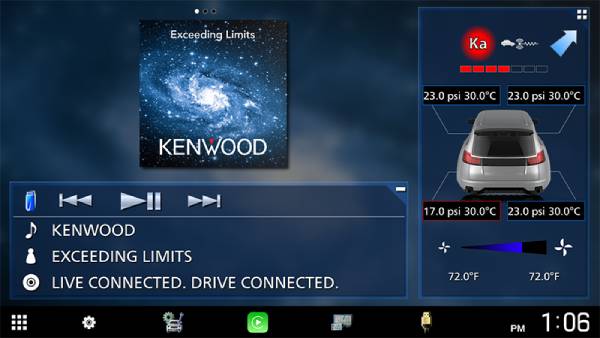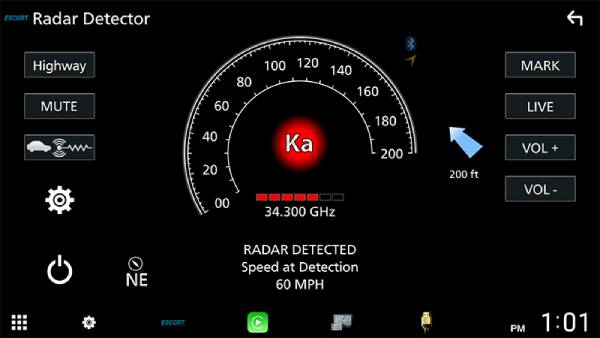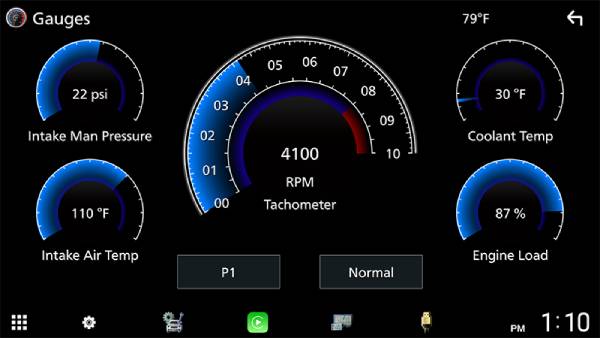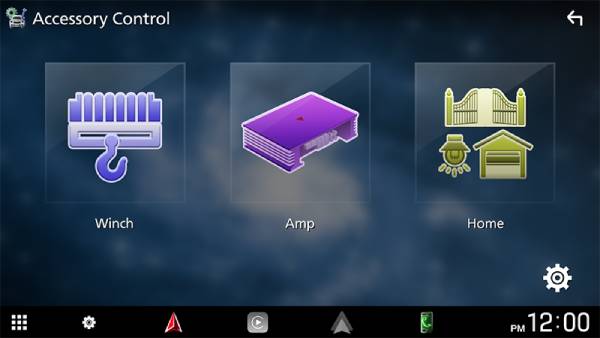 ENHANCED VEHICLE INTEGRATION
Compatible with both the Automotive Data Solutions iDatalink Maestro RR and RR2 (sold separately)* for enhanced system vehicle integration. In addition to providing the seamless factory integration experience you have become accustomed to with the RR, these models feature expanded support when connected to the RR2, including an Advanced Driver Assistance Systems (ADAS) Widget, Customizable Accessory Controls, and compatibility with specific ESCORT radar detector systems (sold separately).

HD Front / Rear Camera Input
The optional CMOS-740HD camera can be connected to the receiver's front and/or rear camera input, displaying the image in true 1280 x 720 (720P) High Definition on compatible receivers. The camera's built in High Dynamic Range technology further helps to overcome the negative effects of dark or bright conditions, making it the safest front or rear camera option available.

Rear View Camera Input with Parking Guide Lines
An optional rear view camera enhances safety while backing up and monitoring behind your vehicle. Built-in, adjustable parking guidelines further add to its effectiveness.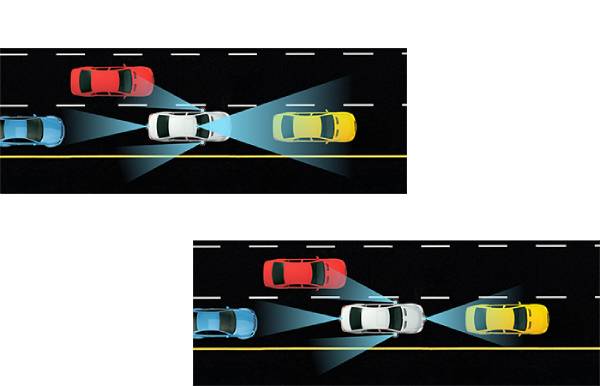 4 Camera Inputs
To enable a smarter driving experience, receivers featuring 4 camera inputs allow for the utmost in convenience, flexibility, and safety. With 4 camera inputs, you can connect a rear camera, side (blind spot) cameras, and a KENWOOD dashboard camera (DRV-N520 sold separately). Alternatively, 4 camera inputs can support several other configurations, including the connection of 2 side cameras, a front HD camera, and a rear HD camera (CMOS-740HD sold separately). Camera switching is available using on screen controls, or automatically for side cameras when an optional iDatalink Maestro RR is connected (supported vehicles only).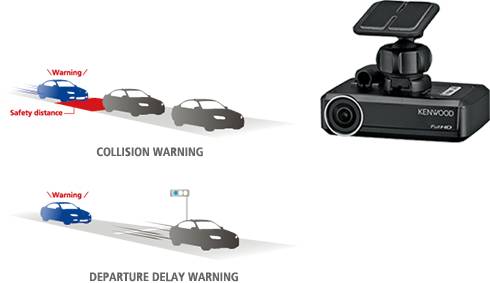 Dash Cam Link Ready
Full HD video recording is available with a DRV-N520 compact windshield mount camera that can record every event in front of you while you drive. High Dynamic Range (HDR) allows flawless recording regardless of extreme bright light or very dark conditions. With a built-in gyro sensor, if an accident occurs it will be saved in a separate portion of memory within the 8GB SD card for viewing. Additional safety and warning features can be activated to avoid frontal collisions or remind you if traffic has moved in front of you.
Additional Features

SiriusXM Radio Ready
Access additional music, sports and entertainment content on the go with SiriusXM Radio.
(Optional SiriusXM tuner required, sold separately)

Built-in HD Radio Tuner
HD Radio has the best selection of local radio with amazing features and no monthly fees. HD Radio provides CD sound quality from digital FM stations and FM sound quality from digital AM stations. You can even access additional HD multicasting stations that are not available on traditional analog radio.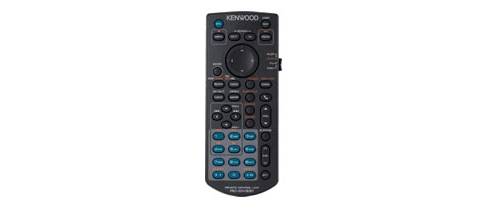 Remote Control (Optional)
This receiver can be operated using the optional remote control KNA-RCDV331
Main Unit
S/N
80dB (STEREO)
Frequency Response
40Hz - 15kHz
(Frequency step)
(10kHz)
Frequency Range
530kHz - 1700kHz
S/N
80dB (STEREO)
Frequency Response
20Hz - 20kHz
(Frequency step)
(200kHz)
Frequency Range
87.9MHz - 107.9MHz
Subwoofer Level
-50 to 10dB
Gain
-8 to 0dB
Front / Rear /Subwoofer Delay
0 - 20.01ft (0.03or0.04ft Step)
SLOPE
-12/-18/-24[dB/Oct.]
LOW PASS FILTER frequency
30/40/50/60/70/80/90/100/120/150/Through[Hz]
SLOPE
-12/-18/-24[dB/Oct.]
Band PASS FILTER frequency
250/300/1k/1.6k/2.5k/4k/5k/6.3k/8k/Through
Band PASS FILTER frequency
Through/50/60/70/80/90/100/120/150/180/220/250/300[Hz]
SLOPE
-12/-18/-24[dB/Oct.]
HIGH PASS FILTER frequency
250/300/1k/1.6k/2.5k/4k/5k/6.3k/8k/10k/12.5k
SLOPE
-6/-12/-18/-24[dB/Oct.]
LOW PASS FILTER frequency
30/40/50/60/70/80/90/100/120/150/180/220/250/Through[Hz]
SLOPE
-6/-12/-18/-24[dB/Oct.]
HIGH PASS FILTER frequency
Through/30/40/50/60/70/80/90/100/120/150/180/220/250[Hz]
Gain
-9/-8/-7/-6/-5/-4/-3/-2/-1/0/1/2/3/4/5/6/7/8/9[dB]
BAND
13Band
frequency (Hz) (BAND1-13)
62.5/100/160/250/400/630/1k/1.6k/2.5k/4k/6.3k/10k/16k
Input Resolution
720p(1280x720p 59.94Hz/60Hz)
Input Audio Type
32K/44.1K/48K/88.2K/96K/176.2K/192K 16/20/24-bit Linear PCM
Input Resolution
480p (720x480p 59.94Hz/60Hz)
Input Resolution
VGA (640x480p 59.94Hz/60Hz)
Connector Type
Type A
Profile
PBAP (Phonebook Access Profile)
Profile
AVRCP (V1.6) (Audio/Video Remote Control Profile)
Profile
A2DP (Advanced Audio Distribution Profile)
Profile
SPP (Serial Port Profile)
Profile
HFP (V1.7) (Hands Free Profile)
Multi Profile Support
Multi Profile
Audio Codec
SBC / AAC / LDAC
Maximum Communication range
Line of sight approx.10m(32.8ft)
RF Output Power (E.I.R.P.)
4dBm (MAX), Power Class 2
Frequency
2.402 2.480 GHz
Technology
Bluetooth Ver5.0
Output Power5GHz/MIMO
11ac(20MHz):9dBm±2dB / 11ac(40MHz):8dBm±2dB / 11ac(80MHz):8dBm±2dB
Output Power5GHz/MIMO
11n(20MHz):9dBm±2dB / 11n(40MHz):8dBm±2dB /
Output Power 5GHz/SISO
11ac(20MHz):6dBm±2dB / 11ac(40MHz):5dBm±2dB / 11ac(80MHz):5dBm±2dB
Output Power 5GHz/SISO
11a:6dBm±2dB /
Output Power 5GHz/SISO
11n(20MHz):6dBm±2dB / 11n(40MHz):5dBm±2dB /
Output Power2.4GHz/SISO
11n(20MHz):2dBm±2dB
Output Power2.4GHz/SISO
11b:12dBm±2dB / 11g:4dBm±2dB /
Transfer rates (MAX)
11ac: 867 Mbps
Transfer rates (MAX)
11g: 54 Mbps / 11n: 300 Mbps /
Transfer rates (MAX)
11a: 54 Mbps / 11b: 11 Mbps /
Channels
Auto(149,153,157,161ch)
Channels
Auto(1-11ch)
Frequency Range
Dual Band ( 2.4GHz / 5GHz )
IEEE Standard
802.11 a/b/g/n/ac
Touch Control
UIBC
Copyright protection
HDCP2.2
Mode
Sink
Dynamic range
89dB
Signal to Noise ratio
98.5dB
Total harmonic distortion 1kHz
0.010%
44.1k Sampling
20 - 20,000 Hz
48k Sampling
20 - 22,000 Hz
96k Sampling
20 - 44,000 Hz
Frequency response 192k Sampling
20 - 88,000 Hz
Video Decoder
MPEG1/2,MPEG4 / WMV / H.264 / MKV
Audio Decoder
MP3 / WMA / AAC / WAV / FLAC / DSD / Vorbis
D/A Converter
24/32Bit
Maximum Power Supply Current
DC5V=1.5A
File System
FAT 16/32, exFAT, NTFS
USB Standard
USB2.0 High Speed
Back lighting
LED
Pixel arrangement
RGB striped arrangement
Effective pixels
99.99%
Number of pixels
1280H x 720V x RGB
Number of pixels
2,764,800
Drive system
TFT active matrix system
Display system
AAS LCD panel
W x H
223.7 x 125.8 (mm), 8-13/16 x 4-15/16 (inch)
Monitor Section
10.1 inches(diagonal) wide
Frequency Range
87.9MHz - 107.9MHz
(Frequency step)
(200kHz)
Usable sensitivity
7.3dBf (0.7V) /75
Frequency response
30Hz - 15kHz
S/N (dB)
70dB (MONO)
Selectivity
80dB (
Stereo separation
45dB (1kHz)
Frequency Range
530kHz - 1700kHz
(Frequency step)
(10kHz)
Usable sensitivity
30dB (31V)
Color system of external video input
NTSC/PAL
External audio max input level (Mini jacks)
2 V / 25 kOhms
Video Input level (RCA jacks)
1 Vp-p / 75 Ohms
Video Output level (RCA jacks)
1 Vp-p / 75 Ohms
Audio Output level (Mini jacks)
0.9 V / 10 kOhms
Maximum Power Output (Front&Rear)
50Wx4
Typical Power Output (Front&Rear)
Full Bandwidth Power
Typical Power Output (Front&Rear)
(at less than 1%THD)
Typical Power Output (Front&Rear)
22Wx4
Output frequency band
20 - 88,000Hz
Preout level (V)
5V / 10kOhms
Preout impedance ()
=< 300 Ohms
Speaker Impedance ()
4-8 Ohms
General
12V DC Car Battery
Installation Dimensions WxHxD
178 × 100 × 155 (mm)
Installation Dimensions WxHxD
7 × 3-15/16 × 6-1/8(inch)
WeightMain unit
3.25 kg
WeightMain unit
7.28lbs.