Alpine Dual 8 Inch Alpine Halo R-Series Preloaded Truck Subwoofer Enclosure - R2-DB8V-TRK
$

1,199.00

CAD

Save $200.00

Or as low as $199.83/month over 6 months. Apply Now

Alpine Dual 8 Inch Alpine Halo R-Series Preloaded Truck Subwoofer Enclosure - R2-DB8V-TRK
R2-DB8V-TRK
Literature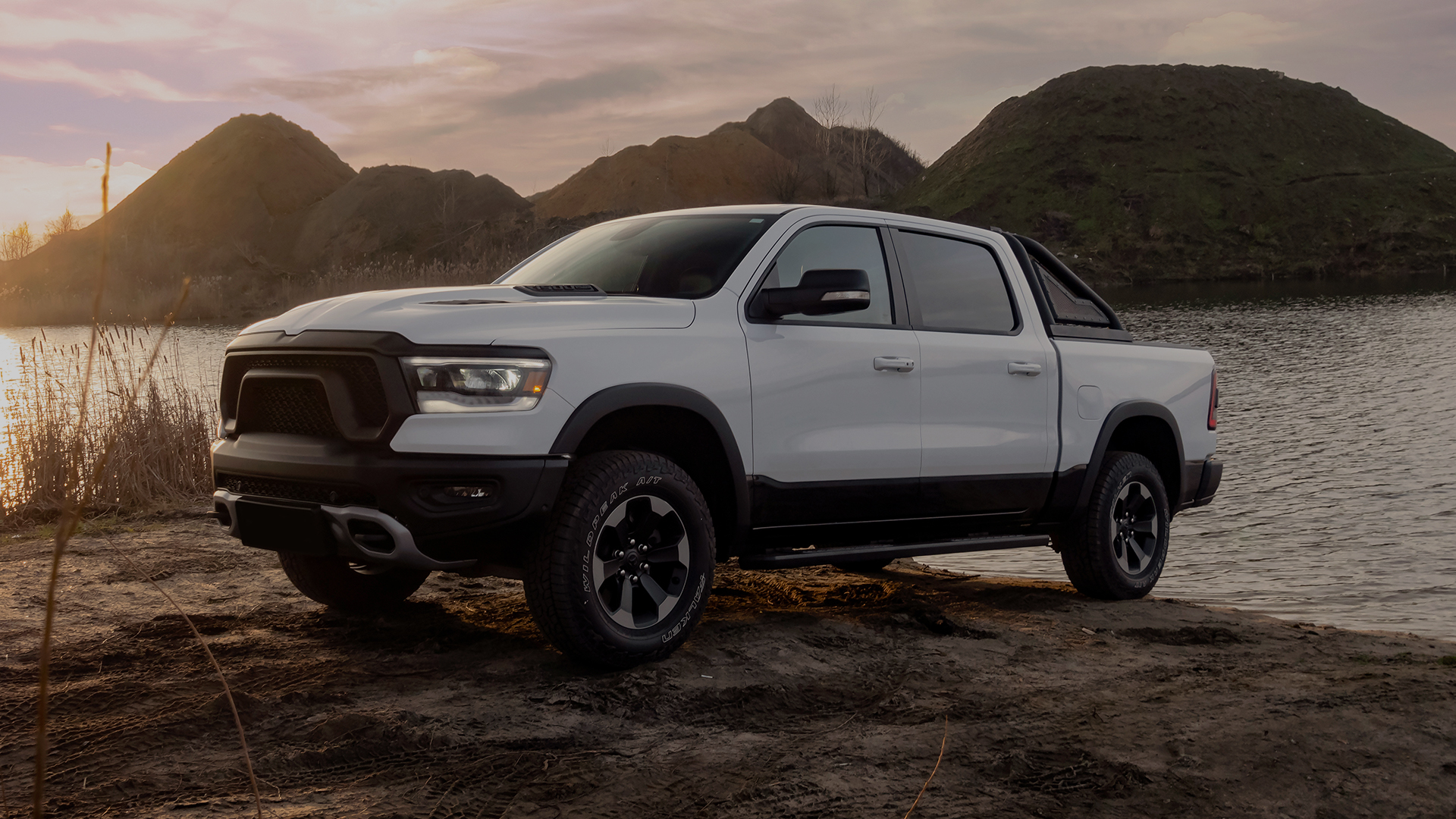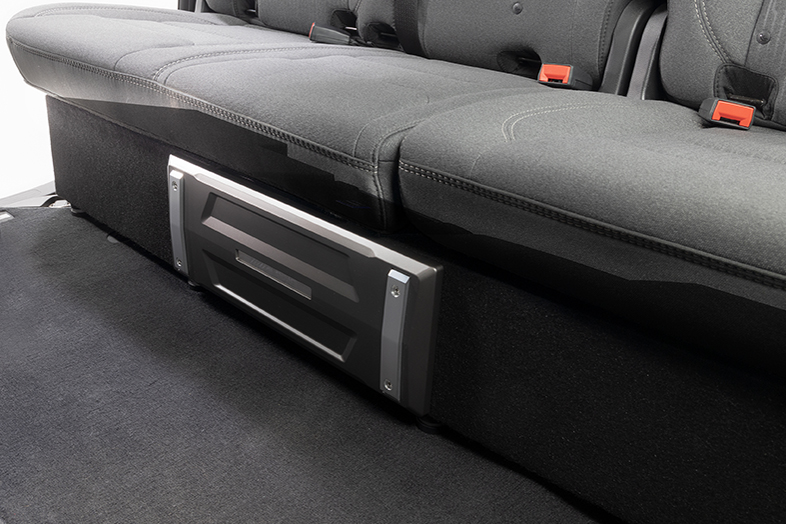 Overview
Now you can add deep, accurate bass in your truck without compromising valuable cabin space.
Features
Groundbreaking Alpine Halo Design
ProLink Ported Enclosure
Expandable Width from 40" to 51"
Compact, Under-the-Seat Installation in Most Full-Size Trucks
Integrated Amplifier Tray (not applicable with all vehicles)
Rubber, Modular Stackable Foot Design Accommodates Uneven Truck Floor Areas
Ported Enclosures with Next-Gen R-Series Subwoofers
Front Link Alpine Branded Bracket
Side-Firing Cabin Loading Ports
Premium Alpine Wire Terminals
Twist-Lock Grille Mount System
CARB Compliant 5/8" MDF Construction
Premium Black Carpet
Subwoofer Enclosures Preloaded with (2) R2-W8D2 8" R-Series Subwoofers
Front and Rear ProLink Brackets
Alpine Front Logo Cover
Two Amplifier Tray Brackets
Owner's Manual
2018-Up Chevy Silverado Crew Cab
2015-Up Ford F-150 Crew Cab
2018-Up GMC Sierra Crew Cab
2018-Up RAM 1500 Crew Cab
2020-Up Jeep Gladiator JT (Fits under seat)
Jeep Wrangler JK/JL (Fits in trunk space, not under seat)
Tech Specs
Dimensions:
40"-51" (Adjustable Width) x 8-3/4" (H) x 13-3/4" (D)
750W RMS
Frequency Response: 32Hz-200Hz
Sensitivity: 84dB
Dual voice coils Wired in Parallel for a 2Ω Load (Compatible with R-A75M)
Vented Enclosure Tuning Frequency: 36Hz
Custom spring-loaded speaker terminals fit up to 12AWG speaker wire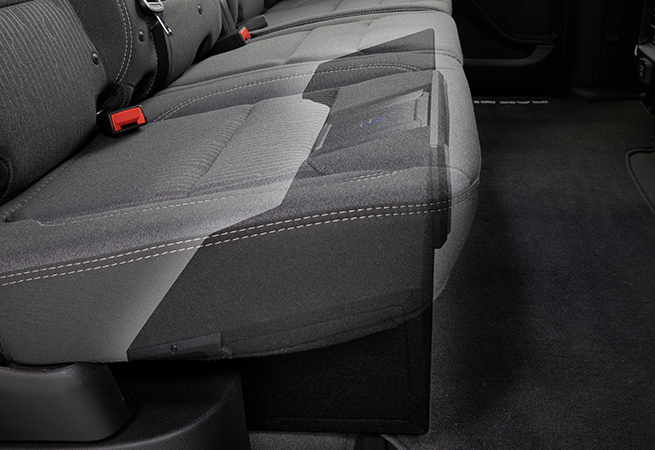 Designed for Trucks
From towing to travel, you depend on your truck to get you where you want to go, but can you rely on getting the best performance from your sound system? Now you can add deep, accurate bass in your truck without compromising valuable cabin space with the new R2-DB8V-TRK Dual 8" Alpine Halo R-Series Preloaded Truck Subwoofer Enclosure with ProLink.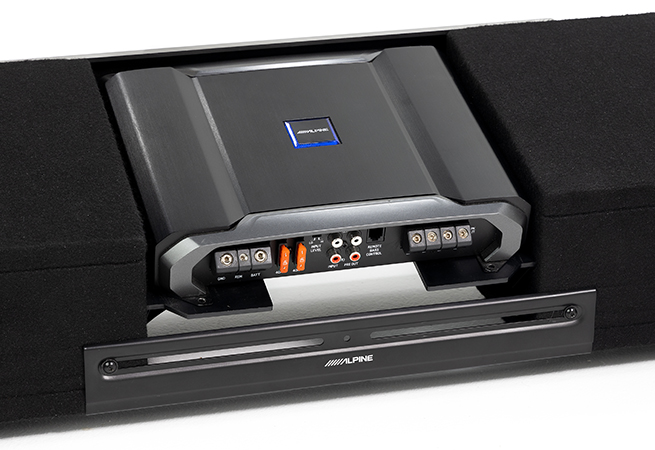 Flexible Fitment
The enclosures were intentionally crafted to fit most full-size trucks. Two 8" subwoofers are preloaded into a compact enclosure for under the seat installation and linked with a ProLink bracket that can adjust from 40" - 51". Centered on the enclosures is an integrated amplifier mount tray that's optimized for Alpine's R-A75M Mono Power Amplifier (sold separately). Rubber "feet" are adjustable in height to accommodate uneven truck floors.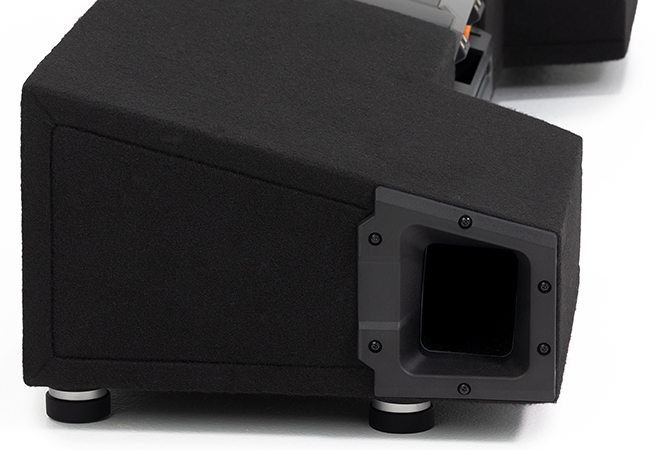 High Performance Sound
These ported subwoofer enclosures feature the next-generation 8" R-Series Subwoofers with a more powerful motor that creates deeper bass while Alpine's High Amplitude Multi-Roll (HAMR) Surround Technology allows the subwoofer cone to efficiently move air while staying cool for incredible accuracy. A new ceramic composite dust cap has higher heat resistance that ensures non-stop bass performance.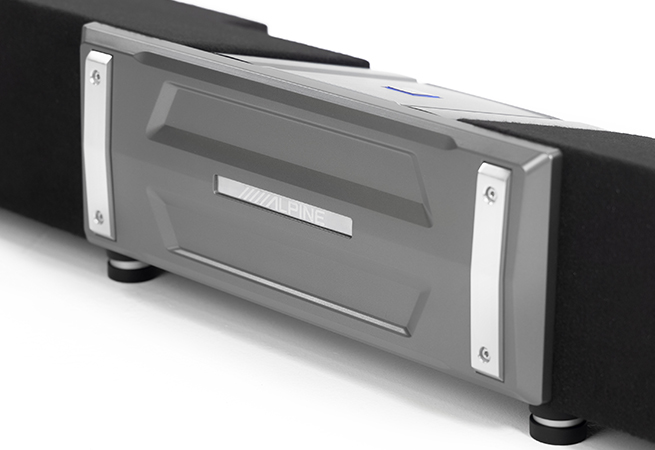 Alpine Halo Design
Alpine's new Preloaded Truck Subwoofer Enclosures join the Alpine Halo Family with a premium, unmistakable design. The enclosure pulls design cues from the Alpine Halo Display with unique, curved edges outlined by a silver trim and a front link bracket cover with an Alpine logo badge. The 5/8" MDF enclosures are covered in a premium black carpet that will elevate the look of your truck.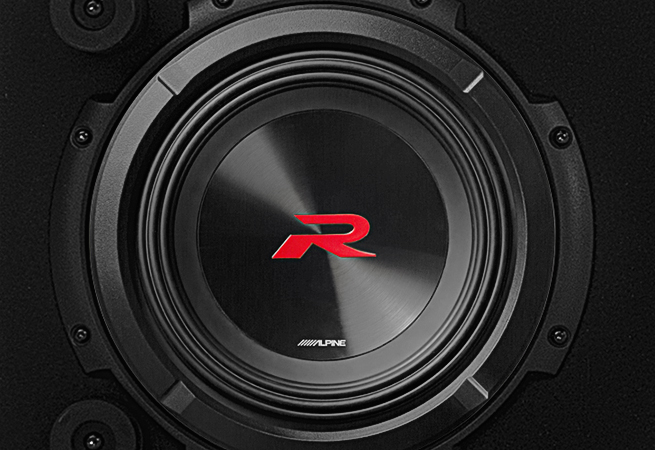 Tuned for R-Series
With two preloaded R2-W8D2 8" R-Series subwoofers that are tuned to 36Hz, R2-DB8V-TRK is optimized to perform with Alpine's R-Series sound system line. Dual voice coils are wired in Parallel for a 2Ω Load that's compatible with Alpine's R-Series R2-A75M Mono Power Amplifier.